FLAVOR COLORS by Pleats Please Issey Miyake
A Capsule of Signature Pieces in Ripe New Colors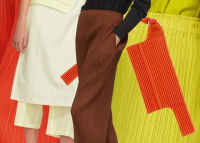 For the FLAVOR COLORS capsule, Pleats Please Issey Miyake, the always du jour Japanese staple, took inspiration from culinary colors. In shades that conjure nature's bounty—Vanilla, Corn, Tomato, and Cinnamon—the brand, then, designed a collection of modular pieces, in a rich palette perfect for seasons in transition. Think: crisp green lettuce drying off after a rinse. The utterly pure whiteness of a carafe of cream, or the vibrant red of a fragrant tomato sauce bubbling on the stove. These pieces capture the colors of food so vividly, they are irresistible to the senses.

This summer, cross-body bags have all-together replaced totes and backpacks. The Pleats Please Issey Miyake take maintains a sporty feel but with a feminine minimalism you can carry into fall. This pleated waist bag is as understated as they come, whether in the sophisticated Vanilla shade, or the younger, more playful Tomato.

This simple shift contracts and expands with the body, making it more like a delicate, yet durable, second-skin. The sleeveless, mid-length silhouette is demure in cozy colorways Vanilla and Cinnamon (for dinner parties, cocktail hour) but beckons to warm months of splendour and bounty in Corn and Tomato (for venturing to the market).

It's easy to imagine these trousers hanging out to dry in the sun on the veranda of an Italian villa. Cropped and crinkled, they feel like the perfect companion piece for our inevitable Indian summer, swaying just above the sandled-feet of some Under the Tuscan Sun excursion. But Issey Miyake's take on holiday ease always feels contemporary, with an edge lent by the brand's ever-innovative pleating technology.

Layered under or over the tank dress, or alone with the wide-leg trousers, when integrated with a pleated ensemble this simple jersey long-sleeve has an exquisite neutralizing effect. As with a good dish, a well put together outfit understands the importance of balance.