Smells Like Fast Cars With Craig McDean and Byredo's Ben Gorham
The Photographer and the Founder on Their Collab and the Release of Their Latest Capsule
Interview:

Jo Barratt

Photography:

Christian Werner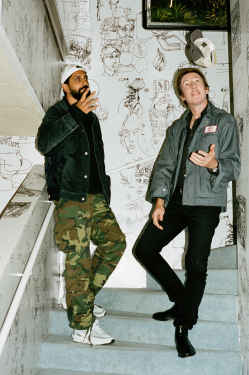 Cars, like clothes, can be both objects of desire and instruments of fantasy. They entice with their seductive lines, curves and accelerations, acting as extensions of the human body when we want to feel more powerful. In Manual, a new book by cult fashion photographer and motorhead Craig McDean, these two high-velocity worlds–fashion and cars–meet in triumphant collision.
The book continues a creative partnership between McDean and Ben Gorham of luxury fragrance house Byredo, fast friends for more than a decade. Byredo's first leather bag collection, Accelerated Culture, which came out in 2017, was inspired by McDean's 1999 book I Love Fast Cars, an homage to drag racing in the American South. The new book juxtaposes dynamic fashion photographs from McDean's illustrious career with some never-before-seen images that capture a second passion: muscle cars.
At the launch events for Manual, which started in London and Paris and will travel on to Montreal, New York, Milan, Seoul, and Tokyo, Gorham debuted a capsule collection of racing-memorabilia merchandise to accompany the book, including t-shirts, scarves and mechanic's jackets, as well as kitsch-chic beer cozies and lighters adorned with hot-rod flames.
We caught up with the duo at the Byredo flagship during Paris Fashion Week to discuss their shared love of cars, nostalgic remixes, and life together on the road.
Jo Barratt
Craig McDean and Ben Gorham
CM: We met initially through friends in Paris, actually, about 10 years ago.
BG: And then we were fortunate enough to get Craig to start shooting for Byredo.
CM: It's not one way, trust me. Ben's one of the most giving people I've ever known. There's no pressure. It's refreshing in the industry to actually be able to do that, to be given total creative freedom.
BG: When I started this brand I knew literally nothing about anything—I was a jock, an athlete. I was looking at fashion from the outside, seeing iconic photography, models, art directors. Working together has been educational, in revisiting Craig's older works, and then shooting new work together. And I think this book project is about that—history, and looking forward and backward, and at that intersection finding something really interesting. If you're a photographer and you've been shooting for 30, 40 years, there's so much material. Sometimes you just need somebody to say, "Don't forget that," because you become this machine.
CM: The whole idea for the book was to take the pictures out of context and then reposition them. So Stella Tennant can be in an advert in Harper's Bazaar, but I can also put that photo against this car. I don't want the photos to be seen only in the context of the magazine anymore. How they're put together can tell a different story.
BG: I have very clear, vivid memories of drag strips and drag racing from growing up. The capsule collection is merchandise for the work. We're creating different touchpoints for it, essentially. It's an application of the art, and also a form of memorabilia.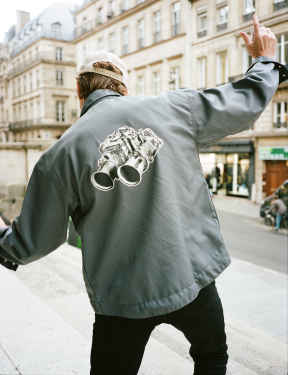 Ben, what would be your approach to creating a fragrance based on the book?
BG: I think when it comes to the book, it's this juxtaposition and mashing together of images. It's about the energy. There's an abstractness to that. There could be a literal translation of oil smells and engines and metallics, but I think I'd try to be a little bit more sophisticated, try to capture that abstract energy instead.
CM: What, you don't want to smell that oil?
BG: It's not an oil book, Craig.
CM: Castrol-R just gets the racing blood going in me. I always try to make my fashion memories feel alive, but I think the cars themselves dance, they really dance, they really come off the page. It's really frenetic when you're out trying to take pictures of cars—there's so much going on. It's actually quite basic in a way, not so organized. It's not Formula One, it's not IndyCar Racing, it's not on roads. Taking photographs is just like being a racing car driver: you walk the track before. You know your bends and everything else, but you can only do so much organization. I never actually wanted to do a book on car racing. I just went car racing and documented my life. I was just like, "I'm a photographer. This is what I do, I photograph it."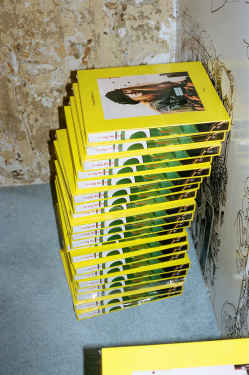 If you hadn't met through fashion, do you think you still would have met and become friends?
CM: Our paths would have crossed somehow.
BG: I'd probably be in line for the book signing, so we would have met there for sure. I've always been an outsider somewhat, still am. Sometimes it feels like I'm just starting.
Do you have any favourite cultural touchstones relating to cars?
CM: I grew up watching films like Vanishing Point and I had this romanticism about American cars and culture. It was very much what I wanted to experience.
BG: You had this race heart from a young age, but for me it was less about the racing. I moved to Canada when I was 11 or 12 from the States. And immediately in that teenage period I understood the significance of the car in society. I had no relationship with it from movies, but I think the dream started there for me. I obsessed about cars and their significance in life and in culture.
CM: I remember driving my car from Manhattan, a '68 Camaro. I know everyone was looking at me, because I revved it so hard. I remember breaking down in the Midtown tunnel, when the water pump blew off. That was real fun.
BG: I think it's also something about growing up in the UK or in Europe and coming to America, those cultural references just become amplified. You live with them in a different way than Americans do.
CM: When you drive a '68 Camaro, or a Dodge Challenger or a Ford Mustang, you get certain people coming up to you and talking to you differently. You know, locals who really understand that car and that culture. And then you drive something like a Ferrari and you get a different set of people talking to you.
BG: It's just like fashion.
CM: Just like fashion.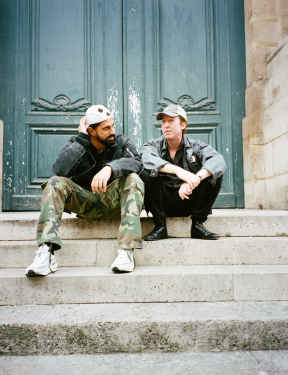 Interview:

Jo Barratt

Photography:

Christian Werner

Intro:

Rosie Prata

Date:

October 16, 2019