AGR Is Bringing Sweater Weather to Carnival
Alicia Robinson, The Designer Behind the Emerging UK Knitwear Label, on Highs and Lows and Hustle
Interview:

Helene Selam Kleih

Photography:

Stefy Pocket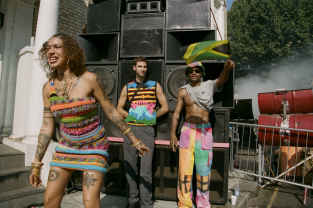 We sat down with Alicia Robinson to find out more about the world of AGR, and a few weeks later, followed her crew to London's Notting Hill Carnival.
AGR's Alicia Robinson is dismantling the "granny stigma" of knitwear. The quintessentially-London designer behind the up-and-coming knitwear label, Robinson is part of a group of emerging designers who are redefining what it means to work with this age-old technique. In our interview, Robinson is tongue-in-cheek, which translates evidently into AGR's gracefully garish, sought after designs.
For her appearance on the February 2019 cover of Evening Standard Magazine, Robinson designed custom AGR knits inspired by Brexit, purposefully flying the royal blue flag high, woven yellow EU stars proudly in tandem with patchwork British stripes, quashing archaic house rules with ballsy gusto in the process. A defining moment for the breakout brand, AGR offers a vision that London and Britain crave in a post-Brexit, Boris-apocalyptic era.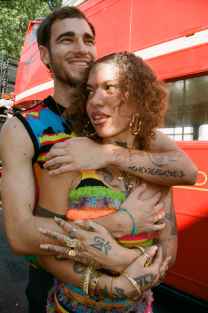 The designer trained at Chelsea College of Art at the University of Arts in London, then freelanced for four years, with AGR only coming to fruition in June of last year. The epitome of community, the label is a throwback to a time when Instagram had not yet sparked a clout infestation, and networking still happened at the pub. Collaboration is at the forefront of Robinson's work, creating custom pieces for Nike, A-Cold-Wall*, emerging London designer Ahluwalia Studio, and knit-heritage house Missoni. The rainbow-bright intricacies and DIY charm of AGR have already found a solid fan base in Robinson's friends, and have been sported by the likes of Greentea Peng and Jorja Smith, too.
I meet Robinson in the heart of Shoreditch, to talk to the Croydon designer about the potential of knitwear in 2019, the importance of Notting Hill carnival, and why she's still juggling cutting fabric samples on her bedroom floor and working door at her favourite clubs.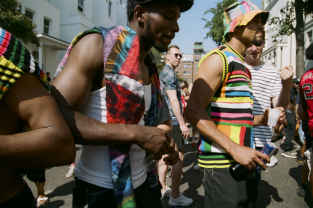 Helene Selam Kleih
Alicia Robinson
Describe the process behind your custom designs for this year's carnival.
This year's carnival pieces are a real mix, not only am I showcasing the exclusive capsule with SSENSE, but I've also been keen to use up all the leftover waste from programming at the factory. In 2017, Greentea Peng wore the first AGR at carnival, and then last year I got the whole fam in AGR—this year will be an elevation from that.
What does Notting Hill Carnival mean to you?
Carnival to me is just straight-up jokes from start to finish. The best day hands down is the Monday, the energy is unreal! The whole weekend showcases London at its rawest and I'm proud to be a part of it. The history behind it is very important and I think it's good to remember how far we've come as one huge community.
The collaboration with Nike for last year's carnival was pivotal, cementing you as one-to-watch in knitwear—who are your personal game-changers?
People are pushing the boundaries like Stefan Cooke with his cut out knits—which I adore. Obviously LV (Louis Vuitton) are mega. I love Charles Jeffery's knits—his use of colour especially. And Kepler coming through with exquisite pieces.
What perception do people have of you initially, being a knitwear designer?
They immediately presume it's going to be super tame and it has that granny stigma. Quite often I'll get a DM or a message a couple days later once they've checked out my stuff—always very surprised at how mad and expressive my work is. I like letting people run assumptions and then surprising them. When my friends see me working they are always astounded at how much patience it takes and that I'm doing it. I'm not patient with anything else or that great at mathematics which you also need. But that's why we have calculators, people.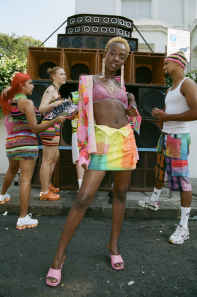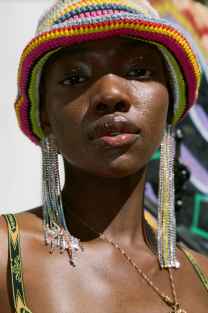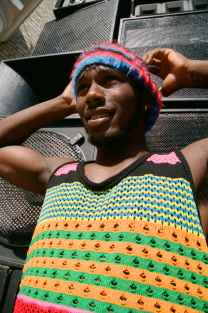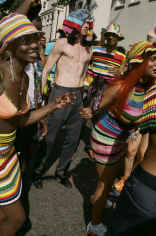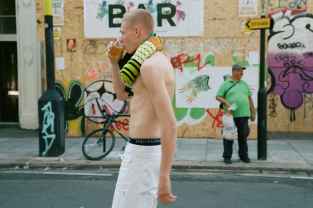 Your Instagram bio proudly states "London knitwear designer." How has London informed your designs?
London is LONDON and I love everything about it. You can't beat it. We do everything so well here whether it's fashion or music or how we have fun. The way we crack jokes is even different. Just last week I walked out of Shoreditch High Street station and under the bridge outside the station were JME, WILEY, JAMMER and SHORTY (UK Grime MC's and rappers) all going raggo on the mic. Being a creative in London is nuts, the opportunities are crazy and I'm so grateful for every one of them. The sheer amount of talent in London is insane which makes it perfect for collaboration which is one of my favourite things. Whether it's past projects with Wavey Garms or one of the many knits with Ahluwalia, they were just natural projects with my mates.
How does music, nightlife, "street culture" (if you would even call it that), give AGR its essence? What is your culture, in fact?
For me, street culture is being 100 percent authentic—being you. Doing and wearing whatever the fuck you want. Displaying how you feel and being true to yourself. From musicians to stylists to designers to building surveyors. I'm not a fashion snob and have mates from all walks of life that make up my culture and family. I'd much rather be in some backstreet boozer with my mates than some fancy party. The after parties in London are too live—you never know who you're going to bump into. These parties are where some of the best ideas and designs are generated—through chats when you're drunk as hell with god knows who.
Your mother taught you how to knit at home and you still work with her. Is she part of AGR's future?
She taught me how to hand knit and machine knit, I still use some of her knitting machines. She's also a total perfectionist sometimes which does my nut in. My mum has definitely been key in the last few months, she's helped me with bits of production and of course gives me total support even when I'm being a bitch. She's an amazing creative from sewing to embroidery to drawing. She definitely brought out my creative side in every aspect.
Your infamous Brexit and EU jumper was a joint effort with your mother, no? Do you aim for your knitwear to speak on politics, or say something more than aesthetics?
I wouldn't say I want my knitwear to specifically speak politics but I definitely want it to say more than just aesthetics. I'm not afraid to push the boundaries and have my knitwear speak my opinions. I'm definitely not a designer that wants to sit on the fence and appeal to everybody for the sake of making money. I speak my mind in person and intend to through my clothing.
Just from speaking to you now and seeing you about town, you have an energy that has comforted many, purely by being so open. What mantra do you live by?
I live by laughing 'til you cry and also trusting your gut in any situation. I've also learned to not give a shit about what other people think of you or your work as it just slows you down and makes you doubt yourself. I also have to remind myself sometimes that I'm human and I'm allowed to make mistakes!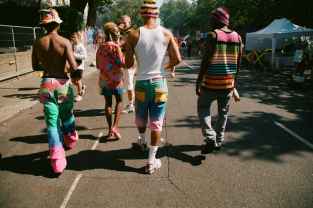 Hélène Selam Kleih is a writer, publisher and model. She is the writer and founder of HIM + HIS, an anthology on men and mental health.
Interview:

Helene Selam Kleih

Photography:

Stefy Pocket

Styling:

Jake Hunte

Casting:

Troy Casting / D+V Management

Styling Assistant:

Emily Davies, Stormy Haughton

Hair:

Mike Mahoney, Carlo Avena

Models:

Bryan Badu, Greentea Peng, Jerome Brown, Jake Hunte, Louis Hartley, Michelle Johnson, Nylo Mian, P.Honey, Santa Rekatanskyte, Taniel Rave

Special Thanks To:

Nike & Ninety Fly

Date:

August 29, 2019