She Leaves a Mark: Meet Artist Tanya Merrill
The Up-and-Coming New York Painter Talks Balthus, Power, and Nudes
Interview:

Eugenie Dalland

Photography:

Matthew Tammaro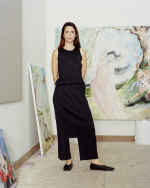 There's something hypnotic about listening to an entire album from start to finish. You begin to sense an invisible network between each song: beats from the first track reverberate with the emotions of the last, like a central nervous system made of low frequencies.
If Tanya Merrill's paintings could sing, they might have this same echoing hum. Her figurative images—like a loosely drawn cat eyeing a lobster, or a woman drumming her fingers across her naked thigh—speak to each other across scale and color. Her deceptively carefree brushstrokes blend impressionist notes with graphic precision. Often, her paintings convey a degree of humor. In a cartoonish barnyard scene, for example, the tables have turned and the animals are attacking the farmer, but behind this comic tone is an exploration of social codes and power dynamics.
Over the last three years, her work has steadily gained attention for its gestural quality. A recent Columbia MFA graduate, she has exhibited internationally at numerous galleries and museums including Gavin Brown's Enterprise/Unclebrother and Almine Rech Gallery, London. Her work will be included in an upcoming exhibition at Gagosian Gallery (New York) in September 2019, and with Half Gallery at FIAC (Paris) in October.
Tanya and I met fourteen years ago, a week before we started our first year in college. I remember she was wearing a sleeveless top (blue) and a long beaded necklace (green). It's funny to think back to that moment: I was about to meet someone whose creative vocation would deeply influence and mingle with my own. We've celebrated every step of each other's creative career—my first byline, her first exhibited painting—and for several years Tanya worked with me as creative director of the magazine I publish, Riot of Perfume.
This summer, we met at her studio—a converted bodega in Brooklyn—to talk about handwriting, reinterpreting art history, and how great it feels to wear nothing waist down.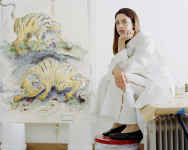 Eugenie Dalland
Tanya Merrill
One of the earliest memories I have of your experiences as an artist was in the summer of 2006, when you worked on a Sol Lewitt installation at Dia:Beacon. Can you talk about that experience?
Wow, I haven't thought about that time recently! That was my summer job between freshman and sophomore year. Seeing the way he worked was an eye-opening experience. His wall drawings are based on his instructions that are then executed by his assistants. It was incredible to be that close to that process, to see these different ways of making art. Some artists are emotional and direct, letting things go in a direction where you have no idea what the outcome could be, versus having a clear set of instructions that you've planned beforehand, that is even so non-emotional that someone else can execute it. Thinking about the idea that art really is your idea versus your hand, and the question of what is art, if it's not made by the artist.
Are there specific memories you have of that experience?
We would sharpen the pencil we were using after only making two marks, to keep the line consistent. The power of an individual mark really stuck out to me.
"The experience of looking at someone's drawings can feel a lot like reading."

Let's talk about the role of language in your work. I remember you wrote a lot of prose and poetry in college.
Someone asked me recently why I went towards painting versus spending more time writing, and I thought about the desire to be heard and seen. There's no hiding from a painting on the wall. I really enjoy the assertiveness that painting can have in that sense. Lately I've also been making the connection between my line quality and handwriting, how the experience of looking at someone's drawings can feel a lot like reading—you're learning as much about them as you would by reading pages they've written about their process. I've always loved looking at drawings, so to try to maintain that quality in the painting, that closeness, is important to me. That handwriting-like experience that I want to have in the painting means that including a word here or there feels very natural. I'm making a mark, and then suddenly a word will come to me that feels like a good continuation of that line.
I feel like your work exists in this really unique space where you're in conversation with the history of art, but also with contemporary dialogues such as the subversion of power dynamics.
I've been thinking about my recent work as being illustrated by three different hierarchies of power. The first one is the sort of archaic hierarchy in art history of genres in painting, where a large scale history or religious painting warrants more attention than a small still life or a landscape. It's a way to look at what was important culturally at that time. The second one is the structure of power within the natural world, that of the food chain, predator versus prey, and the constant struggle between humans and nature. That cycle of ownership and conquering, with, for example, my cat and the fish paintings, or the man and the horse. The third hierarchy is of contemporary power dynamics as they are represented in pop culture, literature, film, through both humor and violence. That last one is also kind of just about me experiencing the world at this moment, and talking about what's happening around me using the symbols and narratives that I create.
I'd love to talk about one of your works in particular that I feel represents a combination of those hierarchies, which is your painting based on Balthus' The White Skirt.
These pre-pubescent girls in his paintings are at that in-between moment when they become aware of their sexuality, and I remember that feeling myself. Becoming aware of your relationship with your body, of newly feeling sexy. I feel like he does a really interesting job at capturing that moment, but also capturing the horrendous attention that can come with that. Obviously there's warranted controversy with his perspective, which was incredibly creepy, but I think his paintings are also very beautiful and alarmingly honest. With my interpretation of that space, there is more action and agency. There's my own admiration of women. The picture is no longer of a young girl, it's of a woman who is in control of her space.
One of the other differences in your version that I love is that her bottom half is totally nude!
Yes! I liked still titling my painting The White Skirt, but her skirt isn't there! [laughter] I think to be bottomless is very empowering. To be comfortable being bottomless is a great feeling.
What about your practice of repetition, of drawing or painting the same idea many times over?
The idea that I would have just one painting for this one idea, that it would be the only one that ever existed, is really hard. I want to get to know an idea really well, and I want to see it from all of these different sides. What happens in the cat still life series, for instance, if it's a fish on the plate, instead of a lobster? Different things happen by replacing and swapping, and these little threads come about. Say you have a fish with the cat, but then there's a very similar looking fish in a completely different series. So it's kind of like a big hat with all these different ideas in it, and I'm shaking it up, and each one makes its way around.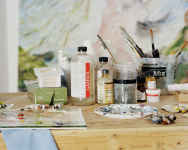 I feel like this approach has similarities with the historical practice of doing multiple studies for a painting, but at the same time it draws attention to how quickly we consume images today.
When I was at Columbia we did a studio visit with artist Peter Halley. He's made geometric paintings for his whole career, basically different variations on similar motifs. I admire his work. He has this idea that there are two kinds of artists: an artist who has one great idea that they spend their entire lives dedicated to, and an artist who is constantly pulling in new ideas. It's interesting, maybe it's true, I don't know. But I think there's at least a piece of truth in there, about how people work.
How do you know when a painting or drawing is finished?
I'll have this image in my mind of what I want the painting to be, and I work towards that image until the image in my mind is overpowered by the one in front of me on the canvas. The painting completely erases the memory that I had of the initial image. I can only see the one in front of me. That's when I know it's done.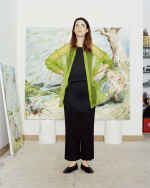 Eugenie Dalland is a writer and stylist based in New York City. She is the founder and publisher of Riot of Perfume, an annual arts and culture magazine.
Interview:

Eugenie Dalland

Photography:

Matthew Tammaro

Styling:

Eugenie Dalland

Hair and Makeup:

Justine Sweetman

Date:

September 3, 2019