Lorenzo Senni: Discipline of Enthusiasm
The Italian Musician on the Allure of Hardcore Typologies
Interview:

Philip Sherburne

Photography:

Piotr Niepsuj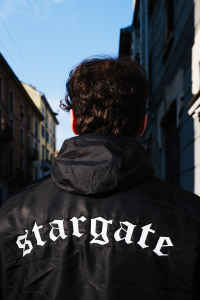 I've run into the Italian electronic musician Lorenzo Senni in various places over the years—Krakow, Barcelona, Berlin—and every time, he's worn the same puffy, black bomber jacket. In photos, too, he never seems to be without it. The bomber jacket has become practically ubiquitous over the past couple of years, but Senni's fondness for his runs deeper than fashion. It symbolizes the two youth subcultures that held sway over his adolescence: hardcore punk and hardcore techno. During the week, he'd play in straight-edge bands in his hometown of Cesene; on weekends, he'd go out raving with his gabber friends in the gargantuan super-clubs of nearby Rimini. Senni says that navigating the two scenes came naturally to him. (It didn't hurt that the teetotaling teen was in great demand as his rave buddies' designated driver.) The bomber jacket, I suggest, functions as something like a subcultural skeleton key.
"Exactly!" he says, when I speak to him on the phone recently. "That's the reason I keep wearing it. This is really me. Even if I look 14, you know"—he chuckles a bit. "Maybe it's just because I don't want to grow up. But to me, it's just natural. It's like the way I work: calling a track "The Shape of Trance to Come" because I was a big fan of [the punk band] Refused. To me, it's just having fun and playing with all the elements that are keeping me alive."
Senni's artistic practice is profoundly influenced by those years spent as both insider and outsider. His approach to dance music is bemusedly analytical, described by Senni as "rave voyeurism." While studying computer music and musicology a number of years ago, he embarked upon a kind of ethnomusicological project, cutting out his favorite buildups from classic trance anthems—the energy-stoking interludes where the drums go silent and synths rush toward a climax—and then fitting them together into a kind of vertiginous tower spiralling upward without end. That unusual endeavor set him on a path dedicated to decoding trance's secrets without ever necessarily falling beneath its emotional sway.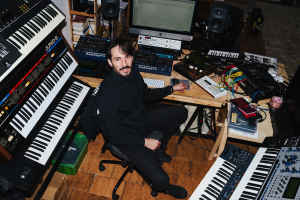 Despite its almost academic origins, Senni's music bursts with life and humor, and no prior knowledge of trance is necessary to appreciate the giddy, elastic qualities of records like his Quantum Jelly and Persona. "I always thought that it was important that someone could enjoy what I do even if they don't have the instruction manual," he says. "If someone doesn't know what I'm doing conceptually, they could still just enjoy the melody or the sound."
His latest project, just released on Warp Records, is the soundtrack to Yuri Ancarani's documentary The Challenge, a film about the lifestyles of the Qatari super-rich. Senni collaborated with the composer Franceso Fantini to adapt his music for symphony orchestra. Arpeggios become dainty woodwind melodies; trance stabs become gargantuan horn blasts. It's as excessive, absurd, and captivating as the film's all-gold-everything subject matter.
Philip Sherburne
Lorenzo Senni
The Challenge is a film about extremely wealthy falconers in Qatar. How did you get involved with the project?
Yuri is from the same part of Italy as I am—he was born 10 kilometers from my hometown. He's a bit older than me, but we shared a lot of friends in art, and theater, and music. This is the third time we've worked together. Yuri spent two or three years filming in Qatar and when he finished, he called me and said, "I want to show you the movie; I think would be great if you could be involved, but I have this other music that fits really well"—like Mozart and other more electronic music. Yuri knows a lot about music, which is why we fight when we work together. [Laughs]
I had been working with Francesco Fantini to rearrange some tracks of mine for orchestra for a project in Milan, and I just replaced Yuri's music with a recording of the rehearsal. I sent it back and he said, "Fuck, that works really well!"
How did the subject matter of the film determine your musical choices?
Yuri's work is similar to mine, because he's always looking at things in a way that could be a bit ambiguous. He doesn't really give you his opinion. It's a bit what I did with trance.
You never said, "trance is good," or "trance is bad." You just kind of put it out there.
Exactly. People say, like, "So, you are a great trance expert"—not really! I discovered it over these past few years. If I really loved trance, I would be making proper trance.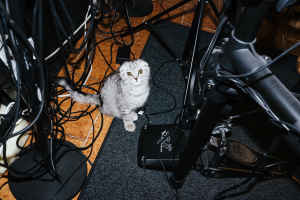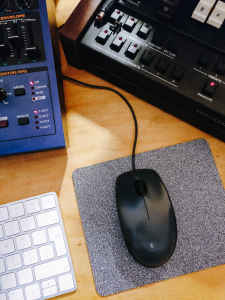 The New York Times review says the film doesn't follow a traditional documentary approach so much as "the immersive, anti-interpretive ethos […] of what is sometimes called 'sensory ethnography.'" I thought that sounded so much like your own work—like your idea of rave voyeurism, for instance.
Yuri and I have a lot in common, even though we use a different medium. I also think it's because of Guido Guidi. He's from our region, one of the best Italian photographers and an incredible intellectual. He's a very important connection between our work, because he has a very clear view of art and what it should express. He's coming from architectural photography, landscape, portraits, but he does it in his own way—and also in a way that's very methodical. I spent years at his house, just understanding how he thinks about his work. I learned how I think about what I do, and develop my ideas, through him.
"Coming from being a drummer in a punk band, sitting alone in my room with a computer, I felt a bit like a scientist, a hacker."
Your deconstructed trance project is very methodical. You approach trance as a set of tropes that can be taken apart—like, here's the breakdown, here's the buildup, here's the snare roll, etc.
My background, after punk and hardcore, was computer music. When I started at university I studied musicology, and a lot of my colleagues were working with computers and programming their own software. I didn't start with Aphex. I started with Florian Hecker, David Tudor, Xenakis, these people. The music was really a matter of how the software was programmed. Coming from being a drummer in a punk band, sitting alone in my room with a computer, I felt a bit like a scientist, a hacker. I became interested in the way trance is put together, especially the buildups. The buildup struck me as the most musical part, where the artist could express himself. Some artists would do it in a more refined way, others more minimal, others would make it more epic—you could tell they were musically trained because they would do harmonic things that weren't basic. In the beginning, I wasn't even making my own music. I was just archiving buildups.
100 percent. You got it. I have the books in front of me here. I'm working in a different medium, but these are my references. It's not even 100 percent conscious, but thanks to Guido Guidi, I spent hours looking at the Bechers.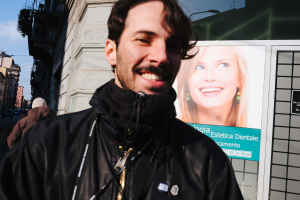 You grew up playing straight edge hardcore, which is also a scene that's based on very specific tropes—the X on the hand, the call-and-response chants. Even the names—I read that you played in a band called Out of Bounds, which is such a textbook straight-edge band name, like Youth of Today, Chain of Strength. I wonder if your immersion in hardcore helped steer your interest toward this typological approach to sound and musical subcultures?
I believe that. The approach the guys who were a bit older than me had when they chose their sneakers, their shirt, the flyers for the next concerts—they take care of every aspect. This kind of very serious way of doing things, I believe that this influenced me a lot. I don't want to use the word discipline, because straight edge hardcore went in very bad territory, sometimes—to the extreme, to intolerance. But the discipline of enthusiasm. To have this coherence of the work that can be seen from the outside.
You have a new release coming up on your label Presto?! by an artist named Gabber Eleganza, which got me thinking about the way gabber seems to suddenly be back in the popular consciousness. There was a big gabber night at Berlin's Berghain, Thunderdome just celebrated 25 years of hardcore, even gabber fashion is coming back, what with the Kappa logo revival, the Vetements gabber tracksuit, Gosha Rubchinskiy, etc.
To me, that was already happening years ago. But gabber is very different from trance in that it really appeals to fashion. And it is such a relief sometimes to dance to gabber, even for people who have never been exposed to it. It's like when you hear your first punk record, you're like, This is what I've been waiting for!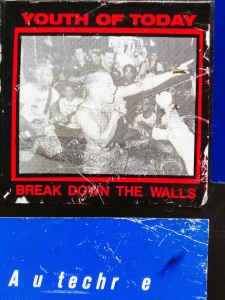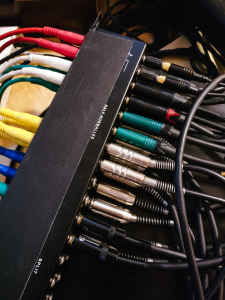 Gabber is a bit like heavy metal—it's very tribal, yet its aesthetic is appealing to outsiders. So, you can have, say, Kanye West suddenly adopting heavy metal aesthetics. You've talked about your own label in terms of an idea of "cultural cannibalism"—I wonder how much things like the current vogue for gabber represent a kind of cultural cannibalism?
It's exactly like that—how can you not be fascinated by these bald guys? Also with youth crew and straight edge things. The aesthetic is so specific. How can you not be fascinated by Ray Cappo photographed flying over people's heads? Ray Cappo was perfect in photos! When the visual aesthetic is strong, the scene closes itself off a bit, but from the outside it looks very good. It's such a specific thing, like, it either is this or it isn't. It develops a specific vocabulary—so precise, like gabbers. It's very easy to get fascinated and want to be involved in some way with this beautiful thing, no? To me, it was the same with some artists. When you see something that you really respect, that fascinates you, you would like a bit to be that thing. But you cannot be everything. You want to have something to do with it, so you find a way of sharing it.
"When you see something that you really respect, that fascinates you, you would like a bit to be that thing. But you cannot be everything."
The label lets you do that?
Yeah! The label lets you do that in a way that doesn't compromise your own work. Even if Alberto—Gabber Eleganza—always sent me gabber stuff, I couldn't really put a gabber kick in my tracks. But I could appreciate it. With the label, you get to show your interests, show your curatorial side, beside your personal output as a musician.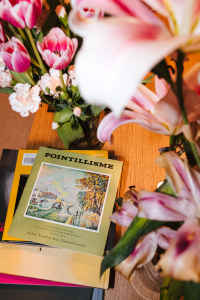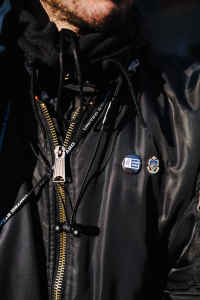 There's an ongoing convergence of art, and music, and fashion. You played a party at LN-CC. Raf Simons is plundering the Factory Records back catalog for his designs. There's Kanye and Yeezy. Where do you position yourself within this art/fashion/music world?
I've always been connected to the art world. When I started to make electronic music, I was doing installations, and I always wanted to explore other things that were not just playing on stage. When I moved to Milan 10 years ago, I stayed in the offices of an abandoned factory for two years. We were seven or eight people. Everyone had his own studio, and there was a basement where we had illegal concerts, like Emeralds, Wolf Eyes, Aaron Dilloway, noise scene stuff. Even Kode9 played an afterparty there. It was a very important moment for Milan.
And I discovered fashion when I moved to Milan. I survived by making music for videos for fashion brands. When you go out in Milan, if you don't have even 10 euros but you look a bit cool, you go to fashion parties. You just need the invitation. But we were quite cool—a bit like rats. [Laughs] So, in Milan, you start meeting people, that's how it works. "Oh, Lorenzo, you make music?" Then you get an email the day after, maybe you do work for Nike, Diesel, Camper. This was paying our expenses for eight months. This was the way we survived in Milan.
There's a continuum that exists across your work, from Quantum Jelly, to Superimpositions, to Persona, and "The Shape of Trance to Come." But it also feels like the clinical, dry early studies are giving way to something much more expressive. How do you see that development?
After Quantum Jelly and Superimposition, I could really make 10 albums like this, because the recipe was so clear to me: Find a melody that could work in a kind of loop, and the loop may not be very clear sometimes, but you can enjoy listening to it for a long period. Kind of a canon and fugue. It was very simple, basic. But I wanted to slowly introduce new sounds to my palette, experiment with what I learned before, and make something that looks more like a track with a verse and a chorus. Everyone says this, but I like to challenge myself. Because then, making it coherent, it makes me understand what I'm doing. This is really how I learn to go ahead with my work without changing radically. What I introduce needs to fit perfectly with what I did before. There is always a way.
Philip Sherburne is a freelance writer and a contributing editor at Pitchfork. His writing has also appeared in the New York Times Magazine, the Wire, and more.
Interview:

Philip Sherburne

Photography:

Piotr Niepsuj