The Hotter the Hoodie, the Closer to God
Gucci, Balenciaga, and Sacai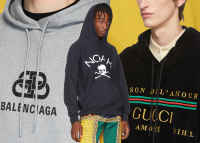 A hoodie is the holy staple—Protection from the elements? A stand-in beanie? A pocket for your thoughts? An everyday necessity? Thank god we've got a selection that's diverse enough to match all the different (and everlasting) reasons a hoodie is this season's go-to.

The classic grey hoodie now comes in Balenciaga.

Ever the champion of art and craft, J.W. Anderson lends his aesthetic inclinations to this Loewe hoodie—for pondering morality, the natural world, and the meaning of life itself, cozy up in this The Lord of the Flies offering.

Historically meant to signify an impending attack, here Jolly Roger is benevolent—unless you're planning on coming on strong with style.

If you wish to lament the demise of what was once a great rug a la Dude from The Big Lebowski, Sacai has got you covered. An obscure reference translates to an expansive mind.

Sometimes luxury feels a little too polished—let loose with some splatters of paint, for the look of utilitarian leisure.

You can't really wear a Mondrian but you can get close. Opt for an earthier palette, with tones of mustard, cream, and black, for that geometric LA-feel only from Eckhaus Latta.

Gucci's "House of Love" chenille hoodie is equal parts regal and comfortable, but if you can't get down with love, you can forget about getting cozy. Sine Amore Nihil—without love, nothing.