100x: Skeletons in the Closet
Gathering Bones with Chanel, The Row, Jacquemus and More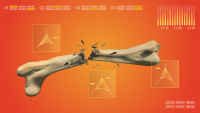 The year is 1842 and Mary Anning is collecting fossils from a crevice of the Jurassic Coast in southern England. She is wearing an oversized cloak-dress; its billowing fabric resembling the ocean behind her. A woven straw bonnet is tied around her face, secured with a red bow. She is carrying a basket-style tote filled with tools, accompanied by her scruffy sleeping dog. While Anning has little to her name, she will soon become a hero. Not merely for pioneering the entire field of paleontology, but as somewhat of a prolific fashion trailblazer.
The year is 2019 and designers have grown tired of revisiting—and repurposing—the last few decades. When 80s neon and 90s nostalgia have turned into total overkill, the trend cycle spins backwards even further: 2019 looks more like the 19th century. Bone beige was the color that swept the SS19 runways. Louis Vuitton. Marni. The sustainably-minded Nanushka. Mary-Kate and Ashley Olsen's The Row—the color is part of the brand's DNA. Models Kaia Gerber and Adwoa Aboah frolicked on the shoreline of Chanel's sand-covered catwalk and indoor beachscape (which required the manpower of 150 people to build), situated in the historic Art Nouveau masterpiece of the Grand Palais.
Sepia tones, supersized silhouettes, and found objects have been washing up in just about every collection, with Jacquemus and Loewe offering puffy sleeves and wicker beach bags as literal interpretations of ancient oceanside aesthetics. We are projecting ourselves through previous times, as suggested by Aries designer Sofia Prantera's collaboration with Jeremy Deller and David Sims—which she hopes will "leave people puzzled and inspired"—serving garments covered in phallic bones with a corresponding campaign to "make archaeology sexy again." Leave it to Rihanna, though, who stamps any trend with sex appeal, to set the precedent in a bone-colored silk skirt and Y/Project blazer on a recent night out in New York. Revealing your inner core by way of dress demands a double-take.
Putting together personal archives has become a priority. "I've been documenting so much of my life," writer, editor, and actor Tavi Gevinson said in an article for the New York Times last year, detailing her eclectic art collection. Revisiting old classics and putting them on record has become somewhat of a sport: a battle for who can find the best #throwbacks and vintage-inspired Tumblr pages. Instagram accounts like @archiving.stacks and @rarebooksparis provide the new inside scoop—forget about what's in the bag, we are instead now more interested in what's in your saved screenshots. In an era of outsmarting, where the presence of content contributes to call-out culture faster than we can keep up with—think @dietprada vs. Dolce & Gabbana—digging up dirt is part of our cultural lexicon. With the rise of museum merch and artist-designer collaborations, our clothes transform into evidence of our craftsmanship and knowledge of fashion history.
Since Raf Simons debuted Calvin Klein's shark tooth-inspired SS19 collection, paying tribute to Jaws with the film's graphics and chewed up hemlines, the topic of teeth has spiraled into the mainstream. Makeup artist and creative director of Dazed Beauty, Isamaya Ffrench—who recently created a series of custom grills and teeth mouldings—said, "teeth are actually really loaded subjects—they are the last thing that disintegrates when you die; they are how you communicate; what feeds you; for pregnant women, it's last thing to lose calcium; it's really scary when people are without teeth and people dream about losing them." Even the latest take on the chunky sneaker, Versace's "Squalo" (Italian for shark), incorporates fossilized teeth, with triangular fang designs on the sides of their soles. It's been said that the appearance of teeth in our dreams can be a symbol of social confidence—perhaps that's why we're sporting them head-to-toe.
Departing from the modern tech craze, and the endless device deficiencies that come with it, we seek to return to simpler times—more tactile. Consider our obsession with ceramics, enamel kitchenware, colored glass trinkets: why stress about buying extra storage for your phone when you can shop for interiors? Our homes have become the backdrops for our Instagram posts, anyways, and they're only as presentable as the objects we fill them with. For issue #22 of Apartamento magazine, graphic designers Ana Dominguez and Omar Sosa conceived a still life series composed of the most statuesque bones—nothing says sophistication like an ancient artifact.
When we've seen it all before and we're desperate for our closets to evolve, we curate them to reflect just that: the study of evolution.
Erika Houle is an editor at SSENSE in Montreal.
Text:

Erika Houle

Artwork:

Skye Oleson-Cormack and Nathan Levasseur