Tripping Out on Stella's First Menswear Collection
The British Designer Speaks on her Collection that Merges Sustainability and Psychedelia
Interview:

Adam Wray

Photography:

Rebecca Storm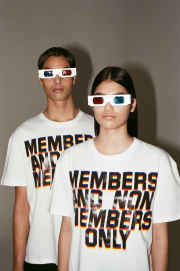 In its dusty rose hues, its emerald greens, its campy embroideries, and trippy fonts that make you feel as though you're reading 3D print without the proper glasses, Stella McCartney's Spring/Summer 2017 debut menswear collection has a reduxed LSD vibe. It will therefore come as no great plot twist that Stella's iconic dad was an inspiration for her first ever menswear collection. After all, the British-born, London-trained designer was raised in the gloaming of Paul's post-Beatles fame and has worked to come out from underneath it since her first internship with Christian Lacroix at age 15. But now the prodigal daughter returns by harkening back to the mind-expanding drugs and experimental art of the late 60s for her maiden voyage into menswear.
Looking at this new collection, it is not just the outline of Paul that can be found. With its kaleidoscopic aesthetic, androgynous palette, and loose silhouettes, the collection reads like an homage to the heightened political awareness that came as part and parcel of the culture of psychedelics. Resisting the siren call of pure nostalgia, Stella has mixed these elements with those of 90s Britpop grunge to create a new visual composite of subcultures. New Age guru and psychedelic writer Alan Watts once said that "trying to define yourself is like trying to bite your own teeth," but Stella has been able to define her brand through ethical production without sacrificing her free-loving lineage. For Stella, social activism and sustainability are not bumper stickers—they are her design principles.
Adam Wray
Stella McCartney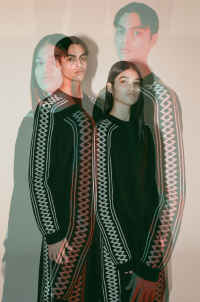 You're no stranger to menswear, having trained on Savile Row, but what does Stella McCartney have to offer the menswear market that wasn't already there?
We are always looking for different platforms to speak from, and menswear presented a whole new opportunity to have a voice. One thing I noticed upon entering the menswear market is that there is really no emphasis on sustainability, so it was important to me for the collection to be incredibly sustainable. There's tons of organic products in there, and of course it's leather free, fur free, PVC free. So we created a collection for men that doesn't really exist already.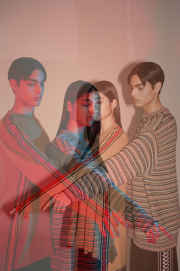 What are the most challenging parts of designing menswear? What can you achieve with menswear that you can't with women's?
Mentally it is much more challenging for me. I ask myself way too many questions. I could design for women in my sleep, I know exactly what I'm doing; but with men I'm not as confident in it yet. It's funny but I find myself asking "if I were a man, what would I want?" And that of course is very new to me. I find that men have more of an ease and safety in the way they wear clothes than women, so exploring that and creating a wardrobe that reflects that has been very exciting for me.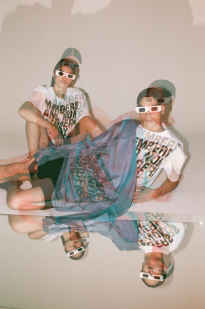 There is a pair of embroidered swallows that appears on a couple pieces in this collection. You mentioned that they were inspired by a shirt your father wore when you were younger. Are you the type of designer that goes out searching for inspiration? Where do you look?
My father has always been so influential to me, and I'm constantly inspired by the people around me. Musicians, artists, filmmakers, and great men of the world, both of yesterday and today. I look to the visual and historical references of my personal background, like art, architecture, and the music that has always filled the room. My time at Savile Row of course had a direct influence on the collection, but I was also inspired by London itself; the subcultures, the Beatles, and the 80s Britpop scene.
The Spring/Summer 2017 collection is called 'Members And Non-Members Only'—could you tell us about the significance of the name?
It's all inclusive, it's the humor coming into play. I've been quite wordy with my work recently. I think it's important to say something, and at the moment I feel like I'm allowed to say it. I knew that 'Members and Non-Members Only' would be humorous and a bit confusing, but at the same time inclusive and timely. It's also reminiscent of the old school British boy's clubs so, like much of the collection, is a nod to Britain.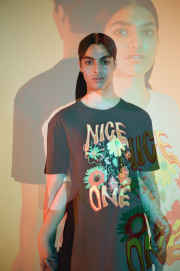 The pursuit of sustainability is a foundational part of your business. What steps can the industry take to reduce its environmental impact? How do you convince huge businesses to put the planet before profits?
Over 50 million animals get killed in the name of fashion every year. It has an impact, I believe very much in the connection between the production of fur and leather and the cost on the environment. I wish that more people would join me in the luxury section of fashion, because we're constantly finding new and creative ways to be sustainable. Our products and our materials cost about 30% more, but this is a cost that we as a brand are willing to absorb.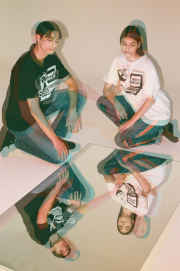 Influencing more responsible consumer behaviour is one part of moving towards sustainability, but technological innovation is essential, as well.
I think to be sustainable, you need to be sustainable in the way you purchase. We discovered how damaging cashmere production is, so we've started using exclusively regenerated cashmere. Sustainable viscose is another one, because many people don't know that viscose actually comes from trees, so now all of the wood that's used to make our viscose is from sustainable forests. Fashion should be treated like the way you choose food: look at the ingredients. First and foremost, I'm a fashion designer, and I want to create effortless and desirable product. Today people want to be more conscious in the way that they consume. For the companies, it's about investing a little bit more over a longer period of time to make that product that will last rather than end up in a landfill in a week.
Interview:

Adam Wray

Photography:

Rebecca Storm