Thongs, Breastplates, and Top Hats Return for 2020
Tracing the Wearable Trends of a Burnt CD
Text:

Rebecca Storm

Illustration:

Skye Oleson-Cormack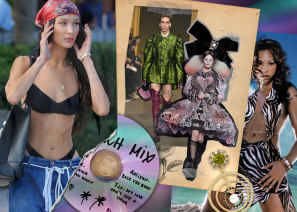 When Zendaya wore a vibrant fuschia breastplate to the Critics Choice Awards earlier this year, its rank as a highlight of the SS20 Tom Ford collection overshadowed its historic origins. Originally a staple in ancient armor, the breastplate has been repurposed over the years by the likes of YSL, Issey Miyake, Thierry Mugler, and Alexander McQueen, cementing itself as an aesthetic worth revisiting. "What goes around, comes around," once said early aughts prophet, Justin Timberlake.
20 years ago, at the dawn of a new millenium, on the precipice of the technological revolution that's since weaned us from our brains and onto our smartphones, when the internet was dial-up and T9 texting somehow innovative—though the options were limited, those options seemed limitless. As the precursors to Facebook, MSN messenger, ICQ, and Myspace were the channels for chatting and social networking, and we were all low-key criminals—very much thanks to our aiders and abettors, Napster, Limewire, and Kazaa. When the internet was still regarded as a privilege rather than a surrogate brain, we were more authentic executives of our existence. Fashion benefitted from untethered inspiration: The world wide web was available as a resource if needed, while aesthetic taste and preference were unclouded by third-party opinions. It was the burnt CD era.
This spirit of auteurship played a crucial part in early-millenium self-expression, and also applied to other parts of life. Conceived of in the late 80s and initially costing thousands of dollars, it wasn't until the late 90s that CD burners began to drop in price, and by the early 2000s the software came pre-installed on computers. While cross-genre compilations like Now and Big Shiny Tunes sold millions of copies, the most reliable way to get the perfect mix was by creating one yourself and burning it onto a CD. Rejecting the fallibility of the radio was simultaneously the bridge to self-expression.
The first decade of the millennium was a pre-tech incubator for fledgling artists, (and as such, purveyors of trends) that have remained some of the most lucrative and recognized today—Beyonce, Rihanna, J.Lo—even Britney (whose very existence seems a dark allegory for the commodifying puppet-masters of pop music more concerned with moving units than souls) continues to hold the attention of millions of fans and supporters. While fashion maintains its ouroboric infinity loop, we've rounded up some key 2000s aesthetics that have gone around, and come back around, in 2020 fashion.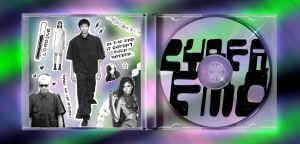 The alternative rock hits that made their way into mainstream music had major Plutonic energy—running the gamut from sex, to death, to re-birth. Evanescence's "Bring Me to Life" and Lincoln Park's "In the End" pointed to different stages in the same dystopic cycle, embellished through CGI music-video intros that functioned as crude pre-cursors to the dark escapism of a Kojima Production. This binary of light and dark was accompanied by a wardrobe of workwear basics, experimental hairstyles, gauzy slips, and industrial jewelry. The sodden seeds from which emo soundcloud rap, and maybe even Billie Eilish, bloomed: loose, utilitarian pieces, silver ball-chains, bucket hats, collar chokers. A silhouette that's as tenuously rooted in cyberspace as it is in streetwear—more evocative of existential themes than it is a tangible aesthetic. The costume of transformational dichotomy begs versatility—the sudden reappearance of the breastplate equally suggests there's reason to show up equipped for whatever side of life rises to meet you, even if it's in a cheery color, like Zendaya's fuschia. If the Rick Owens runway is any indication of our pervasive tendency toward earthy-cyber-occult, these tunes and the trends they perpetuate confirm that it's a theme that continues to hold our fascination.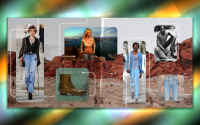 Before Lil Nas X, Raf Simons' debut collection for Calvin Klein, or Orville Peck, the cowboy aesthetic had remained more or less for cowboys, safe for some interesting experimental dilution of its elements in the early aughts. Madonna kicked it off in 2000 with her "Don't Tell Me" video, complete with mechanical bull. The following year, cowboy was made a little less practical by Britney Spears, for her "Not a Girl, Not Yet a Woman" video, costumed in all the aesthetic trappings of Western wear—big belt buckles, cowboy boots, frills—and little else. Perhaps the most ambiguous iteration of the trend was by Lenny Kravitz, in his video for "Again," with his tailored button-ups-barely-buttoned, boot-cut jeans and cowboy boots. With all the practical implications of Western wear, skimpy is a vulnerability—a luxury only afforded to those with a safety net. To venture forward with less protection is as bold as it is foolish, which is maybe the very line Western wishes to walk. While Western tropes evoke the idea of an elusive maverick, Western's trickle into the mainstream of both music and fashion over the past two decades has only increased in flow. FW20 runways continue to boast iterations of the trend. Be it tassels at Amiri or bedazzled denim at Alyx, Western always finds its way—a sartorial allegiance to an outlaw's abandon.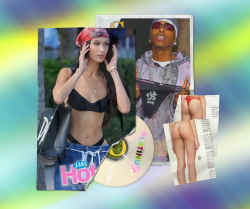 What seemed an unfortunate symptom of the Dorinha phenomenon has made an unexpected comeback in 2020: revealing your thong. Given its ubiquity on the hips and lower back of Hailey Beiber, Alexa Demie, and of course Bella (both on the runway and off) the ardent supplication in the lyric "Let me see that thong," seems no longer apt. Perhaps the most notorious tune devoted to a specific thing, Sisqo's 2000 release, "Thong Song" is an unapologetic, fetishistic ode to a single garment. And what does it mean to see a thong? Largely pragmatic for avoiding bulky fabric under tight pants and skirts, thongs almost seem more formal than sexy—with the recent shapewear boom, we're now more comfortable showing off our undergarments than ever before. For SS20, Versace and Heron Preston sent models down the runway waving their whale tails. What was once a suggestive display now feels more like a practical accessory, so sure, Sisqo, you can see our thongs.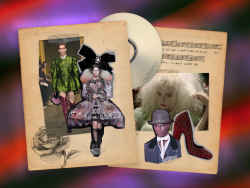 Before Simone Rocha and Molly Goddard's clouds of tulle, before Charlotte Knowles' corsetry, before Charles Jeffrey Loverboy's opulent displays of creative articulation, before Maison Margiela's bowler hats, there was a period in the 2000s where aesthetics took an unexpected turn toward theater. Vaudeville, burlesque corsetry, powdered faces, veils, dark eye makeup and yes, top hats. Released in 2001, Moulin Rouge! seemed to function as an aesthetic amuse-bouche for the trend it pioneered. "Lady Marmalade," the film soundtrack's lead single, diversified hyperbolic burlesque tropes across four disparate forerunners of the mainstream music scene: Lil' Kim, Mya, P!nk and Christina Aguilera, who joined together crusted in rhinestones, topped with piles of curls, kicking thigh-high platforms for the hit. The film itself also inspired the second music video for "Mr. Brightside," The Killers' breakout single in 2003. Later that year, even Blink 182, oddly, found themselves at the crux of the trend, with the "I Miss You" video, a nod to the French boudoir aesthetic including the respectively then-taboo trend of underarm hair. The classic, antiquated vernacular of stage was an aesthetic breakaway from the neo-future videos that had prefaced the millenium, and now the 2020 runways are taking us back to the theater. Palomo Spain presented flashes of pink satin and black lace, structured bodices and thigh-high platforms in tasteful 2020 homage. Simon Porte's French aesthetic has moved away from the lavender fields and sunhats, and toward the boudoir with ruffles and subtle corsetry for Jacquemus. As the infinity loop whirs steadily onward, accepting trends as new and innovative is as naive as playing Three-card Monte with a charlatan who knows where the ace is. But to lament that there's nothing new in fashion is as futile as condemning the barker for slinging snake oil. Wear your top hat while you can.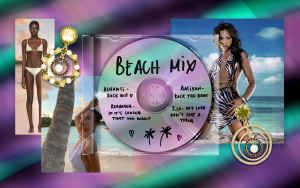 Soft-Focus-Beach-Glam-Boho
Before there were filtered Instagram stories, there were soft-focus, sepia-toned music videos on the beach. The multi-hyphenate costume of crushing seemed fairly static from 2000-2005, with clingy white tops, ornate earrings, shimmering eyeshadow and dewy skin. Ashanti's "Rock Wit U," Rihanna's "If It's Lovin' That You Want," and Aaliyah's "Rock the Boat," range from carefree flirtation to suggestive direction, while J.Lo's "My Love Don't Cost a Thing," is a request to consider things differently. J.Lo sheds her gold en route to the beach, with Bella Hadid hot on her heels 20 years later, throwing together an homage look using opulent dupes—low-rise jeans, flimsy satin halter tops, and rimless glasses, of which she just released her own exclusive collection in collaboration with Chrome Hearts. Think Louisa Ballou, Louis Vuitton, Unravel, and Christopher Esber. What was once the costume in which to plead for more, has now evolved into a visual declaration: I already have it all.
Text:

Rebecca Storm

Illustration:

Skye Oleson-Cormack

Date:

February 7, 2020