This Is An Essay By Hanif Abdurraqib
About Sneakers
It is a Love Letter to a Culture of Collecting and the Importance of Letting Go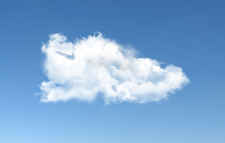 From an early age, it seemed like conventional wisdom was, if a person is passionate enough about one thing, they could become an expert on it. And to be an expert made you better, or more isolated from those who were not experts. Like music fans in record stores, digging through crates of b-sides while berating the people skimming the contemporary pop section. When I was young, it seemed to me that the more I knew about something, the easier it would be to shame those who didn't know as much as I did. It's a cycle, I imagine. A better way for coming to terms with the sense of isolation I often felt.
Conversations about sneakers can be both incredibly exclusive, and not always interesting. I have always had more of a passion for the searching out and wearing of sneakers, and less for the communal conversation.
At the wedding of poets in Seattle, I drag my poet pals to Likelihood, a sneaker shop that I have spent many Seattle trips inside of, picking through shoes and petting the store's large Retriever mix, Kevin. Many of my friends are significantly more fashionable than I am. Most, if not all, are more daring with how they accessorize or with what colors they splash themselves in. Still, so many of them shy away from what I've come to develop as sneaker-affection. They all browse, some of them try on different types of Nikes in different sizes—they walk to the mirror and gently rise on their toes.
I had never imagined a moment like this one, at Likelihood in Seattle. Sitting on the floor with my arm draped around a dog, watching my friends dart from one mirror to the next, sneakers on their feet and another pair for consideration in their hands. I have certainly loved them all more than I do in this moment, but it has never felt like this.
When I began courting my partner, we emailed for nearly a month and a half. She lived in Phoenix at the time, and I was in Columbus, Ohio. It was a very on-the-nose courtship in the digital era. Two writers, typing away at night to each other before whisking emails off into the void. Sometime early in this process, she mentioned to me that it seemed like I had a lot of sneakers.
The problem with having a passion for sneakers is that at some point, a person has to realize a simple fact: what they consider a lot of pairs is not at all what a reasonable person would consider a lot of pairs. And so, in the moment, I fabricated a lesser number to a woman I liked a great deal because I didn't want her to think I lived among the clutter of kicks in an apartment where I could barely pay the rent. "Oh yeah, not too many," I told her with my sneaker room holding nearly 70 pairs at the time. "I try to never have more than 50 pairs in the house at once."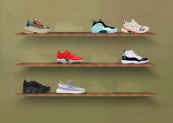 When she comes to visit me for the first time, I spend the night before frantically screwing together shelves and arranging the room where the sneakers live. With a red bruise from twisting an Allen wrench on my finger, I consider this: what it means to want someone to like you, so much, that the passions you once thought were cool become suddenly a source of potential embarrassment.
To love sneakers and then pursue the purchase of them is a selfish act, though not one of any real consequence, provided a person has the financial means to spend the money. I stopped spending time trying to figure out the "why" of my passion for sneakers. It's likely rooted in some combination of insecurity and a fascination with the way shoes can define everything from the feet up. I was raised poor, coveting the sneakers that I couldn't have, and as an adult, I live in an era where those same sneakers are consistently repurposed and re-released. More so, I am also drawn to anything that might pull attention away from my face, at least for a brief moment. I like the idea of distracting the eye towards something that I feel confident about. See, the sneaker can briefly silence the cacophony of doubts that I drag from place to place some days, both vessel and decoy. In the most shallow of terms, I like the way they look. I like the possibilities they offer for someone who just wants to wear all black and be unspectacularly unnoticeable, but for a single spark of light.
To live with someone—particularly someone you love and want to make it work with—is to notice the way your books pour out of the bookcase and pile onto the floor, or to notice exactly how many souvenir cups you've accumulated from sporting events.
For me, it also meant packaging up a small handful of gently worn or rarely worn sneakers, and shipping them off to pals who wear a size 12 (or close enough). Even with all of my newly installed shelves, pairs began to accumulate on my floor, blocking the pathway to the bed in our guest bedroom, which doubled as a sneaker room.
I have no real interest in selling sneakers once I'm done with them. I don't particularly need the money, but it occurs to me that there is something exciting about what can be sacrificed to make space for a person you love. The things that can be parted with in the name of making a comfortable home for anyone or anything beloved.
On Nate's birthday, I send him a pair of Air Max 1s. As an engagement gift for Mark and Layne, I spring for matching pairs of Air Max 90s. Another writer peer has a book published, and I ask her what size kicks she wears while scouring the internet for a pair that matches her book cover. Sarah can't wait to show me her new Jordans, insists that she may never go back to any other shoes again. These are things I used to do to celebrate myself only—buying shoes on the days when I got good news or bad news. I have found myself starting to imagine a love for sneakers as a communal activity, even if it's just walking around a sneaker store with someone who has no intention of buying anything, but perhaps wants to see how some shoe looks on his feet. I think, as I get older, this is my way of working against all of the concepts I was fed about our passions being things we engage in as solitary acts, geared to keep people on the outside and keep ourselves as the authority.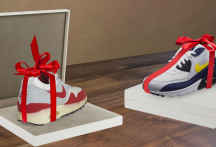 Everyone has something precious that they hold close, until the time comes for them to excitedly show it to a person they deem worthy. With this in mind, I consider myself most in love with moments like these: where someone takes the time to show me what they care a great deal about. I work to replicate that in the most impractical and foolish ways: playing a YouTube video of an owl walking into a kitchen for a room of people, or playing over and over the same part in Fleetwood Mac's "Tusk." And now, putting a pair of sneakers in the mail for a friend who once told me that they loved sneakers, but didn't know what pair would be right for them.
And now, giving small bursts of encouragement when a friend who has worn flats for years sends me a picture of them in Reebok high tops.
And now, holding in my hands a pair of sneakers I once imagined only precious to me, looking out and telling my people I would love to show you something.
Hanif Abdurraqib is a poet and critic from Columbus, Ohio. His latest book is Go Ahead In The Rain: Notes To A Tribe Called Quest.