The Weather Girl's Guide to Summer Road Tripping
Pro Tips and Fashion Takes from the SSENSE Chief Meteorologist
Photography:

Rebecca Storm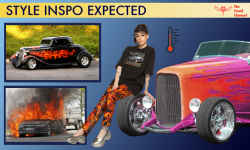 Get in loser, we're going on a road trip. Destination? All signs point to Hypeville. Fueled by my expert outfit outlooks, this summer's action-packed adventure is bound to be one for the books. No terrain is off limits, and no gear worn along the way will go unnoticed. As the sunshine and its scorching heat return, it's essential to hone a wardrobe that screams "I'm hot" while keeping totally cool—the perfect mantra for cruising down the freeway, off-road, and into the VIP section of all the best festivals. So grab your shades and your snacks, it's time to buckle up! But first, get familiar with my trend futurecast, guaranteed to fill the trunk with all the picture-worthy fits you'll inevitably be capturing.
No wheels? No problem. Car troubles are nothing to worry about when your outfit becomes its own souped-up speed racer. Thanks to this season's auto-inspired designs, the best features are yours to compile: chrome wheel shoes, flame-shooting tailpipe trousers, and a weather-resistant PVC visor (resembling a windshield that won't be cracked). Don't just hop in that sexy car—that sexy car is you!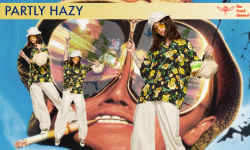 BUCKETS, BUCKETS, BUCKETS
In the context of SS19, Raoul Duke fits nicely. In fact, Hunter S. Thompson and Johnny Depp's famous Fear and Loathing in Las Vegas protagonist is an apt personification of the state of the world right now. A trippy, maniacal, whirling reminder of our collective binge watching, eco-anxious, social media-addicted generation. In these chaotic times, the bucket hat—and its nod to the joy of fulfilling bucket lists—is just what we need to chill us out (and of course, with Duke's hat of choice in mind, to protect us from the chemtrails). There's a bucket hat for everyone, in prints ranging from python and plaid, to a florist's fantasy. Whether you're hoping to flex at a national park or simply protect your neck, a bucket hat is the road trip necessity.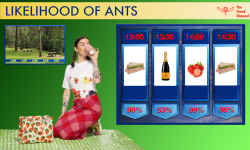 Research shows that travelling has a direct impact on our appetites. We're hungrier and more prone to dietary temptations when we're on the move—we need snacks, pronto. Chips, dip, sandwiches (in halves, meant for now and then later, but inevitably consumed moments later). How lovely, then, to pull over and prolong our journey? Pit stops are a perfect opportunity for stretching our legs and lunging to the nearest loo. So: dress the part. Become the picnic you wish to see...in your scenic pit stop world. Consider fruit prints (Marc Jacobs, MSGM, Gucci) or basket bags (Kenzo, Loewe, Prada). Embrace gingham's summertime charm. Long drives aren't cute but picnic-dressing—pigtails for effect—are! Never has a pee break looked so planned.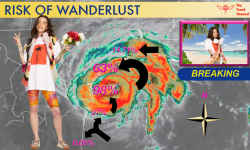 Travel vloggers, van dwellers, couples on vacation together: rejoice—this is #wanderlust. When you've ditched reality and the world really is your oyster, exploration comes as a commitment and your outfit must reflect the luxury of living ~free~. A perfect sunset backdrop can't be tainted by clothes with any traces back to corporate lifestyle. Flower crowns, tie-dye everything, and shoes (worn optionally) of Birkenstock variety, all topped off with the warm glow of WiFi's absence are perfect for the GoPro-ready look that's required at all times. From Machu Picchu to Bali's Hanging Gardens, if the 99.9 million-plus posts on Instagram are any indication, #wanderlust isn't just a feeling, it's a lifestyle.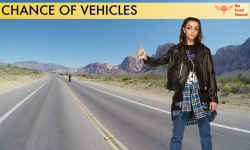 From On the Road by Jack Kerouac, to "On the Road Again" by Canned Heat, Bob Dylan and Willie Nelson respectively, to 2019's "Old Town Road" by Lil Nas X ft. Billie Ray Cyrus, there's one idea that just won't quit—getting the hell out of here! What's the best way to show you're ready to scram at any moment? Perhaps by implying you're down to write a song about it—strap a guitar to your back (let's be real, most musicians can't afford to own a car) and hitchhike your way into the horizon. Be sure to carry a notebook, in your hand or breast pocket, (extra points for a tattered Moleskine) to illustrate your competency for journaling, or rather, penning your first novel. Let your hair get greasy and your face patina'd with grime—who needs a mirror, anyway? And always, always have an extra layer tied around your waist in case you need to crash someplace unexpected. If you happen to find yourself totally alone, abandoned, and unprepared on the side of the road, just remind yourself to romanticize your own recklessness by reciting these words:The only people for me are the mad ones, the ones who are mad to live, mad to talk, mad to be saved, desirous of everything at the same time, the ones who never yawn or say a commonplace thing, but burn, burn, burn like fabulous yellow roman candles exploding like spiders across the stars.
Photography:

Rebecca Storm

Styling:

Romany Williams

Text:

SSENSE editors

Hair and Makeup:

Carole Méthot