Into the Selfie Oasis: Marrakech with India Rose
The Stylist, Photographer, and World Traveler Shares a Self-Styled SSENSE Shoot from Her Trip to Morocco
Interview:

Elisa Schwalm

Photography:

India Rose

India Rose is very particular about location. As she should be—any photographer (one amongst many of Rose's professions) knows what it is to crave lighting only available in certain geographies. The solution is travel, and this time it was to Morocco, where she shot the surrounding landscape and herself in looks by Wales Bonner, Jacquemus, and Homme Plissé Issey Miyake. Captured in the corners of India Rose's sly selfies, the Moroccan Almoravid architecture presents fair competition to the skate-sleek aesthetic of Rose's wardrobe.
The 23-year-old creative director, digital consultant, and stylist shares her trip through iMessage snapshots with SSENSE's Elisa Schwalm.


Morocco! Was it your first time traveling there? Which parts did you visit?
It was my second time in Morocco, both times in Marrakech. I then travelled across the desert to Casablanca on my way to Amsterdam.
Any new impressions about the country from this trip?
The first time I visited I was a lot younger and wasn't aware of the culture. If you dress appropriately and are aware of how to speak to the locals, you'll have a great time. I've also improved my bartering by 80%. This time I had couples asking me to haggle for them!
My friend and I managed to get ourselves and our boyfriend and girlfriend presents for the asking price of one. We walked out maybe four times.
What are some of the differences with dressing for Morocco versus dressing for London?
Although Marrakech is fairly liberal compared to other places, it's still expected to be respectful of other people's beliefs. Covering your shoulders and avoiding short skirts, dresses, and shorts is advisable. Luckily I dress like a boy most of the time, so it wasn't much of a problem this trip. I have to be very careful of where I chose to photograph, so I chose private spaces and my riad to be respectful
The color scheme of Morocco is so saturated. Did you find that influenced the items you were wearing?
There is a LOT of terracotta. But the lighting is very similar to L.A., and after being in London for the past few months, it definitely inspired me to inject some color into what I was wearing. It's a combination of the heat, respecting the locals, and the dust. There is so much dust. Everywhere.
Omg. I can't even imagine. I'm sure you ate more dust than you'd want to admit.
Haha, I was coughing for a few days afterwards. I was constantly trying not to lean on anything if I was wearing white. And sometimes all I wanted to do was take off all my clothes because it was so hot. The Wales Bonner two-piece was probably the best thing to wear out there.


What was the most important piece you brought on the trip?
The Homme Plissé tracksuit is the best thing ever to travel in. It's perfect for changing temperatures, and you can just throw it in your suitcase and it doesn't crease. It was great to throw over the Jacquemus one shoulder shirt or a bikini when we were on our way to a pool or restaurant through the souks.
I love those fabrics that don't require much. Makes traveling so much easier.
I'm all about ease. Always. I also suck at ironing.
Hahaha me too! How does travel influence your work?
It is such an essential part of the creative process. I was in London for the whole winter this year and it really affected my work. I don't usually stay in one place for that long. Experiencing different cultures and places, seeing how people dress, visiting galleries, and just being out of your comfort zone can help create so many ideas. Good light and beautiful architecture also help. I am forever searching for the perfect wall.
Do you ever miss the London lens when you're not there?
Never. But I always miss London. I guess the only solution to that is to travel more crying emoji I often prefer my work when it's outside of London.
Do you feel it's because it's fresh and new when it's somewhere you don't spend every day? You can get a fresh perspective?
I'm trying to find a balance of projects I love doing here, and projects I love abroad. But I think it's mainly the light that's the issue. We don't get good light in London at all, and when we do in summer, I'm usually away!
We asked you about realness/authenticity in 2015. Any updates in 2016?
I met up with someone in PR last week, and it was super refreshing. She had exactly the same views as me, and she truly cares about the authenticity of a campaign and her relationships with people. I think the next generation is also super smart when it comes to realness from a brand, which I'm really happy about.
How has your use of social media/internet platforms changed over the past years? You seem to have transitioned away from the blog, more to Instagram.
Becoming a blogger was never something I planned, and it turned out to be something I didn't really want. When I started, making money from a blog wasn't a thing. Having a blog now means something totally different to what it did in 2007-8, and it isn't something I particularly agree with. I don't believe in helping to promote and sell something I don't like for the benefit of a company. The content is far more important to me, and it should be for brands too. There is a big difference between having a lot of followers and actually having an impact.
I love Instagram though. It's a great way to say a lot without saying very much, and you can be really creative with it. I love taking pictures, and it's a great platform for inspiration, or to connect with likeminded people.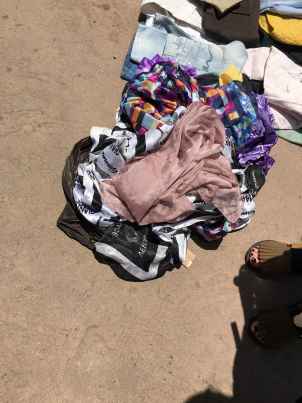 There are so many bloggers out there that genuinely are just trying to get things/money out of brands. I respect those that have more to say.
People get into things for the wrong reasons. It's difficult because although I love clothes, I tend to stay on the outside of the fashion industry. Being grouped with a certain type of person is something I'm trying to avoid. Although I use Instagram for that kind of thing, I also do a lot of work outside that, such as photography, branding, creative direction and styling. I try to keep my options open and Instagram is a great way to do that. I still have no idea what title to give myself though.
Hahaha titles are tricky!
SO HARD. I would never call myself a creative director or photographer or stylist in front of any of my favorite artists in those fields. I couldn't even think of comparing myself to them. Jack of all trades master of none, maybe?
Catchy right? I'll think of something one day. I guess it's early days.
Which is stronger to you, the influence of people or the influence of place?
Place. There are people in places wink emoji
Interview:

Elisa Schwalm

Photography:

India Rose