The SSENSE Spring/Summer 2019 Trend Report: Part I
A Guide to the Future and Next Season's Products
Text:

SSENSE Editors

Illustration:

Tobin Reid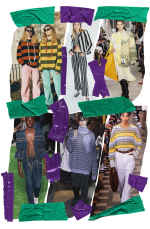 The 3.5 seconds it takes for Bella Hadid to exit the hotel lobby and hop in the car is all that's required to launch a new micro—or macro—trend. Online publications jump on the paparazzi pics, coin the aesthetic, and a new look is thrust into legitimacy. This year, the trend cycle turned into a trend cyclone, and keeping up with the feed became a full-time job. At this rate, one has to ask, how many trends per season do we have the capacity for? And which ones will outlast the pack? Just in time for the new wave of hits, we've filtered through the big and the small to deliver our SS19 trend report.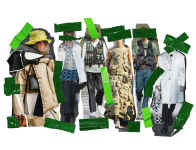 Junya Watanabe collaborated with Ark Air for SS19—a long time uniform manufacturer for the UK marines and special forces—sending models down the runway in a utility-first collection. He showed a variety of standout plaid tactical vests with multiple pockets, though, that had us thinking less about combat and more about fly fishing. Last season Prada gave us knee-high rubber boots fit for wading in a river, and this season Marine Serre gave us a fisherman's ball gown scattered with pockets and keychains that looked like tackle. Japanese label Eupepomboo's tactical dresses from 1999 come to mind. Margiela gave us an exaggerated fisherman's uniform complete with a high-vis waterproof bucket hat and bug screen. And what's fishing without a cold beer? Raf Simons made the most out of the sports staple beverage with plastic beer ring tops, reminiscent, too, of a fishing net, and of plastics toxic presence in our water, our world. Those woven grocery bags on every influencers arm for catching produce from Whole Foods aren't going anywhere, and bucket hats are coming back. This spring, the humble fisherman gets their time to shine. See you at Bass Pro.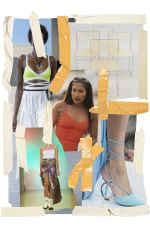 While the strappy heel might connote 90s minimalism (Carolyn Bessette-Kennedy walking her dog or wearing Yohji, or leaving a black-tie, or clutching John/the weekend paper), today, the strappy heel is no longer a nod to minimalism but an expression of late 20teens maximalism. The strappy heel as object—as seen on the Jacquemus runway in a variety of glass-bobble and clunky shapes, like gaudy-keychains for your feet. The strappy heel, too, like some kind of leg harness, circuiting ankles as if Simon Porte's preoccupation with straw hats was swapped with thin things like slip-dresses and fringed wraps. Since strappiness is, after all, associated with what it reveals—bare skin—it's no wonder the trend will never (ever) go out of style. Maryam Nassir Zadeh's drawstring tees and daywear-swimwear (the designer loves a Manhattan woman whose vacation calendar is decidedly European), all cite the full potential of a strap: the no-time required to untie, unwind. Get naked. To Instagram the soft focus of tan lines. Similarly, though more metallic than "maillot," Priscavera's interpretation of spaghetti strap dresses was a synthesis of space-mermaid meets raver. Straps that lace up, slip down, and cinch waists, bringing to mind the Versace muse (well, her daughter, had her daughter partied at Limelight). As Sophia Loren famously said—though her context is better, more delicious and true—"Everything you see, I owe to spaghetti."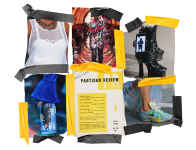 In 1964 Susan Sontag published the trend report to end all trend reports—her essay entitled "Notes on Camp." Sontag's interpretation wiped out what was previously a queer-associated term (at times celebratory and derogatory) with a neutralized definition that denoted artifice, frivolity, naïve middle-class pretentiousness, and shock excess. In many ways, Sontag predicted what we now know as the hipster, and also, the entire design approach of Alessandro Michele's Gucci, and Virgil Abloh's Off-White: "Camp sees everything in quotation marks. It's not a lamp, but a 'lamp.'" Random examples of items this season that are part of the canon of camp:
-Margiela Twist-Tie Ring
-Balenciaga Magazine Clutch
-All of the SS19 handbags that are not at all like handbags, but like found objects. Note: see the work of the late Judith Leiber.
-Ambush Beer Can
-Gucci's over-the-top maximalism—sequinned, feathered, ruffled, referential everything
-What some will wear to the Met Gala this year (those who grasp and abide by the theme)
-Anything "so bad it's good"
-Everything Virgil Abloh puts in quotation marks
Here we go again. The grunge girl returns—or rather, sticks around for what feels like an infinite loop of high school victory laps. And who's to blame her? Mastering the balance between totally slacking off and flunking out for good, the grunge aesthetic relays the ever-aspirational 'effortlessly cool' attitude: where teen angst meets "I secretly do care." Fashion critic Cathy Horyn once wrote, "Grunge is the anathema to fashion," but like parents and teachers, or anyone, really, she just doesn't get it. Thankfully, as Marc Jacobs brings back his 1993 grunge collection for Perry Ellis—the Gerber siblings dressed in band tees and striped suiting as the literal children of Grunge—we are encouraged to lean into the idea of slowing things down. To move with a little extra resistance in each step. Smudge out our eyeliner, kick rocks, and tell whoever gets in the way to "take a chill pill." Grunge isn't going anywhere, after all. Queue up The Smashing Pumpkins, we're stuck in the grunge algorithm glitch.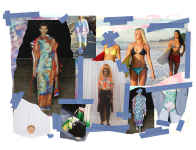 Pigment is at its purest when suspended in water. To paint, then, especially with watercolor, is to leave a stain. A dried remembrance of what was once fluid. The SS19 runways were very much preoccupied with color, but diluted and mixed suggestions of diverging, desaturated hues. Craig Green, Marine Serre, Issey Miyake and Prada all delivered tepid, blotchy dye patterns—like tie-dye, but actually stoned. Gucci and Stella McCartney opted for more overt aquatic ciphers: hard seashell bags, a scallop shell appliqué on a model's crotch. Ambush presented us with surfboards and puka shell necklaces, rekindling our Blue Crush on the beach. Why though, are we turning away from the dusty prairies, aka last season's penchant for Western, and back to the shoreline? Water, water, everywhere, nor any drop to drink! With rising tides and a warming globe, maybe fashion aims to enjoy water while it lasts. Soon water will not only be literally subversive but figuratively. Its splendor commemorated in a stain, worn throughout the drought.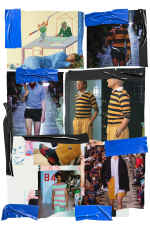 In November, the New York Times reported that David Hockney's Portrait of an Artist (Pool with Two Figures) sold at auction for a record-shattering $90.3 million. (Jeff Koons had previously held the record with his balloon dog.) While the Hockney sale was momentous, certainly—art as pure trophy, etc—it was an opportunity to bask in the artist's other aesthetic expression: not paint but polos. Hockney's personal style has long inspired the fashion world—his articulation of casual prep, crinkled blazers, all playfully color blocked. He is the king of stripes. Of loose tailoring and the mischievous appeal of round frames. Teal, purple, magenta, yellow. Hockney's spectrum of colors is fun, unfussy. His inventory of rugby shirts is not just enviable, but lovingly worn-looking; the best kind. This season, Hockney's influence was less obvious making it all the more fun to spot. Xander Zhou sent models down the runway in striped rugby's, collared shirts, and layered-brights. Similarly, Marni, who did not shy away from rich hues—ketchup, mustard, blue saddles shoes (somehow clownish in their size)—seem to channel not just Hockney but the subjects of his paintings. The same might be said about Rowing Blazers and Noah NYC, whose collegiate trimmings are like some collision of Ivy meets Audrey Hepburn in Two for the Road—her character's style is very-Hockney, very vacation-Hockney, that is. Prada, too, was rife with the painter's style, showcasing vibrant colors that seemed to combat…the cold: each model strutting down the runway wearing a nylon Ushanka. Less swimming-pool-blue Hockney; more fight-the-winter blues Hockney.
Text:

SSENSE Editors

Illustration:

Tobin Reid