THE SSENSE SPRING/SUMMER 2018 TREND REPORT: PART I
A Guide to the Future and Next Season's Products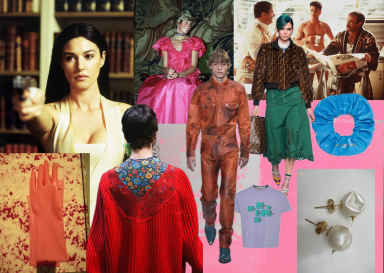 Each change in season presents us with new fashion forces. As the attitudes and approaches of the industry's most influential designers shift, we gravitate towards (and sometimes repel against) particular trends as a result. For Spring/Summer 2018, the SSENSE editors share with you their two-part preview of what's in store.

Alessandro Michele's tenure at Gucci began with a return: the first look of his first show featured a belt buckled with a golden double G. This was a riff on the classic Gucci monogram largely abandoned by his predecessor. Three years later, the double G is as prominent as ever, appearing in various formats across Michele's sprawling collections. Other luxury houses like Fendi have begun re-emphasizing their OG symbols, too. This is about continuity, historical and formal. Gucci and Fendi's ouroboric, interlocking Gs and Fs conjure both their 20th century roots and the placid satisfaction of a closed loop. These figures promise infinite returns, whispers echoing, "Gucci Gang, Gucci Gang, Gucci Gang, Gucci Gang…"
"Let us live for the beauty of our own reality," wrote Tom Robbins in Even Cowgirls Get the Blues. This phrase is quintessentially cowboy, yet, in an ironic turn of fate, cowboy ephemera (see: hats, boots, and chaps) has become a ubiquitous Instagram selfie prop in our present-day world of faux-reality. For 2018, western influences just keep mutating. From it-girl loved label Kreist, to Calvin Klein, to Acne Studios, we saw pearlescent buttons, pointed collars, cowboy boots, and fringe re-mixed into the collections this season. As we collectively dive further into the murky waters of insta-reality, we may lose our ability to discern the real from the fake. Maybe we're all caught up in our own game of West World, the Instagram bots hiding in plain sight, posing as the real deal. In these hectic times, the insta-cowboy look could be just the thing to keep us down-to-earth.

The level of obsession you were capable of in your teen years is almost impossible to match as an adult. Sitting in your parent's basement waiting for the dial-up to connect so you can read all your bookmarked blogs. Painstakingly painting your Warhammer figurines with the precision of a diamond appraiser. Lying in bed listening to the same song over and over again for hours and then writing all the lyrics out on your binder. Coveting with all of your being that new sneaker release. The connection you felt then to musicians, albums, artists, and brands, can't nearly be replicated in jaded adulthood. Unless you refuse to grow up. A millennial nostalgia is resurging, and maybe if we hold on materially—to our platforms, logo t-shirts, Nokia flip phones—we will never have to let go.
Sophomore Year at Calvin Klein
Paraded beneath the mutated totems of Sterling Ruby and set to the tune of David Bowie's "This Is Not America," Raf Simons' debut presentation at America's most iconic luxury brand (sorry, Ralph) was a statement on a fractured country. And its thesis extended beyond the event production and into the designs themselves. The collection's most recurring object: a cowboy boot severed violently at the toe by a silver placard. If Calvin Klein Fall/Winter 2017 was about a country's amputation, then the Belgian designer's sophomore follow-up was about how to dress its phantom limbs. In Look 20 of the Spring/Summer 2018 presentation, the severed cowboy boot appeared again, this time underneath an all-white workwear suit with Andy Warhol's 1964 painting Pink Electric Chair screen-printed onto it. The look told the entire story of how the cruelty of a country's uniforms (the denim suit) and rituals (capital punishment) can become the ingredients of a new aesthetic. Because the underground needs something to be under.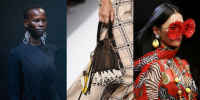 As selfie culture perpetuates our ideals of perfection, impracticality becomes more and more practical. When we've mastered quick fixes for every possible flaw, the only thing left is to build outwards—to self-modify by means of our accessories. Architectural statement earrings and eccentric fruit-shaped keychains are no longer bizarre objects, they're our real-life Snapchat filters. And shapeshifters are this season's must-haves.
South Beach Spots & Stripes
This season, escape to Miami. (And not just Ryan Murphy's Miami, see: FX's The Assassination of Gianni Versace: American Crime Story starring a platinum-blonde Penélope Cruz as Donatella). Escape, rather, to The Birdcage. That is, Mike Nichols' 1996 adaptation of Cage aux Folles starring Robin Williams and Nathan Lane. Think stripes, animal prints. Think button-downs…half-buttoned or totally unbuttoned. Think Versace, duh. But also, Loewe, Attachment, Ashley Williams zebra zigzags. Come for the Comme (neon sleeves x leopard print) and stay for the Junya, the Prada (business in the front, party in the…front, too.)

Millennials have been blamed for a lot in recent years—killing marriage, home ownership, and the landscape of American consumption. But before we discuss how lame the blame game is, let's not overlook the color they've also reportedly ruined—pink, millennial pink. Remember how all of your favorite streetwear staples were suddenly available in that particular shade of light pink that everybody's tired of now? Think Drake in that Stone Island puffer. But also think cherry blossoms, Mamie Eisenhower era bathrooms, and dolphins that live in the Amazon. Because pink isn't new—it persists far beyond millennial exploits. Pink soothes—Baker-Miller pink especially. Turn your eyes to Prada, Gosha or Chika Kisada. Or Lady Di, the princess who redefined the terms (and tones) of the pseudonymic shade. Never underestimate the placating power of pink, a color that's reaching full saturation this season. Pink is the ointment and armor for the turbulent days ahead.
The Woman Who Wasn't There
Monica Bellucci as Persephone the dissatisfied housewife in The Matrix Reloaded elevated the fashion factor of the Wachowski sisters' trilogy in a major way when she turned up in that pearlescent PVC cocktail dress. Adulterous husband, peplum waist, halter straps—the silhouette said 1950s, but the material completely changed the tone of the voice. It was tradition, perverted. This kind of disturbance of classically gendered pieces, cuts, and fabrics, is what we are expecting this season, as the body fights back against the signifiers that have oppressed it through dressing it. Elbow-length evening gloves in an eerie clinical latex morph an opera look into something of a hazmat suit for the historically gas-lit. Lady-like pearl studs are smashed, imploding into themselves. The cracks in the polish are worn with pride as the accoutrements of the American dream, the nuclear family, and the middle-class are reworked to bring to the surface the rot at the core.