The SSENSE Fall/Winter 2018 Trend Report: Part I
A Guide to the Future and Next Season's Products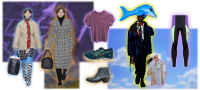 It's July and the collections we saw back in February and March are finally up for grabs. Information travels so fast today that six months from show-to-shelf is enough time to warp the cultural context in which the collections were initially debuted. We're all trying to keep up—so we've consolidated the upcoming trends and the cultural catalysts that drive them. Here in part one of our Fall/Winter 2018 trend reports, the SSENSE editors dive deeper into the impending season.
As the tech world gets comfortable in the jockish, Captains of Industry role once filled by Wall Street hedge funds, its sartorial tics have accumulated baggage. Zuckerberg's jeans and hoodies (has there ever been a shade of heather grey less convincingly casual?) were phase one, but things have evolved quickly. Outdoor performance brands and the cuts and fabrics associated with them are now en vogue—half-zip fleece pullovers, roomily-cut trousers, packable down jackets, GoreTex, eye-popping fluorescent palettes, and so on. Whether worn for comfort or for aesthetics, the result is a visual landscape peppered with looks that one day might've outed their wearers as engaged environmentalists, but today signify nothing in particular but the likelihood that they spend a lot of time in co-working spaces and third-wave coffee shops. And herein lies the danger of conflating aesthetics and politics. Swole Jeff Bezos stalks the uncanny valley, bursting out of his microfleece vest, and the company he called Amazon ushers in the next phase of the economic system that gutted its namesake.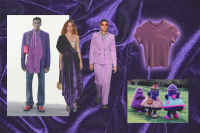 It's been rumored that Grimace is a taste bud, but according to McDonald's wiki, Grimace is "a large, purple anthropomorphic being of an indeterminate species with short arms and legs." Grimace is plush, he is humongous and he is purple, and purple is having a runway moment. The color most associated with mystery, royalty, and magic—sounds like a trippy mix, because it is—purple, next to green, figures most heavily in psychedelic hallucinations, but no bad trips! "There is no life I know to compare with pure imagination," once sang Gene Wilder in a purple velvet coat. Purple is ethereal fun, but never superficial. Secure, but without blending in—a heliotropic halo of fuzz on a violet mohair pullover. In a time when imagination matters most, instead of the red pill or the blue pill, pick both pills and get the intermediary: purple. Taste the rainbow with Grimace. Give him a little spank to see the nap of his purple velvet surface change to the lustrous PANTONE color of the year—ultra-violet 18-3838 in the shape of your hand.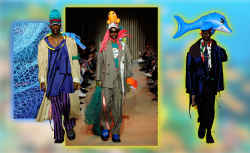 We think that Botter is 2018's most exciting breakout brand. Not only were its designers Lisi Herrebrugh and Rushemy Botter the winners of the prestigious Hyères Festival, but they were also finalists for this year's LVMH prize. Not to mention that i-D Magazine's newly minted editor-at-large Ib Kamara styled their breakout Spring/Summer 2018 men's campaign. They've got everything in all the right places, and there's substance behind it too. Their "Fish or Fight" collection—laced with inflatable fish headpieces and oil tycoon branding—brought attention to the issue of industrial over-fishing and pollution, a major threat to small fishing communities in the Caribbean and across the world. Authenticity coupled with a sense of humor is at the heart of the Botter brand, two things we hope to be trending heading into this winter.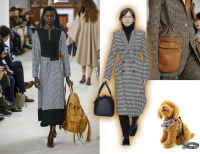 Ears perked, slightly-squinty eyes, tongue flopping comically to one side—is there any sight more satisfying than that of a grinning pooch? It's no wonder labels like Yohji Yamamoto and Alexander McQueen have created entire collections around the print that resembles a canine's charming smile—houndstooth, it's a classic. Every fall, as wool coats and trousers return to the runways, the jagged square pattern becomes an obvious pick for fabrication. But this year, contrary to its predictable parents, puppytooth is taking us off-track. Tiny and mischievous, it deceives the eye into appearing as a single color from a distance, or perfectly-checkered squares at a closer, quick glance. Like a trickster in disguise, puppytooth polishes its wearer while nodding at their silly side. Cute, chic, and also a little crooked, it sends a notable message—"I want to play!" but also, "I bite back!"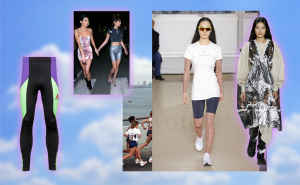 When Bella Hadid wore those silver YEEZY Season 7 x 2XU neoprene scuba shorts at Cannes this summer the "get the look" internet thirst was profound. It was one of those moments—like when Rihanna carried the yellow suede 'Le Sac Chiquito' Jacquemus micro-purse to the unveiling ceremony for her namesake street in Barbados—everyone needed to cop. For Fall/Winter 2018 we're seeing elite sports performance fabrics and styles fused with high fashion like never before, and for this season, in particular, triathlons are the muse. Dresses that look like foil blankets at Calvin Klein 205W39NYC, cycling shorts at Martine Rose, headbands and fast sunglasses at Marine Serre. It takes an average of three hours for participants to finish a triathlon. Three hours of internet time is an eternity, so it's safe to say that this trend's got some endurance.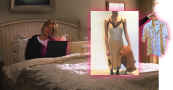 "The brain is better irrigated" in that position, said the novelist Françoise Sagan to her friend, Nicole Wisniak, the eccentric, sometimes shut-in editor of Egoïste—the French bespoke cult magazine with a remarkably relaxed production schedule. (In four decades, Egoïste has published less than 20 issues.) Here, Sagan was encouraging Wisniak's penchant for working in bed—perhaps more glamorously characterized as working from bed. A replica of Marie Antoinette's to be exact; similar to the one the teen Queen housed in Château de Fontainebleau but that Wisniak keeps as a sort of life-raft-turned-home-office in the 6th Arrondissement. The French editor has been quoted as saying, "It's better to work from your own bed than somebody's else's," and who are we to argue with that? More so, why compromise the comfort of an elastic waist, of smooth, luxurious silk (both top and bottom), for literally anything? Deadlines, after all, are best met from bed. From the sweet and cozy cloud-like feeling of pillows, plenty of them, and lighting you can control; from the occasional speed-nap; a blanket to wrap yourself in while you pace back and forth, while you enjoy the company of absolutely no one; and a kitchen—yours, with your weird snacks—not far. In bed, on deadline. Good posture? What's that? Take a cue from Wisniak's unrushed sensibilities, and more importantly, take your time.

"Let's span time together," says Billy (Vincent Gallo) to Layla (Christina Ricci) in Buffalo '66. Sounds romantic, but in the context of the film, it's not so simple—Billy has just gotten out of prison and has kidnapped Layla, demanding she poses as his wife on a visit to his parents' house. He delivers this line while the two are in a photo booth, fabricating evidence of a life supposedly spent together. Set and shot in Gallo's hometown of Buffalo, the film captures the mournful bleariness of the post-industrial northeast. It has the feeling of a Western frontier town long since drained of potential. What's left are missed opportunities—like an infamous shanked Super Bowl field goal attempt, which factors into the film's narrative. Later in the film, Billy and Layla visit a bowling alley where Billy had once been a regular. As King Crimson's "Moonchild" plays, a spotlight appears on Ricci, who does a gentle tap routine. The busted nostalgia of the bowling alley—most bowling alleys, really—matches that of the town. The soft sadness of bowling shoes and all the people who've worn them, Billy's cherry-red cowboy-ish boots, and the heavy smear of Layla's pale blue eyeshadow brim with the same sort of nostalgia that showed up on Fall/Winter 2018 runways. These looks remind us that it's too late to change the past, but a feeling of proximity to the beginning, however you can create it, is comforting nonetheless.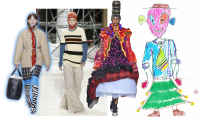 Surrealist André Breton invented the Exquisite Corpse as a drinking game for his bros Marcel Duchamp, Man Ray, and Joan Miró, but eventually, the game morphed into a genuinely enriching exercise, helping them to step outside of themselves in their creative process. Entirely essential to surrealism, Exquisite Corpse is a valuable lesson in throwing cohesion out the French window. Let's just stop trying to make sense. Let's not consider the whole picture, but instead assemble fragments, shove things together that have no sense being together. Collaborate. You pick my hat, I'll pick my shoes. The world is increasingly characterized by surrealistic hybridity, and the look of the future is Exquisite Corpse.