SSENSE Womenswear Report: Fall/Winter 2016
A Guide to the Future and This Season's Products
Text:

Emily Friedman and Mary Tramdack

Images/Photos Courtesy Of:

SSENSE Buying Team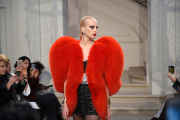 Poison
Launched in 1985, Christian Dior's Poison was a women's fragrance that defined an era of power-dressing styles and animalistic luxury. It was an updated take on a classic powder fragrance that matched equally well with boutique and discotheque interiors, emanating a distinct Bonfire of the Vanities vibe. But in 2016, opulence is more of a game than a modus operandi. Signifiers of excess are more impactful when employed coyly and judiciously: a devastatingly sharp jacket, a commanding color, a flash of gold.

The Boot Index
In 1926, economist George Taylor thought up the Hemline Index: a theory that women's skirts creep higher with rising markets and descend when the economy takes a downturn. We propose an update: the Boot Index. This season's wide selection of thigh-high styles indicates that we are living in times of unparalleled growth and optimism. Confidence and sexuality remain hot commodities.


Rei Kawakubo's Virtual Warriors
Only the beautiful madness of Comme des Garçons can make powder-pink vinyl look perfect with floral jacquard. This is the uniform of Rei Kawakubo's 18th century punks. And we couldn't be happier that this year's revolutionaries will be wearing trapezoidal skirts.

Shapeshifting
The present is fluid and amorphous. And it appears that the best way to stay grounded is to be open to changing shape. Inconsistency isn't a lie. It is flexible. And more importantly, it is complex. This season, there is a proliferation of tailoring that embraces the beauty of incongruity: where hemlines never meet and accidents are celebrated. Let's have fun being complicated.

The Jean Millenium
Is "luxury jeans" an oxymoron? Is "classic jeans" redundant? Does it matter? When it comes to humanity's favorite pants, jeans have been winning the game since the culotte was pushed out with the French Revolution. Not many fashion staples have remained equally consistent, evolving via length and waistline but not by much. Here's to another 500 years.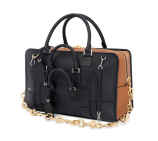 Bags on Bags on Bags
The model on the cover of the magazine carries a magazine. Look closely at the cover of her magazine: It's the same magazine cover you're holding. Jonathan Anderson replicates the optical illusion of mise en abyme in his newest interpretation of Loewe's jet set classic, the Amazona tote. Adorned with smaller versions of itself and designed to carry all your valuables, it embodies the hallucinatory nature of travel.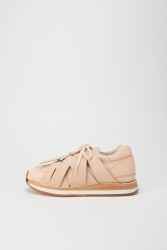 Velvet
Velvet is a supremely well-travelled textile that has gone from the boats of Venetian merchants to the Chelsea boots of rock stars. Its timelessly seductive nature can be attributed to its temperamental attitude. Rub velvet against the grain and it will turn on you immediately, like a passionate lover. No fabric lends itself more to being touched rather than seen. And sensuality is never going out of style.


Emoji Yellow
According to the Oxford English Dictionary, 2015's word of the year is [face with tears of joy emoji]. It seems ever more clear that in our current world, the most effective messages are instant, emotional, and readable in every language. In a culture defined by the emoji, the bright yellow of a smiley face serves as our global connective tissue. It brings us closer together. Celebrate it. Wear it with pride.

Neo-Unisex
As designers abandon the artificial constraints of gender, function has becomes our new concern. London menswear designer Craig Green's signature parka, adapted and almost unchanged for his debut women's collection, is a lesson in dressing with unmatched fluidity. It is a work jacket with an unmistakable delicacy. It is a uniform for any place or situation. It is androgyny's new and practical face.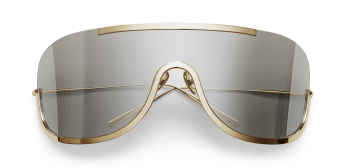 Apres-Ski
Winter should be playful and not punishing. And for those who are light at heart and well-prepared, Winter can become the new Summer. Trade hot yoga for downhill or slalom. Taken outdoors, the uniform of the post-workout cooldown translates into a joyfully adaptable Winter wardrobe. Who says that your down coat needs to be checked at the door at your next dinner party? Don't ski visor sunglasses match perfectly with the gleam of a glass skyscraper? This year, the city is our mountain.


TechNomad
With the continued advancement of mobile technology, our cities now live in our pockets and our bodies are set free into the wild. Being "plugged in" works both ways. And upon further inspection, the circuitry of nature proves to be more futuristic than anything you've seen on concrete. Each ounce of dirt under your hiking boots is a Snapchat of planetary history. Each angle of the setting sun in another source of inspiration. This is your world. And you look great in it.


Carbon Is the New Black
Carbon is proof that minimalist design does not always have to be about subtraction. As an atom with four sides, carbon's geometry holds together both our computers and our bodies. This is where furthest space meets deepest jungle, where coal becomes diamond. Taken on its own, carbon's surface looks like a shiny grey mirror, one that reflects our potential to create or destroy anything. It is at the core of our culture's and its techno-biology. And it works well under pressure.
Lurex
Invented in postwar Britain, Lurex is one of the original tech-fabrics. Like an act of alchemy, it vaporizes metallic gold and silver into a stretchable thread. It has been spotted on Pope John Paul II, Madonna, numerous international fencing teams, as well as the new Vetements collection. Lurex is proof that material is often best when it is paradoxical.
Text:

Emily Friedman and Mary Tramdack

Images/Photos Courtesy Of:

SSENSE Buying Team