SLEEP MODE: Where Fashion Goes to Bed
Dreaming Out Loud in Slippers, Matching Sets, and Sleeping Bags

Do the clothes we wear to bed—from bed —reveal anything about our wellbeing? At the 2018 Emmy Awards, Tracee Ellis Ross floated across the red carpet like a cloud in what looked like a decadent pink duvet. Nothing cements a star's fashion supremacy like their ability to bring the bed to the TV. In a recent late-night interview, (before undergoing a series of zany hair transformations and showcasing his cartoon drawings of Donald Trump), Jim Carrey arrived in a two-piece pyjama set covered in gold kisses. "THESE ARE MY JAMMIES," he yelled out, before clarifying, "Just look at me, I'm stylin'." At the end of last summer, Kanye West showed up to 2 Chainz' Versace Mansion wedding sporting a pair of ill-fitting, boyish cushioned slippers, his feet like a metaphor, dragging on the ground behind him. If celebrity culture is any indication, how we identify with sleepwear is a reflection of our holistic state.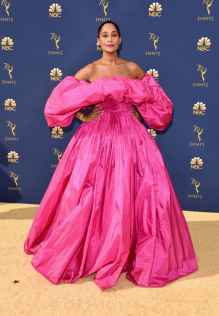 2018 practically forced us into bed. We saw a revolution of the mattress business with bed-in-a-box companies like Casper creeping into our feeds in more ways than one—from blogs and unboxing videos to pop-up locations and monthly bedding subscriptions (not to mention the return of the water bed). Our corporate landscapes continued to transform into sleep-friendly fantasies with the integration of bean bags and nap pods, and the normalization of working from home—or better, working from bed. Pantone's color of the year was Ultra Violet—the most meditative, mindful shade of purple—setting the scene for Max Richter's 8-hour SXSW "Beautyrest" sleep concert. Jonah Hill and Emma Stone took us through a series of realities via drug-induced sleep with the Netflix hit, Maniac. Apple's Bedtime app monitored our hours of sleep each night, reminding us of its association to good health, and upscale gym chains like Equinox began launching initiatives to help their members get a better night's rest. Even the internet and social media fell asleep, thanks to influencer spaces emphasizing bedrooms and The Cut's recommendation to get to bed before 9PM.
Athleisure transitioned into bathleisure through a sea of post-shower selfies—robes and hair towels and the upsurge of body care treatments—and as we become exhausted with workwear, we move even further towards relaxation. Sleepwear took over the runways for SS19, with twists on the classic nightgown from Batsheva and Cecile Bahnsen. Like the girls' slumber party scene in Grease, models were draped in sleepy-chic babydoll pyjamas, smocks and frills. Victoria Beckham has been known to carry healing crystals, though her latest collection doesn't require you to do so, with plaid nightshirts and matching paisley sets offering their own restorative powers. Thom Browne's New York flagship sells actual sleeping bags—typical Thom Browne tailoring, but appliqued onto a puffy, portable bed ready to be rolled out wherever you please. Craig Green, Simone Rocha, Valentino, Palm Angels—it seemed like every brand collaborated with Moncler this year; the jackets that look more like comforters, for hibernation on-the-go. We're amid a wellness revolution underlining not just getting enough water, but asking: Did you get your 8 hours?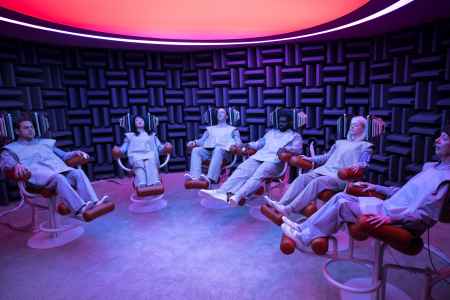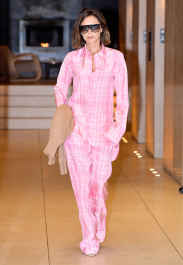 The spectrum of beauty and wellness today facilitates two kinds of people: those who problem-solve, and those who adapt. In other words, the industry provides us with products and services to either fix things or flaunt them. When beauty-turned-business mogul Tyra Banks coined the term "flawsome," viewing imperfections as assets, she was onto something. We've resorted to the form of self-care that caters to our materialistic inclinations while reaching far beyond the surface. Pyjama dressing is for people who want to appear relatable and glamorous at once. What we used to consider millionaire's loungewear—think Hugh Hefner in a silk robe with his bunnies as arm candy—we now view as the outfit equivalent of pillow talk. Alluding to intimacy, to being human, like a peek into one's private domain, sleepwear is the perfect uniform for both a public meltdown and the ensuing career comeback. To be vulnerable is in, after all, and you learn the most about a person in bed.
When our social climate continues to leave us feeling defeated, we're left with no choice but to shut down. Unwind. While the body's systems require deep stages of sleep to heal, digest, reset, and grow, to dress like you're dreaming is a conscious choice to self-restore. To personify the euphoria of sliding under the covers at the end of a long day, stretching out your limbs in opposite directions, and finally curling up into fetal position. To reverse the norm of day-to-night dressing is not merely an act of laziness, but rather to take control over the level of ease at which you move through your surroundings. From the soothing feeling of luxurious silk, to the breathability of billowing linens, it's no wonder we can't resist. When our wardrobes morph into wellness retreats, everyday becomes a getaway.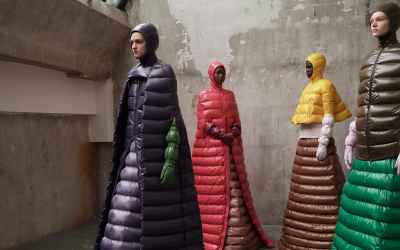 Erika Houle is an editor at SSENSE in Montreal.