Simon Le Gadjo: Jacquemus Makes Its Menswear Debut
Simon Porte Jacquemus Introduces the "Little Brother" of His Fashion Universe
Text:

Chris Black

Photography:

Liam Goslett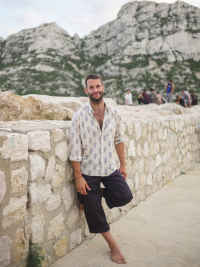 Last February, at the end of his Fall/Winter 2018 runway show at the Petit Palais, Simon Porte Jacquemus came out to thank his audience wearing a camel-colored hoodie that read "New job l'homme Jacquemus" across the chest. It was his cheeky way of announcing his first men's collection, which was unveiled days ago in the Parc national des Calanques near Marseille—close to where he grew up.
From a nondescript white building overlooking the Seine that used to house Agnès B., Jacquemus has a dedicated staff of 40 helping him produce his conceptually commercial collections. He launched his label at 19 with money he had earned working in the Comme des Garçons store in Paris. Today, he is 28 and a bonafide star in the fashion world, with a magnetic personality and Gallic good looks. Everything he does feels poetic and innocent, exuding a unique sense of laissez-faire sensuality. He has little formal training and no major backing. Although not beholden to a fashion conglomerate, Jacquemus still works constantly, but even with such a packed schedule, he manages to put his freedom and happiness above all else. It's a rare and refreshing outlook for a successful young designer.
I caught up with him in Paris to chat about his debut men's collection, which will launch first on SSENSE in a couple of weeks. We met on a sunny, mid-June day near his studio at Coffee Fluctuat Nec Mergitur, located in Place de la République where he sometimes goes to sit and watch skateboarders. He arrived promptly wearing a plain blue t-shirt, technically-sound workwear shorts from Dunlop that landed right below the knee, and a clean pair of Nike Air Monarchs. He had been up with the sun for a boxing session and had just woken up from a quick nap. He ordered for us in French and giggled a bit when I asked for an Americano. We talked about celebrating the body, his beloved South of France, and the guileless dressing of the Mediterranean men from his childhood. He was relaxed and confident, ready for the world to see the Jacquemus man. Last weekend, Liam Goslett travelled to Marseille to photograph him in the lead-up to the show.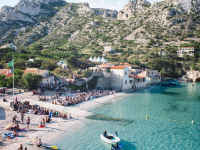 Chris Black
Simon Porte Jacquemus
The first image you shared of the Jacquemus man was of rugby player Yoann Maestri emerging from the Mediterranean Sea, and you actually took the photo yourself.
It was a mood. The idea of the type of man I want to describe and speak about. Someone free, with the seaside next to him. I like the idea of no clothing and the very minimal, simple, white cotton underwear. I knew who he was because he's a famous rugby player in France, and when I asked him, I realized he was not just physically like the Jacquemus man, but mentally. I said, "Oh, I love this film, it's a bit of a reference with the dog," and he was like, "Oh, Respiro, it's one of my favorite films."
So he's cultured, too. He's not just an athlete.
He has an art gallery in Toulouse. He's really impressive. It's not about a celebration of a muscular man—he has beautiful heart and beautiful spirit, so it was right. It's the celebration of the body in a good way.
I feel like I see you on Instagram exercising all the time—does it help you mentally?
Yeah, it will be not possible for me to focus without it.
Did you play sports as a child, or were you just active?
I was dancing a lot. I was doing ballet, hip-hop, musical comedy, I mean, I did all the dance. At school I couldn't focus on anything and I was a bad student. So, it helped then and it helps now.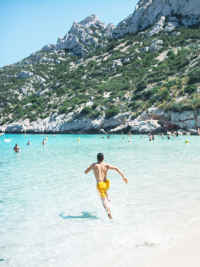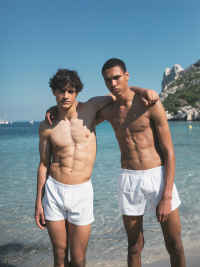 There is always a narrative attached to your women's collections. What is the narrative for men?
The first collection is called "Le Gadjo." In the South of France, it's what Romani men call the other men who are not Romani. It could be a guy who is wearing all blue, he has the wallet in blue, he has the full track suit in blue, he has the hat in blue, a full sport look, and it's almost too much. Then you have the dad who is wearing a suit with an open shirt with a lot of chest hair and too many gold chains, and you're like, "Oh my god, who is this guy?"
When too much actually works.
This Mediterranean aesthetic was important for me to explore. Then you have just swimsuits with a sort of Matisse flower on it. I made ties, bags, and jewelry.
You're really going for it right out the gate!
It was important for me to define everything, because everything all together makes sense. It's important to have the all vocabulary to understand what I'm talking about.
Are you the template in some way for this, or did you design with another man in mind?
I started this collection when I fell in love. My inspiration was to fall in love and want to do a collection for someone.
Is that relationship still happening?
No, it's not. When I announced [the show], it was finished. Yeah, you have to enjoy the moments you had. It's fine.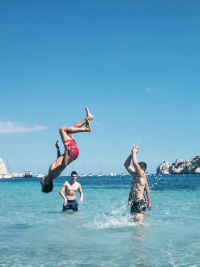 Did your women's collection inform this collection in any way? Or do you think of it totally separately?
For me, the woman is more chic and more elaborate in terms of the clothing she wears. The men's is like the little brother, you know? Give me some time to grow up.
So you're starting at adolescence and moving up.
It's my story, it's not just a brand. I created Jacquemus when I lost my mother at 19 years old. I was thinking about the woman, and it's so biographic. The men, I didn't start because I want to have more sales, I started because I fell in love and I wanted to talk about men.
It's a very pure reason to start. What have you brought from your childhood into this collection, or into this approach?
There is a lot coming. It's a lot because it's the way I see men, and how I was so inspired by men since I was young. All those Mediterranean men, I sense a lot of naivety in them. It's going to be very naive, in a way.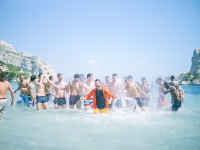 What were you listening to when you did this men's collection?
I listened a lot to the soundtrack from the Big Blue from Luc Besson. Loud. People always listen to music and sing in my building. We are all young, and it's Jacquemus.
People are very excited about the show. How are you feeling?
I am confident. I am never stressed before a show. I am so excited to do one thing—to bring people to the south of France. Not to bring them in a beautiful house or whatever, top of the top location, no—I bring them to, for me, one of the most beautiful places in the world, called Calanques. This was a dream. It was nearly impossible, because it's a national park.
So, how did you pull it off? I imagine there was a lot of red tape.
Basically, it's the mayor of Marseilles who is making it happen. He knows that since I was 10 years old I am talking about the city. He was like, "Okay, we have to support him." Playing music in a national park is a big deal. It's a nightmare, it's still a nightmare. Even to bring, like, 200 people down a tiny little road.
You go back all the time right?
All the time. I am not in love with Paris.
When people start to always smile, maybe I'll be in love, but…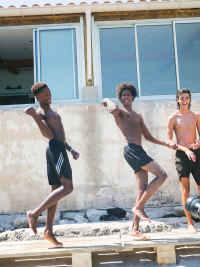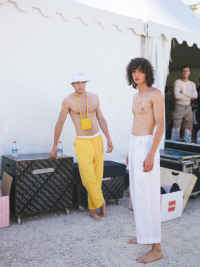 I love the energy of New York. My boyfriend was from New York, actually. I went there a lot last year. I could imagine myself in New York.
I could. Well, not anymore. I don't want to go back, anyway. This show was supposed to be a surprise for him, in Brooklyn. There is a big playground next to the river in Brooklyn.
I know exactly where you're talking about. So, this show was supposed to be there?
Yeah, at the beginning, but the collection totally changed. There are a few things still that are very New Yorker. There are a few pants you're gonna see and be like, "Ah!"
"Ah, that's a New York pant!" Would you end up back in your hometown? Is that possible?
Not in my hometown, but in Marseilles. It's the dream. I'm working on it right now. I can come in Paris once a week and make it happen. It depends if my team is ready to follow. They know that it's sunny and flats are, like, one-third less expensive than Paris.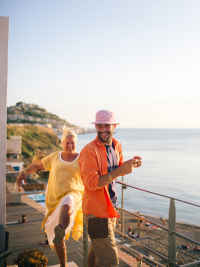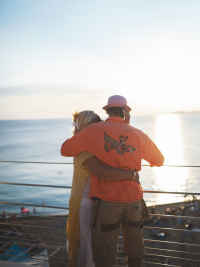 It's an idyllic life! If you can get talented people to follow you then it's not really an issue. Do you and your staff spend a lot of time outside of work together?
Yes, we are very close. No one has left.
Sounds like a good place to work.
All of the young designers, so many people are leaving because they are too crazy for them. How many designers are yelling, screaming, fighting? I mean, me, I am smiling all the time, and when I am not smiling it's hard for the team. I am not always super friendly, I am focused and direct, and I always say what I think, but there is never drama.
Working retail was a great experience for me. It helped me learn to deal with all kinds of people. How do you feel about it?
That experience helped me, but also every weekend I was selling fruits and vegetables with my family. I was always this person inside. I knew that you have to sell, and I don't feel bad about it.
Does this men's collection feel like a risk to you?
As an independent, yeah. If I didn't sell my first collection, I couldn't make my second collection. But it's a risk I want to take and the day I am not able to make something and sell it, then I will stop. And then I will do something else.
I already have a big thing outside of fashion. I am working on it. It's one of the biggest projects of my life.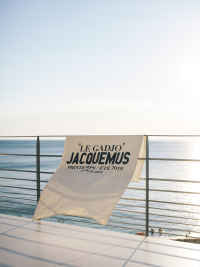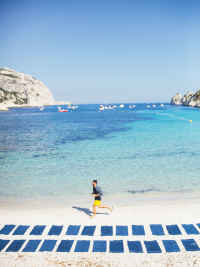 Chris Black is a writer and partner at Public Announcement in New York City. His writing has also appeared in T: The New York Times Style Magazine, Vogue, GQ, and Architectural Digest.
Text:

Chris Black

Photography:

Liam Goslett