Last February, Sander Lak's fifth collection for Sies Marjan revealed the creative director's chromatic kinship with Douglas Sirk, the filmmaker whose work is synonymous with 1950s melodramas and the saturated miracle of three-strip Technicolor. "I am contriving to paint with a strange brush," noted Sirk, in a 1978 Film Comment interview. Two decades prior, François Truffaut remarked of Sirk's work, that his use of color was "vivid and frank," and "varnished and lacquered to such a degree that a painter would scream." Truffaut continued: "They are the colors of the luxury civilization, the industrial colors that remind us that we live in the age of plastics."
Vivid. Frank. Strange. Plastics. The same words could be used to describe Lak's vision, who sent models—women and men—down the runway in a parade of lush materials; each garment acquiring heightened brilliancy from how Lak's designs seemed possessed by contrast. By conflict. By blue as it bleeds into red. The unlikely sophistication of a crinkle. And how startling it is to experience the emotive properties of a leather trench colored intestinal-pink.
Shimmering metallics in russet, puce, rainbow—one dress resembling the green patina of oxidized copper—were wrapped in black tulle or layered under psychedelic shearling in mint and merlot. Varying degrees of purple, from morning glory to plum and periwinkle, felt somehow hypothetical in their range. There were dull shades, too; a whole spectrum of sea urchin.
While the show's hued carousel of hammered satin and crêpe de chine was appealingly languid, floating across the runway with an air of indifference, there was tension. Little torments. A sense of anxiety typified by Lak's signature cinching and folds. Those errant puckers and rosettes. What he calls "the phonetics of clothes." These details that make a cashmere sweater seem self-possessed but not prim or supercilious. Cashmere sweaters that are dark and twisted. The Fall/Winter Sies Marjan runway was pure melodrama, insisting on visual climax after visual climax, and bringing to mind Lauren Bacall's blue flush in Written On the Wind or Jane Wyman's cherub face—prismatic, stricken—in All That Heaven Allows.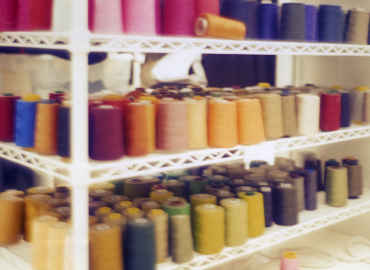 The similarities between Lak's color theory, let's call it, and Douglas Sirk's vivid landscape, shouldn't be dismissed as simply "cinematic." The comparison is far more intuitive and deep-rooted in the 35-year-old designer's first love: the movies. Jurassic Park, specifically. From a very young age, Lak wanted to be a filmmaker, identifying not only with the stories and characters on screen, but with the soundtracks, the costumes, the set design, the entire spectacle and collaborative alchemy necessary for production. "I could not escape [the movies.] I was that boy in Jurassic Park. I was Elliot in E.T. My whole room was filled with movie posters and movie books, and movie merchandise," he tells me one morning in May as we sit in the Sies Marjan showroom—a glossy, atomic-white space, decorated with fur and chrome cantilevered furniture, and located at the far end of the studio's 10,000 square foot space on West 26th street.
"I made movies with friends who never enjoyed it as much as I did because I was a perfectionist. For me it was like we were actually shooting a movie but for my friends, it was what to do between football and watching TV. I wanted to win an Oscar. This wasn't just playing. After an hour or two, my friends would be like, 'Ugh, Sander, we can't do this again.' But for me, as a young person, it was like…Who is Laura Dern? What else is she in? What is Blue Velvet?"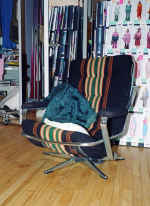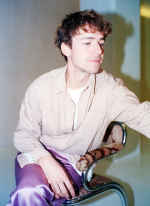 Lak's pull towards film hasn't let up. It remains an unwavering preoccupation though he's careful to note he has zero interest in directing fashion films. "Cinema for me is such an escape. I don't want it to have the same heaviness and burden that fashion sometimes has because it's my profession. But I read about movies every day. I know all the box office numbers. One of the most amazing things to watch is the Hollywood Reporter roundtable discussions. I'm obsessed with them! Writers, actors, it's all great, but I really like the producer roundtables. Because the producers are always the unsung heroes. They do the jobs you don't see." I ask Lak if he has a favorite installment and without hesitating he says, "The one with Oprah Winfrey, Julia Roberts, Lupita Nyong'o. I've seen that probably a hundred times. I loooove that one. When I have nothing to watch, I just replay it."
Born in Brunei on June 23rd, 1983, Lak moved around a lot as a child because his father was an engineer for Shell. Both his parents are Dutch. Sies is his father's first name; Marjan, his mother's. "My mom just decided to go with my dad when he started working at Shell; she was tired of Holland and my dad never liked it either, so they were like, Okay, let's go. They went to Norway, Oman, and then they ended up in Brunei." The family—Lak is the middle child—eventually moved to Malaysia and then the rainforest in Gabon in Central Africa. "It was very much like you pack up your stuff and this is the new house and you make it your home, and you collect things along the way," he tells me. "That's how my parents were. Homesickness never applied to me."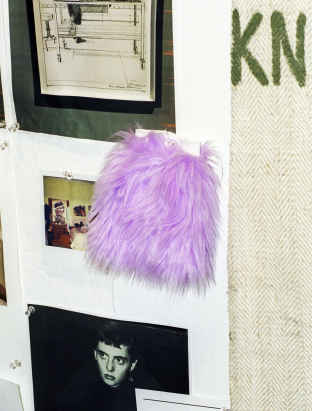 Lak was 10 years old and living with his family in Aberdeen, Scotland when his father died. His mother decided to move back to Holland, where shortly after, she remarried. "We came together like The Brady Bunch," says Lak of his stepfather and three step-siblings.
While film came first, fashion soon followed. "I was that kid who went to the Prada store when I was young and didn't have the money," he says. "I was hoping that the sales associate would not see through me and say get the fuck out. I know what it's like to save money for something you're obsessed with and not be able to eat for a month. I've been through that many times. And that for me is what fashion is. I find that really great."
After studying in London with Louise Wilson at Central Saint Martins, Lak worked in New York (Marc Jacobs), then Paris (Balmain), and finally, Antwerp (five years with Dries Van Noten), before being approached in 2015 by Joey Laurenti, Sies Marjan's chief executive. Three years (and one Emerging Talent CFDA win) later, the company—who counts Beyoncé, Zoë Kravitz, Bria Vinaite, Céline Dion, Isabella Rossellini, and Bella Hadid as fans—is comprised of 34 employees, 15 of which work in the atelier. Lak describes the mood of the studio as a collective, concentrated turning inwards, but always in service of the same vision, rhythm, and likely aided by an acute and perhaps vulnerable proneness to color and composition.
Josef Albers, Helen Frankenthaler, Sheila Hicks, Jim Henson; these are the artists that come to mind when standing amongst the sheer abundance of stuff, spools of fabric, and floor-to-ceiling bookshelves at Sies Marjan. It's easy to fall under the influence of Lak's influences. I caught myself wondering if the bottle of Gatorade Glacier Freeze on his desk was a source of inspiration—the crystal-cool aqua liquid, so similar to some of Lak's laminated, holographic designs. Sitting next to his bottle of Gatorade was a pink My Little Pony, a travel-sized tube of Clinique moisturizer, a copy of Rupi Kaur's The Sun and Her Flowers, purple highlighters, spearmint gum, and an exhibition book of the artist Sharon Hayes, titled, "There's So Much I Want To Say To You."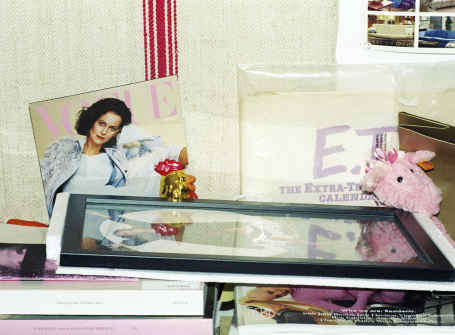 Because what forms at the Sies Marjan studio is a naturally arranged harmony of instincts and skills, and the promise of odd visual tangents. "We're all in this silent disco, doing our own thing. That's really the only way to do it," he says. "There are limitations to what I can do. I cannot sew. I really cannot make patterns. I cannot build a set. But being able to have people around you—in my case, the best of the best—to believe in what I believe in, and also challenge me because they want to make it as good as possible, that is exactly the same as being a film director. In the end, the result is like the premiere."
An obvious, debut-like quality radiates from Lak's designs. The clothes come out. They look like opening night. The materials catch and reflect light, or are incandescent, burning bright like meteors entering the atmosphere. There is movement, too. A comprehensive understanding of it, which again, is born from Lak's movie mania. His designs mimic the blur and coincidence, and mystery of a film still. "When we look at clothes, we always think about how it moves. And I don't only think about the catwalk," he says. "I think about life. How does it look in your closet and when you take it out, and put it on your body, and then give it to your daughter. How does that move and work in the world? Who is this woman? And what else is she wearing this with? And is she going to the supermarket? Is she having an affair?"
These are the stories that Lak tells himself. Narratives that animate his clothing, and that like his relationship to color, feel "exposing." He maintains that his insistent use of color, some shades more weird than others, lies in finding beauty, hope even, in the middle. "It doesn't have to be a Comme des Garçons piece or a yoga pant. It doesn't have to be either or. There's something so liberating about wearing color at certain times. There's something about seeing your face change. Your mood can be completely uplifted."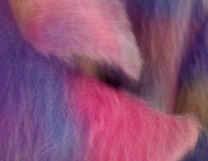 Lak, who sleeps ten hours a night, having chosen his apartment based on its proximity to his studio and the potential for extra shut-eye, describes himself as someone who doesn't need "full-blown stress" to work. Even the clothing he's wearing the morning we meet—his designs, of course—are pajama-slouchy. Lavender silk, that when worn by Lak, brings to mind Antoine De Saint-Exupéry's The Little Prince. "I'm not that person who needs to be in a break-up and a horrible situation, and all of a sudden the best work comes out. When I've slept well, I'm efficient. I know what I want. I stick to what I want. Everything gels. There's so much horribleness out there. I do this because I love what I do. And I want to love loving what I do. I don't want to hate loving. And also, we're just making clothes."
Durga Chew-Bose is a Senior Editor at SSENSE.
Text:

Durga Chew-Bose

Photography:

Marcelo Gomes