Not Yet a Woman: 9 Writers On The Fashion Essential To Coming-of-Age Films
Makeover Montage, Teen Sexuality, Awkward Phases

Simply put, formation is fascinating. We never grow out of the allure of coming-of-age stories. While certain themes—self-doubt, sexual awakening, familial tension—are recurring, another appeal of the genre is how intently an adolescent character lays claim to their environment, and not just with their actions, but how they choose to present themselves. Their clothes are manifestations of innocence as it fumbles towards experience: Juicy Couture in Mean Girls, The Outsiders and their defiant Levi's 501s, Claire Danes' love life taking off in angel wings in Baz Luhrmann's Romeo and Juliet. Here, 9 writers share their favorite coming-of-age films, connecting each character to a garment that was essential to the role.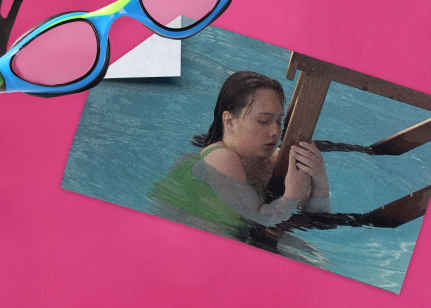 Fat Girl (2001), One-Piece Swimsuit

Fat Girl was always the original title of Catherine Breillat's fearless 2001 film. Direct, declarative, American, "like a jazz tune," she told The Criterion Collection. (And so offensive to French ears that she settled on A ma soeur! for its domestic release.)
On vacation, poolside, 12-year-old Anaïs (Anaïs Reboux) spends the majority of the film wearing a green swimsuit. Green sits opposite red on the colour wheel. Her gorgeous, slim-hipped older sister Elena's bikini is Baywatch red; Anaïs sports a maillot. A one piece. Tank straps, scoop neck. It dips low in the back, clings close in the front. The damp fabric hugs every pudgy curve; the convex stomach, the beginnings of breasts. The suit is a reminder of the indignity of puberty, a body changing against the mind's will.
Anaïs wears the suit to lunch, a sliver of bright green visible underneath an open bathrobe, fluffy and Big Bird yellow. Downcast eyes fixed on the food in front of her, piled higher than everyone else's. Shredded carrot, cherry tomatoes, a wedge of cantaloupe, a heap of mayonnaise-y potato salad. Her dining companions call her a pig, passing judgement on both her body and her plate, but she eats anyway.
Not yet sexualized, Anaïs dangles over the edge of innocence. She strides about the pool's perimeter in her suit, self-possessed and bolshy. The sun warms her exposed skin, the flesh untouched by shame. She applies sunscreen to her legs, squirting it from a can as though it were whipped cream. The foam lands in thick ridges, like the piped custard filling of an eclair. The languor with which she rubs it in is indulgent, sensual even. Unselfconscious. By the end of the film, this girlishness will be punished. What happens is a tragedy, but to call her a victim would be using the wrong word. Anaïs will come of age. She will not be wearing the suit.
The pool's stairs and diving board are Anaïs' imaginary lovers. She kisses them, talks to them. "Women aren't like bars of soap, you know. They don't wear away," she says. I think of Anaïs' suit as lime, but maybe it's more Palmolive, Irish Spring. Or perhaps apple is more accurate, like the peel of a Granny Smith. Or chartreuse, the French liqueur. Sweet, and vegetal. Better still: harlequin green. Harlequin: "A mute character in traditional pantomime, typically masked." Synonyms: joker, jester. A supporting role typically assigned to "the fat friend" in movies. In Fat Girl, Anaïs is neither the comic relief nor the punchline.
Simran Hans is a writer and film critic for The Observer in London.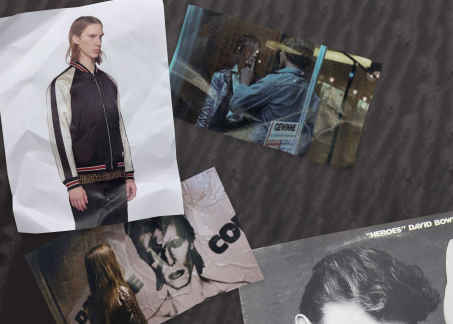 Christiane F. (1981), Satin Bomber Jacket

It's Saturday night and Christiane wants to go to the discothèque. She's thirteen, and "sick to death" of the stifling atmosphere in the West Berlin apartment she shares with her distracted mother and sister. Based on the real experiences of Christiane Felscherinow—who chronicled her youth in the controversial 1978 book Wir Kinder vom Bahnhof Zoo—Uli Edel's 1981 film Christiane F. takes the archetypal coming-of-age and saturates it with an air of nausea that's hard to settle. Before the film's skin-crawling evocation of addiction and the excruciating means in which our young protagonist feeds hers, we're offered a glimpse at the less poisonous indulgences of being a teen.
Christiane trades in her old sneakers for a pair of her mother's heels, which she carries in a plastic bag as if it's a purse, and struts down the street to the Sound, a new club that she'll have to pretend to be sixteen to enter. It's not the click of her heels that gives her the necessary air of adulthood, it's the shimmering satin bomber jacket she wears with girlish nonchalance—working in tandem with her blue eyeshadow, glossy red lips, and polished nails. Through the doors of the Sound, Christiane is ushered into a world where she finally has autonomy over her own pleasure.
She is wearing the satin bomber again on the night she and her friends go barreling through the halls of the empty Ku'damm Eck shopping mall, running from the police. Under the flickering green glow of fluorescent light, they run as fast as they can, tripping over one another and crashing to the floor as David Bowie's "Heroes" reverberates in the air, injecting the moment with a feeling of pure teenage ecstasy. Her jacket casts a faded shimmer as she rounds each corner, her plastic bag in one hand and the hand of her crush (a sweet, heroin-using, young hustler dressed like Rainer Werner Fassbinder's "Fox") in the other. Such as we've seen in many visions of romanticized youth, the gang stays up until sunrise, watching life haze in and out of focus. It all feels almost tragically sentimental.
That morning, Christiane stands in the Kurfürstendamm station waiting for her train home. She sees an ad for a Bowie concert being pasted up on the wall and, as if lit from within, a placid smile crosses her face. Could she have an inkling that her mother will agree to get her tickets? Or that after the show, out of naïve but desperate curiosity, she'll sniff heroin for the first time in the back of a car, instantly collapsing the space between her childhood and her adult life? How could she.
Hillary Weston is staff writer and social media director at the Criterion Collection. Her work has appeared in Film Quarterly, BOMB, Interview, The Brooklyn Rail, and BlackBook.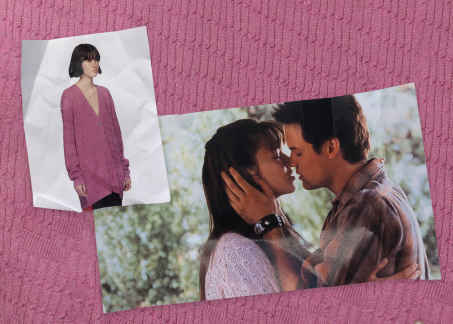 A Walk to Remember (2002), Pink Cardigan

There is a delicate balance to dressing a teen girl character whose primary personality trait is "Christian." Veer too far one way and it gets fetishy, the other and it turns horror. 2002's A Walk To Remember has the most realistically dressed Christian teen I've ever witnessed on film (only to be rivalled by Mandy Moore again in 2004's Saved!). I can't say this representation is meaningful to me, but as someone who attended something called Bible Quizathon in her youth, I can say it's accurate.
Jamie Sullivan has a wardrobe of floor length jumpers, oversized corduroy jackets, and floral blouses. Individually, these items could be resold as vintage on Instagram in 2019, but, combined, they make Jamie look profoundly frumpy. None more so than Jamie's only sweater: a green, lumpy cardigan. Her sweater is the target of devastating insults from the popular kids, such as "You have exactly one sweater," "Nice sweater," and, when she's not wearing it, "Where's your sweater?"
These comments mean nothing to her; Jamie's weirdly confident aura overpowers her modest clothing. She doesn't require a makeover to get bad boy Landon to fall in love with her. In fact, to prove that he is not dicking around, Landon shows up to her house to woo her with...a second sweater.
Landon hands Jamie an unceremonious department store bag and says, "I got you something," then leaves. She opens it to find a sweater that's just her taste: oversized and geriatric-looking, yet baby pink and just the slightest bit sheer. This new sweater causes her father to warn her about boys' expectations and what God may think, to which Jamie replies, "Dad, it's just a sweater." Then she wears it on her first date where she has her first kiss.
I don't want to extract too much meaning from a movie based on a Nicholas Sparks novel, but this sweater moment makes my heart seize anytime it appears on cable. Maybe because it perfectly embodies the feeling of being seen by someone else for the first time. Not the sensation that you need to change yourself to get someone's attention, but the even more terrifying idea that someone likes you just the way you are.
Gabby Noone is a writer based in Brooklyn. She is at work on her first young adult novel.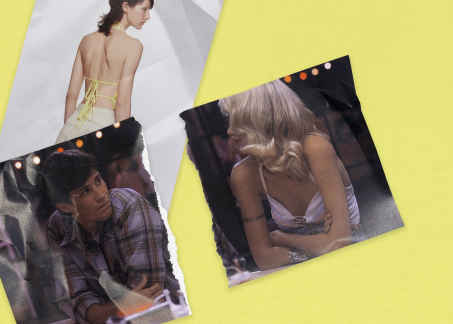 Smooth Talk (1985), "Going-Out" Top

Smooth Talk finds tension in the space between the two genres most associated with teen girls in the 80s: the coming-of-age and the home-invasion thriller. Joyce Chopra's underappreciated 1985 film features Laura Dern in one of her earliest starring roles, capturing sprawling summer days and teenage anticipation through a feminine lens. As Connie, Dern is restless. She spends her time wanting: wanting to get away from her parents, wanting to meet boys, wanting to shop. The mall is Connie's sanctuary, a place where she and her friends don their finest accessories and look at boys. As the girls run into the vaunted space, they exclaim: "Scopin'!"
Like so many of her cinematic teen contemporaries, Connie longs to be scoped. She and her friends discover Frank's, a neon-lit burger spot where older boys congregate, a setting that demands a truly memorable outfit. The cropped top is shiny white with pink and blue accents by the bust, corseted laces in the front and crisscrossed halter ties in the back. Alone in her room, she poses in front of her mirror. As she adjusts the top, scoping herself, we can imagine her internal monologue: "How do I look?" A world of possibility is stitched into its fabric.
On her first trip to Frank's, Connie covers the top with an oversized baseball shirt, but takes it off after her girlfriend encourages her. She wears the halter again the second time she goes to Frank's, likely because it's the only garment she owns that imbues her with a sense of coquetry. I want to protect her. I relate to that urge to try on scandalous new clothes, and with them a new identity. It's at Frank's that Connie is first seen by Arnold Friend, a creepy drifter who begins to stalk her. It would be easy and patriarchal to blame the film's slow burning descent into fear on the going-out top. Connie wants to grow up, to look sexy, she isn't "asking for it." When I watch Connie try on that outfit, I see all those times I've looked at myself in the mirror, all dressed up with nowhere—or maybe everywhere—to go.
Abbey Bender is a New York-based writer with bylines in The Washington Post, The Village Voice, Nylon, and other publications.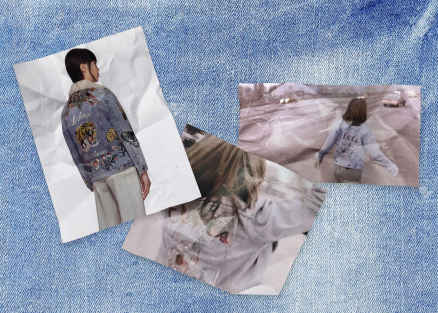 Out of the Blue (1980), Denim Jacket

It's August 16th 1977, Elvis Presley has died. Cebe (played by Linda Manz) mourns his death in a greenhouse in her yard. Cebe's alcoholic father (Dennis Hopper, who incidentally wound up directing the film) is in jail, and the only man left to idolize is The King.
But even he's gone now.
Cebe likes to rattle off punk slogans: Disco Sucks, Kill All Hippies, Destroy, Subvert Normality. She also likes to wear a blue jean jacket with Elvis' name embroidered on the back. Elvis recorded more than seventeen songs that included the words "lonely," "lonesome," or "alone." Cebe is alone too—her mother an addict and her father an abusive drunk—and holds onto words she doesn't understand in a stubborn effort to define herself.
Elvis was born a half hour after his still-born twin brother, Jesse. Twinless twins report spending their lives feeling a profound emptiness; some Elvis biographers claim he forever sought the companionship he had lost before he was even born. When you don't yet know who you are, you only know what you want to be like, and so you search for something external that feels related to you. A denim jacket becomes a blank canvas for idolatry, for mementos, pins, patches—images, words, and phrases collected and assembled like a family.
Olivia Whittick is a writer and editor at SSENSE. She is also the Managing Editor of Editorial Magazine.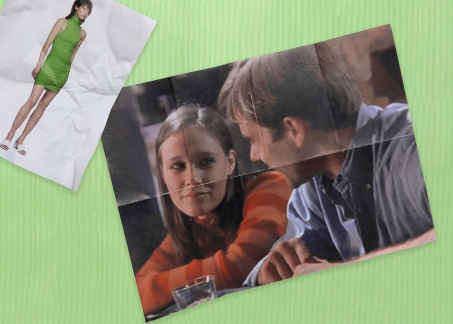 Whatever (1998), Knit Dress

In the underseen gem that is Susan Skoog's 1998 film Whatever, in Anna Stockard, played by Liza Weil, I found a girl who dressed the way I did—not "ugly" in quotes, but plain ugly, growing pains ugly.
Anna is a disenchanted teen living with her mom and brother in New Jersey. She has her eyes set on studying art at Cooper Union in the city after graduation. She hangs out with her more popular best friend Brenda, tagging along to parties and hoping to get rid of her virginity. Anna's outfits are unspectacular, bordering on tragic—raggedy t-shirts and ill-fitting jeans—that's what I find so endearing. I was that unspectacular girl. I'm pretty certain I had that same gray hoodie Anna throws over everything. Even her mother tells her, "I wish you had made more of an effort to dress better. It's so important to look good." This is a character begging for a makeover montage, yet the film flips the script on that trope. In what seems like a big transformation scene, Anna piles on purple eyeshadow in the school bathroom, but before she can do both lids, she gets busted for smoking and is forced to spend the rest of the day with one bruise-like eye.
There's another sort of makeover later on, when Anna and Brenda play hooky and go to the city to visit Anna's dream school. She ditches her usual washed-out palette for her vision of a chic Manhattanite aesthetic: a long-sleeved, red-and-pink striped knit turtleneck dress. It's not an ugly-duckling-to-swan moment, but it's the best Anna has looked, and the effort reminds me of how I started dressing when I moved to New York for college, trying to step up to a certain metropolitan standard and falling short. Anna's city dress bestows her the freedom to be a fabulous, fantasy self for the day—going by the sexier name "Gabriela"—even if she still makes a safety net of that old gray hoodie. The coming-of-age phase is often a process of figuring out how to style who you were with who you want to be, and Anna embodies that. But she'll be a New Yorker one day—I know from experience.
Kristen Yoonsoo Kim is a South Korea-born, New York-based writer whose work has appeared in GQ, Pitchfork, and The Village Voice.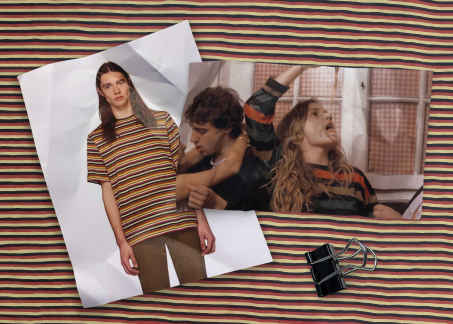 A Nos Amours (1983), Striped T-Shirt

It's summer, so naturally, I'm thinking about Sandrine Bonnaire's performance as Suzanne, the teenage girl at the thrumming centre of Maurice Pialat's unsentimental masterpiece, À Nos Amours. In it, Bonnaire's Suzanne is sun-kissed and serious. She's impossibly good at seeming bored or unimpressed (with her boyfriend, her lovers), and cool, even seasoned, at recuperating from the bleakest moments (with her family)—turning them into potent levels of French-teen blasé. While her friends seem more satisfied with the lite offerings of youthful abandon (drinking, smoking, dancing, speaking in platitudes about desire) Suzanne's mission is fixed: sex. Fulfilment, or the pursuit of it, as a tool for carving out who she is. It's hers to claim, and Pialat's portrait is both beautiful and painful, and pinned to Bonnaire's intractable stare. Her body language, too, how she delivers attitude by leaning, laughing, grinning, looking over her shoulder, create a character who lives beyond the trappings of a coming-of-age heroine. Her clothes, too, but mostly how she playfully wears stripes—an oversized pink t-shirt or a sexy one-shoulder, or the rainbow sweater she wears while downing spaghetti at a house party——are not just iconic but replicated. As a nod to Pialat, Noah Baumbach dressed Grace Van Patten's character in The Meyerowitz Stories (2017) like Suzanne. A pink striped tee and matching pink mini skirt. For those who might have noticed this homage, it provided more than just the thrill of spotting a cinematic Easter egg. It was Suzanne—her consequence—honored by something as simple as stripes, and how those stripes bring to mind summer, and how those stripes might conceal innocence as its being lost.
Durga Chew-Bose is the Managing Editor at SSENSE.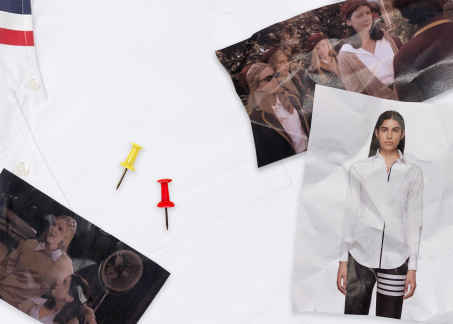 All I Wanna Do (Strike!) (1998), White Dress Shirt

In the summer of 1998, my family moved houses and I dedicated the entire month of August to recreating the same magazine collages I had pasted on my old bedroom walls. I wore the same pair of platform flip flops and flared jeans every day. When the nearest shopping mall opened a new multiplex movie theater, they did it with a promotion suited to a pre-teen on a babysitter's budget: all movie tickets were one dollar. With a purse full of loonies, I saw the same movie four times in one week. As you might have noticed, I don't like change.
That movie was released as Strike! in Canada, and a few weeks later in the US as All I Wanna Do. In it, five wealthy private school girls (played by Kirsten Dunst, Gabby Hoffman, Monica Keena, Merritt Wever, and Heather Matarazzo) conspire to save their all-girls school from merging with a local all-boys academy.
They spend most of the movie in their uniforms, which always include a white button-down collared shirt, under a crimson blazer or tan sweater. As Verona von Steffan, the opinionated and verbose leader of the clique, Kirsten Dunst wears a white shirt every day. Even on weekends when she's not required to be in uniform, she's wearing her dress shirt with long dark denim Levi's shorts, her hair in a side ponytail and her dimple the coda to every smirk.
The politics of this movie are not quite so crisp. Strike! has a soft-focus lens on the 1960s, as befits a children's movie, a liberal understanding of feminism and a self-serving idea of solidarity. In retrospect, it seems obvious why I, a child who wanted to be anything but, loved this movie so much: I took these characters as seriously as they took themselves. I also considered myself at the mercy of parents and teachers, overwhelmed at the idea of change but desperate for freedom, thinking sameness was close enough to control. Last night I had to talk in front of people and was transferring my anxiety into my outfit. This morning I'm picking the white button-down shirt I wore off the floor. I was always only ever going to wear a white button-down shirt.
Haley Mlotek's writing has appeared in The New York Times Magazine, ELLE, The Globe and Mail, and Hazlitt, among others. She is currently working on a book about romance and divorce.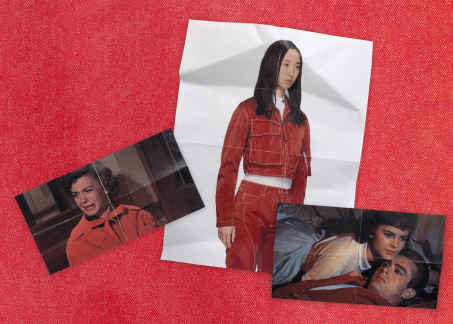 Rebel Without a Cause (1955), All Red

Red blazes across the screen in the title sequence, colors James Dean's unforgettable windbreaker, is smeared on Natalie Wood's lips. It was 1955 and Wood was sixteen, hardly out of childhood stardom and in her first mature film role. I was about the same age, give or take, when I discovered Rebel Without a Cause at my local video store. I was hypnotised by its curious rhythm, its callow outsiderdom, and most especially by Natalie Wood as Judy, the object of Dean's affection.
Judy is introduced at a police station, tearful and distraught. She wears a matchy-matchy candy-apple outfit; a wool coat and coordinating dress, with a bow tied fussily at her collar. Her lipstick is the same exact shade. She's gussied up, and Technicolor makes her preternaturally glow; she's radioactively feminine. "My father grabbed my face," she sobs to the officer, explaining why she'd been wandering the streets at night. "And started rubbing off all my lipstick. I thought he'd rub off my lips."
Judy's father can't bear her burgeoning womanhood. I couldn't look away from it. For school, Judy tones herself down. Her hair is neatly coiffed, sweaters throat-high and skirts calf-length. Even when the rest of her wardrobe returns to conservative green or insipid baby pink, her red lipstick remains.
One day, by chance, my grandmother—a woman young in the forties who understood keenly what a good red could do—gave me a tube of lipstick. It was a grooved gold case, Estée Lauder, heavy in my hand and impossibly elegant. Inside was a deep blue-based red that transformed my almost-black hair and olive skin. Suddenly I was more symmetrical, alluring; exuding what I felt sure was diffident glamour and an unsubtle division between myself and the Abercrombie wearers in my small town high school. What Rebel Without a Cause observes and never scorns is the theatricality of teen self-importance. In retrospect, it's not surprising that I came away from it with a swaggering sense of new identity. For Judy and her cohort—and I guess for me, too—small things take on crucial, world-shaking importance; tokens like the red zip on a windbreaker, or a lipstick shade.
Christina Newland is a writer on film, pop culture, and boxing at Sight & Sound, VICE, Hazlitt, and others.
Text:

Abbey Bender, Durga Chew-Bose, Simran Hans, Kristen Yoonsoo Kim, Haley Mlotek, Christina Newland, Gabby Noone, Hillary Weston, Olivia Whittick