New Icons: SSENSE Exclusive Vetements Flame Boots
The Paris Collective Shows Its Slapstick Side with an Ode To Glam Rock
Photography:

Jonas Lindstroem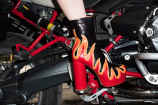 New Icons celebrates the stories behind particularly notable pieces from this season.
When you ask someone what they look for in a romantic partner, you will likely hear them rattle off a "deeply superficial" list of attributes, spearheaded almost always by the necessity of humor. "He or she needs to be funny!" A joint sense of humor is based on shared values. The same goes for one's sense of dress: two people admiring one another's styling decisions have met a kindred spirit in many ways. After all, to really pull together a look, we rely on comedic timing.
Given the romantic relationships we develop with specific items of clothing, it comes as no surprise that the shoe has to fit in terms of humor as well. Comedy is one of the conceptual cornerstones of Martin Margiela, where Demna Gvasalia of Vetements apprenticed. And the influence is clear in Vetements' designs. An almost slapstick comedic element runs through the entirety of the collection, from "high fashion" DHL shirts to lighter-heeled sock boots to backwards reversible bomber jackets. But the allure of a subversive sense of humor is proven most effectively by this pair of platform boots sold exclusively at SSENSE. In a subtle homage to Gvasalia's former employer, Vetements lifts his iconic rounded heel. In red, orange, and yellow leather appliqués, flames creep up from its soles, as though the wearer is walking on coals. Flamboyant as hell, these platforms are the pinnacle of glam rock and absolutely hysterical.

In a post-gang world, the humor of Vetements lies precisely in their play on gang-wear. Music scenes and biker posses no longer serve as the exclusive clubs they were in the past, so subcultural looks have been swiftly cut up and reassembled into costumes. When grunge came about in the early 1990s, glam rock rapidly sank to the bottom of the cultural consciousness. Vetements' efforts to revive this campy moment of velvet, ruffles, and sequins, paired with their sober tailoring, feels a bit like calling up an old lover. You have changed, but you are still the same. And so when our wardrobe revisits a past love affair, half the fun is the possibility of role play, of hearing them cackle: "Please tread on me."
Text:

Bianca Heuser

Photography:

Jonas Lindstroem

Styling:

Marc Goehring