New Icons: Fleet Ilya Takes Sexual Experimentation Outdoors
A Bondage Collar Plays Games of Trust and Ownership
Text:

Bianca Heuser

Photography:

Mathieu Fortin / L'ELOI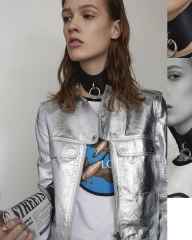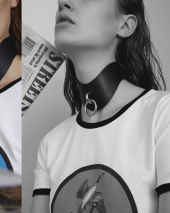 New Icons celebrates the stories behind particularly notable pieces from this season.
A feeling of safety is essential if one wants to truly, freely experiment. In order to create a safe space, it is important to establish crystal-clear boundaries and a tight set of rules. This applies across many relationships, from psychoanalysis to S&M. Though the two seem to share little at first sight, they have one common aspiration: self-exploration. Your analyst listens to your darkest fantasies, while your sub or dom plays a selection of them out with you. In S&M relationships, trust is built on matter-of-fact communication and the establishing of safe words. In a way, making restrictions is what makes this type of role play fun in the first place.
Fleet Ilya, the London-based fashion and bondage label, knows how helpful luxurious bondage gear is in establishing trust between engaged parties. When someone is willing to be your dog, you've got to treat them right. Their thoughtful care manifests itself in fine leather goods, like this curved black leather collar with lambskin lining. Equipped with a silver ring front and center, its wearer asks to be put on a leash, while an easily unclasped post-stud closure allows them to opt out any time they please. Rather than a violation of established rules, this feature signifies the real trust successful S&M relationships are built on: There is freedom to be found in handing yourself over to someone else entirely, letting go of ego and control.
But what does it mean to wear a bondage collar out to lunch? A chastity belt sends unambiguous signals: This is my kink, deal with it. The message of a collar is harder to decipher. As a purely ornamental accessory, it references seedy subcultures and a Jekyll-Hyde lifestyle. But when fine craft comes into the mix, the degree of seductive mystery escalates. To own and be owned—this is not just a bondage question, but a luxury question.
Text:

Bianca Heuser

Photography:

Mathieu Fortin / L'ELOI

Styling:

SSENSE

Hair and Makeup:

Andrew Ly / Dulcedo

Model:

Brianna / Dulcedo