Mille-Feuille: Layering Season is Forever
On Princess Diana's Cycling Shorts, Art History, the NBA, and Seven-Layer Dip
"Onions have layers. Ogres have layers. Onions have layers. You get it? We both have layers." - Shrek
Last February, Demna Gvasalia sent models down the runway in jacket-hybrids—densely overlayed, stratum-like coats for the perennially cold (or the fashion ironists). When you start thinking about it, you realize that almost everything is made up of layers. The human body, planet Earth. But also ogres, onions, and all the best desserts. Literal layers, metaphorical layers. Irony. Comedy. Layers which are peeled back to reveal something new and fresh. Here the SSENSE editors take a look at layering in its many forms.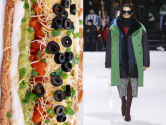 Shredded cheese is less exciting when it's not melted. Unless you're too impatient to cook a frozen pizza, you probably don't eat it often. If you're lucky enough to attend a function with elaborate dips, however, chances are you've indulged in the sinful Seven Layer. Despite its odd feature of unmelted shreds, it is unequivocally delicious, mostly because of its balanced blend of seven flavors and textures in every bite. A testament to the idea of strength in numbers—and in diversity—there remains much to be said about putting multiple things together to achieve one thing. A phenomenon not limited to food; the obvious joy in wearing layers is the assurance that comes with knowing the myriad situations for which one is synchronously prepared for. But layers must work as a team in order to achieve success. A t-shirt paired with mittens has about as much aesthetic appeal as a plate of only sliced green onions is appetizing—skipping ingredients, or garments, hinders the effect. Together, disparate pieces synthesize versatility, just as disparate ingredients create something unfathomably delicious. Layers remind us that a whole—look or dish—is nothing without its component-driven harmony.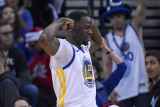 NBA Players Wearing Tees Under Jerseys
The on-court aesthetic of the 21st century NBA is typified by teched-out stretch fabrics—compression tights layered under shorts, arms cloaked in shooting sleeves like the ones Allen Iverson popularized in the early 2000s. The vibe is sleekly superheroic, the specifics clocked and mimicked by kids in high school gymnasiums and public playgrounds worldwide, trying to channel their heroes and dress themselves into skills they might never develop. One way NBA players disrupt this look is by wearing a t-shirt underneath their jerseys. Typically sported by high school or college players, the tee-under-jersey inverts the image of the little-kid-dressing-like-a-pro dynamic. It projects shy, endearing goofiness. Somehow, it gives 6-foot-7-inch, 230-pound Draymond Green the air of a little boy.

Gene Hackman in Scarecrow
"I'm a cold-blooded bastard. I can never get warm enough," declares Max, the gruff, ex-con played by Gene Hackman in Jerry Schatzberg's drifter buddy-drama Scarecrow (1973). In one scene, opposite the film's co-star—young Al Pacino as Lion, an ex-sailor whose impossibly warm clowning around wins us over—Max is getting ready for bed. The two friends who've only just met are sharing a room in a cheap motel, exchanging stories, laughs, getting to know each other, basically. While they haven't found their rhythm, Max and Lion are, for the time being, stuck with each other, desperate to move forward with their respective lives. Because of this, they witness each other's most intimate rituals. And in Max's case, this means his strange predilection for wearing dozens upon dozens of clothes. Like undressing an onion, Max unbuttons shirt after shirt, pulling himself out of sweaters and cardigan sleeves before sleep. Briefly, the big guy with a bad attitude, is made sweet, and not just by his nightly, near-ceremonious disrobing, but by how bizarre it is that someone so large and cantankerous might suffer from terrible circulation.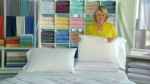 Completing any childhood chore as an adult feels like a mini victory. Like remembering to pack your lunch, or putting away your laundry. But there is nothing more rewarding, let alone luxurious, than peeling back the sheets of a freshly made bed. Martha Stewart knows so. In fact, she guarantees employing her technique will have you sleeping like "a good baby." First, a horsehair mattress, topped with a lamb's wool cover. Next, a fitted sheet, followed by an immaculately hospital-folded blanket. And, of course, finally, only the finest, softest, most beautiful duvet. Despite whether using sheets of Egyptian cotton, or paper-like bedding from your college dorm room, it's the principle that counts. "Climb in, take a nap, watch TV, read a book, or get a good night's sleep," Martha says. Feel the comfort—and the pride—for yourself.

Not much is known about the famous Sienese artist Pietro Lorenzetti, but we'll take the liberty of assuming he was a patient guy. His paintings, executed between c.1306 and 1345, are still around—a testament to his meticulous technique. The fundamentals of paint adhesion require layers upon layers of carefully measured glues and paints. We consulted an art restoration expert to give us an idea of what went into these historic works of art. Below, traditional Italian icon paintings for Dummies.
1 On top of a prepared wood board apply Rabbit Skin Glue, wait to dry.
2 Apply Gesso Grosso (aka fat gesso/coarse gesso) which is glue + gypsum.
3 Apply Gesso Sottile (fine gesso) glue.
4 Once all layers are dry, go in with your spolvero, a carbon powder applied to the dried gesso through a punctured tracing of the original drawing in dots to guide the painting.
5 Next apply the Bole, which is the size for the gilding.
6 Apply the pigments in the form of egg tempera which is egg yolk, a bit of vinegar, and powder pigments.
7 Finally, gold leaf.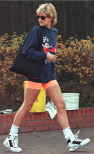 The peppy aerobics crazes of the tight, bright, hyperactive 80s brought exercise attire and nonsensical work-out layering to the forefront of fashion. French-cut briefs over leggings, sports bras as tops, cropped t-shirts over leotards, leg-warmers over nylons. There's always something tighter you can layer under something tight, with the tightest of all being cycling shorts, which fit under anything, even underwear. In our current 80s-revival, Diana-inspired, wellness-obsessed moment, it's somehow sophisticated to look like you just layered up after a spin class, even if the only thing raising your heart rate is a short dash from the car to the organic grocery store.