Market Research:
Off-White's "Black Tape Hip Belt Pouch"
Judnick Mayard On Virgil Abloh, Fanny Packs, And The Value (Or Not) In Being First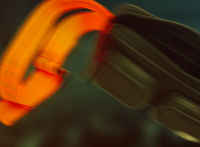 In 2013 I made a spontaneous but ultimately permanent style decision. I started wearing a fanny pack instead of carrying what I considered then, and still do, my sworn sartorial enemy: the purse. With my fanny, I found a satisfying compromise between stuffing my pockets (a streamlined look) and carrying a purse (a black hole of things like toiletries and every single receipt, ever, plus enough change to do six loads of laundry, which LOL because there's definitely a t-shirt in there that needs washing, too).
This compact hip bag disciplined my hoarding. Here I could keep all of my belongings attached to my actual person. That terrifying fear that grips your spine when you're trying to balance your phone while squatting in the bathroom? No more. I wore it with dresses, enjoying how it highlighted my small waist while looking like an ab weight. Or on my jeans as a belt. Or just under my sweater when I wanted to sneak joints into the club. I never had to worry about someone stealing my coat or worse, a blackout night gone awry. My work—from nightlife to production to touring—benefited so much, it was as if my career successes were directly related to this new uniform.
Flash forward to now and fanny packs have become the latest flex, not only in this fashion cycle, but in this time of "flex brands" where we pay the markup for typefaces, graphics, and labels, and where casual clothing once reserved for those who frequented bodegas and gyms have become the look du jour in enclaves of the uber-rich—places like Calabasas and Aspen where a corner store never had a chance. Concert tees and deadstock items have gone from collector's items for mega-fans to full blown status symbols that rival luxury design. When you see something plain with a big price, the implication is that its usability has somehow been extended or improved, either in materials or in design. More so, whatever your hustle or scam, a visual narrative is necessary. "Pics or it didn't happen" isn't simply a played out response but the very essence of our simulation. And who is better at being visible 24/7 than a black person? Virgil Abloh's Off-White has risen above all other brands to be The Flex Brand, though I must admit, I hold him in high regard as a "scammer" as well.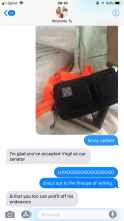 A few weeks before it was announced that Abloh was appointed the first Black creative director at Louis Vuitton, I received my Off-White fanny pack. The bag was so simple that if not for the brand's signature traffic-cone-orange grosgrain strap, with the words "OFF-WHITE" embossed in yellow, it would be no different from any other "sport wallet" at Macy's. Trimmed with leather, the black canvas zippered compartments felt nice to the touch and seemed durable.
While the pack wasn't especially luxurious, when I opened the dust bag—a lovely robin's egg blue—I felt motherfuckin POPPIN. I shot a photo to my closest friend who replied "I'm glad you've accepted Virgil as our senator & that you too can profit off of his endeavors." I laughed out loud at the finesse of freelance writing that had allowed me to receive a $760 baguette of clout for notadarn, and then get paid to wear it. My dude was poking fun at my longstanding criticism of Mr. Abloh: that though he was a first he would also be a last. That the system he's working in guarantees that none of us will make any money any faster because the path he has blazed is only for himself.
"Children in the Midwest dress like rich, young black men, and every woman from white to white-ish aspires to look like what used to be called video hoes."
Virgil is a top-tier marketer in the era of personal marketing. He has the Midas Touch, leaving some critics perplexed, even antagonized, by how déclassé he's made high fashion with his basketball shorts and expensive sweats. However, these same critics forget we are living in a time of Black Billionaires. Children in the Midwest dress like rich, young black men, and every woman from white to white-ish aspires to look like what used to be called video hoes. It's a time of visibility, of FOMO, of "stunting," a.k.a showing off so well it provokes. Systemic racism has taught us that this is as lowly as it gets. A Black man being a signifier of not just liquid cash but actual fashion—contextualizing everyday streetwear as luxury. Virgil used a different cheat code. He chose the art world model: a markup based not on improved function, but enriched associations. Cost that seems arbitrary to those not in the know, and perhaps even to those who are.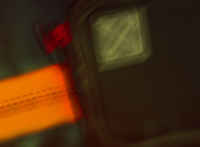 As for me, people loved the orange belt on this thing but it usually took them a few days to even realize it was Off-White: the bright orange strap concealed the giant typeface. I wore this bag for six weeks all over the U.S. and nobody offered to buy it off me or hyped me. Because of a wallet style, split-zip design, rather than the fanny's usual front-facing zipper, most days, everything fell out. Later I saw Skepta wearing a similar Off-White shoulder bag and got too caught up in how much better his was designed. (I bet he never had to pick up seven different supermarket discount cards and four Metrocards off the floor in the middle of the security line at the airport.) Mine has already acquired a worn look. In just thirty days, I toted it through snowy New York, the humid Louisiana swamps, and the dust tornadoes of the desert. But I love it more than the other fanny packs I've owned because—to put it plainly—it's more visible.
When I first started wearing fanny packs, I used to get stopped and asked if I was doing it earnestly, in style. Now, one could argue, they've become the definition of "useful but make it fashion." Everyone from rappers and Instagram royalty, to white boys who dress like rappers, are sporting them. We all look like Roadmen—those British street dudes who look like retirees, wearing tracksuits, dad hats, and small pack bags. That said, I've always been of the mind that anything made for "old people" is worth investigating. Old people worry about two things—comfort and their memory. They scorn frivolity unless it is for personal pleasure. And as someone who's a couple decades into this life adventure I was more than happy to follow their approach: usability is the only honest measure of worth.
Judnick Mayard is a screenwriter and producer living in Los Angeles.