The Double Life of Backless Dresses
Haley Mlotek Hates to See You Leave, But Loves to Watch You Go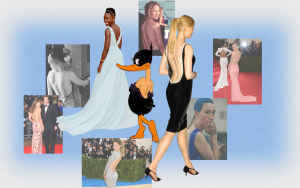 Today a backless dress is almost always about a total collapse in time. Glenn Martens told Vogue that the soundtrack for Y/Project's Spring/Summer 2020 show was like, "the Belle Epoque on acid," an inspiration shared with the entire collection—his backless dresses were gauzy and strong, wrapping around the body while leaving unexpected areas of vertebrae exposed, the colors and patterns forming a hypnotic spiral. For Spring/Summer 2020, Eckhaus Latta showed a backless dress made of radiating orange sequins, like a sunshower from mass-produced paillettes.
Then again, what age isn't without its own orderly mayhem? The backless dress was first one of the many chaotic contributions made by the people who lived through the 1920s, following suit after swimwear. Later, short, bobbed, finger-waved hair meant revealed shoulders and backs; slender silhouettes and diagonal cuts made Madeleine Vionnet's backless dresses hang in satin, silk, and chiffon—a sophisticated balance in construction, if not execution.
In Nella Larson's 1928 novel Quicksand, her heroine Helga Crane searches for a place that could feel like her own; at the very least, a place she can stay without suffocating. "But just what did she want?," Helga thinks as she moves constantly between restrictive jobs, controlling men, friends and family she cannot trust to see her for who she is. "Barring a desire for material security, gracious ways of living, a profusion of lovely clothes, and a godly share of envious admiration...Happiness, she supposed. Whatever that might be." Whenever an event becomes loaded with too much significance—will she find someone who understands her at this party?—her mind instead plans outfits because it is, in its own way, a better way to plan her life. At one event in New York, she wears a dress her more refined friend Anne had previously vetoed as "too décolleté." Décolletage translates from French as to reveal the neck, which has just as much to do with the spine as it does the clavicle. Anne had told her that there wasn't enough material. It gave Helga the "air of something about to fly." To Helga, this was a challenge to accept. "For her it would be a symbol," she thinks. "She was about to fly."
Later Helga absconds to Copenhagen, and finds a different response to a similar dress. Her aunt Fru Dahl wants Helga to meet the most eligible (read: wealthiest) bachelors. She encourages her to cut a favorite emerald-green velvet dress even lower in the back, and when Helga objects, says: "What a prim American maiden you are, Helga, to hide such a fine back and shoulders." The dress becomes, Helga notes, little more than a skirt. Even in her discomfort, though, she is not without pleasure at the effect the dress has. "[S]he liked the small murmur of wonder and admiration which rose when Uncle Koul brought her in. She liked the compliments in the men's eyes as they bent over her hand." Why does Helga feel this constant duality of wants, a sense that she's missing even what she has? "Why couldn't she have two lives," she asks herself, "or why couldn't she be satisfied in one place?"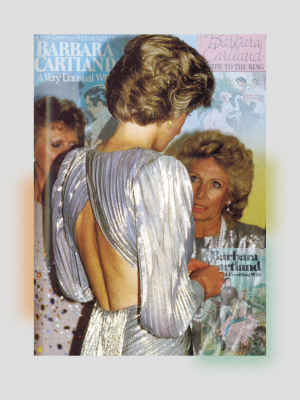 The romance novelist Barbara Cartland also remembers the 1920s as a search for satisfaction. In her autobiography We Danced All Night, she says the decade, for her, was all about bobbed hair, high heels, backless dresses, and hating feminists. "A career girl is a second-rate pseudo-man who looks her worst in trousers...all that a woman really wants is the protection of marriage," she once said. Cartland would become one of the most popular authors of the genre, beloved by readers and all kinds of admirers. "Almost everyone who was anyone apparently proposed marriage to her," wrote the literary critic Roger Sales. Her step-granddaughter was a devoted fan from a too-young age, and Cartland indulged her, thinking it was better the little girl read anything rather than nothing. "The only books Diana ever read were mine," Cartland later said, "and they weren't awfully good for her."
Diana Spencer would grow up to turn a fairy-tale marriage to the prince of England into the most modern of love stories: the one that ends in divorce. After they separated, she wore her dresses with vengeance that became read as feminist. In June 1994 she attended a Vanity Fair party wearing an off-the-shoulder backless dress that had sat in her closet unworn for three years; before, she worried it was too risky. The night she wore it, a documentary about Prince Charles premiered on national television—it was supposed to win back the public's favor, but instead confirmed he had cheated on the people's princess.
As a single woman Princess Diana would wear many backless dresses, and often as a joke—she wore a backless cranberry-red crushed velvet Catherine Walker gown to the premiere of Back to the Future in 1985. The pearls she wore with it, falling down between her shoulder blades, are called a "backdrop necklace," another accessory held over from the 1920s and 1930s. A necklace that remains around the neck but traces the spine has a subdued effect—everything looks the same, all the more because it appears where it's most unexpected. The following year Princess Diana attended a gala where the Scotland Yard had reservations about letting Diana on the dance floor; they were reminded of another party, when a strange man had tried to cut in on Diana's partner. Her security team asked Colin Powell to dance with her, thinking he could handle himself against unwanted attention. Diana was more concerned that he wouldn't be able to handle himself on the dance floor. Powell told Tina Brown that Diana had said: "There's only one thing you ought to know. I'll be wearing a backless dress tonight. Can you cope with that?"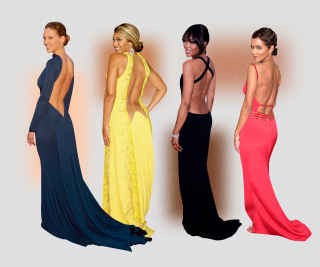 Can anyone? The assumed power of a backless dress is that it disarms all defenses. In the 1972 French comedy-spy thriller Le Grand Blond avec Une Chaussure Noire, Mireille Darc plays an intelligence agent who overwhelms our unlikely, clueless hero by wearing what would become an instantly infamous Guy Laroche dress. A high-necked long-sleeved black turtleneck in front, and basically bare-assed from the back. The violin-shaped outline shows how the small of her back dips, the dress connected on either side by a thin gold chain that hangs between the two remaining sides of the fabric. If a necklace worn down your spine is called a backdrop, then we need a word that describes a bracelet for your butt.
In 2019, the Palais Galliera in Paris showed Backside/Fashion from Behind. The curator, Alexandre Samson, said he wanted to present backs in both an anatomical and psychological sense. Darc's Guy Laroche dress was on display, one Samson calls a "legendary" part of French culture. The back, Samson told Love magazine, is alluring because of its paradoxes: "A woman reveals the only part of her body of which she has no control, even though she is aware of the sight of the people behind her. This passive control creates eroticism."
The paradox Samson describes is the charge a very good outfit carries. Passivity appears calm to hide conflicting depths. I'm realizing how often a backless dress accompanies a movie about a woman who gives the appearance of making up her mind but holds her doubts close. In Klute, Jane Fonda's Bree Daniels in a silver sequined backless dress and feather boa, the camera tracking her as she walks towards a favored client, a man who owns a textile factory. He waits in his office, illuminated by one golden lamp, as she walks towards him past rows of sewing machines and dresses yet to be worn by other women. This favorite client wants Bree to tell stories about what she calls "a pagan feeling" as she undresses in near-darkness. She's wearing the dress while she confesses to private detective John Klute (Donald Sutherland, at his absolute hottest) she's afraid of the dark. In the next moment, she starts taking the dress off. "Would you mind not doing that?," he asks her as she shows him her back underneath the mockneck night-sky blue sequins. He doesn't want her to stop because he thinks the display makes her too vulnerable—it's because it makes him too vulnerable. The dress moves as Bree breathes.
In the 2007 adaptation of Atonement, a story about alternate timelines and historical fictions, Keira Knightley plays Cecilia and wears the thin green backless dress that has since become an icon of modern movie outfits—bright, gauzy, barely-there, her character chooses to wear it on the hottest day of the year. She needs to be wearing a backless dress in the same way we need a minor character to idly remark if this Hitler chap keeps up we'll all be in a real mess—we are, upon reading and hearing these signs, watching an era about to end. She's another woman who can't admit what—who—she wants, finding safety in passivity but willing to risk passion when she thinks only one person is looking. In Ian McEwan's novel, Cecilia chooses her dress because it is ornate, luxurious—she hates austerity. "Above all she wanted to look as though she had not given the matter a moment's thought," she says to herself, "and that would take time."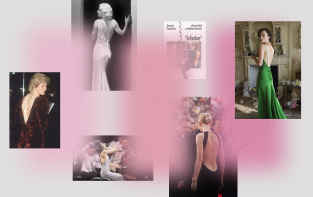 Women who live in public need a lot of bravado. What they don't feel they can fake with a dress. When Hilary Swank won an Academy Award for Million Dollar Baby, she wore a navy blue Guy Laroche dress—a subtler tone than the Mireille Darc one, though with the same intention to stun. Made of twenty-seven yards of silk jersey ruched on the sides, it looked painted on her skin. Swank was contractually obligated to wear Calvin Klein to the awards ceremony, as a spokesperson for the brand, and had been working with Francisco Costa on another gown. The never-worn dress was reportedly inspired by John Singer Sargent's portrait of Virginie Amélie Avegno Gautreau, better known as Portrait of Madame X. At the last minute Swank called it a superstitious feeling, saying she just knew it was the only dress she could wear. In this way she lived the spirit of that controversial portrait rather than simply wore the outfit.
Madame X remains a perennial reference—in 1999, Nicole Kidman posed as her and other Sargent subjects for a Steven Meisel Vogue editorial; Julianne Moore did her own version for Peter Lindbergh in a 2008 issue of Harper's Bazaar. Raf Simons made his own version at Dior, and Charlize Theron wore it to the red carpet of the 2014 Academy Awards. In photos, Theron stands tall and still in that dress shaped like a midnight-black column, the surest comparison in the way her neck stays long and her head high.
A backless dress belongs to the red carpets. Sometimes history repeats itself. At the 2012 Grammys, Rihanna wore her own version of the Darc's Guy Laroche dress, with a barely-there gold chain and her blonde bangs in the manner of a spy who knows too much. At the 2000 Academy Awards, Cate Blanchett wore Jean Paul Gaultier, the back held together with a backdrop necklace that connected the two sleeves through gold chains all the way down her back; then in 2014 at the Golden Globes she wore Armani Privé, the outline of the dress coming to a diamond point, her shoulders covered by sheer lace fabric that curve around the blades.
Beyoncé's backless dresses appear on the red carpet in regular rotation—from the Grammys in 2001, when she stood in the center of the Destiny's Child trio in matching green-and-gold gowns, made by Tina Knowles; seven years later she returned to the same red carpet wearing a lemon-yellow Georges Chakra dress, improbably fastened to the small of her back within an open outline that recalled the look of a prize ribbon; seven years after that, she was at the Grammys again, this time her back bare against a white lacy floral long-sleeved Michael Costello dress with asymmetrical sheer inserts around her legs and arms. Beyoncé has long known that different kinds of audiences require different kinds of backless. In her 2006 song "Freakum Dress" she wrote that every woman should have a "short and backless" dress that always gets its desired effect on one person, rather than the impersonal flashes emanating from the photo pit.
All kinds of musicians wear backless dresses for their own ends, and to multiple readings. "What is one to think of the clothes the twenty-nine-year-old pianist Yuja Wang wears when she performs?" asked Janet Malcolm in her 2016 New Yorker profile of the acclaimed performer. "[C]linging backless gowns that give an impression of near-nakedness (accompanied in all cases by four-inch-high stiletto heels)?" Malcolm sees her bare back with the thin straps that hold a gown in place and thinks she looks like a dominatrix, or a lion tamer. "She had come to tame the beast of a piece, this half-naked woman in sadistic high heels. Take that, and that, Beethoven!"
A backless dress requires posture as much as a pose. In retrospect it's easy to see the same way women are photographed looking over their shoulder, standing so completely for the cameras. Halle Berry at the 2001 Screen Actors Guild awards in a high-necked backless dress, the straps holding just beside her arms, her chin hooked over her shoulder as she looked back at the camera, delicate beading on the strap around her waist. Elizabeth Hurley in pink and gold, her neck twisting to see who is seeing her on the red carpet premiere of the 1999 film Mickey Blue Eyes, while Hugh Grant looks stiffly startled at another camera. Naomi Campbell at Usher's 26th birthday party in an Art Deco geometric sequined gown and a gray fur boa, her hair long and held back by rhinestone barrettes. At this year's Golden Globes, there's a shot of Saoirse Ronan walking off the red carpet while looking back, her backless Celine the kind of sequined that could look, with the right squint, like constellations—Hedy Lamarr by way of Hollywood's afternoon ceremonies.
It's practically a cliche to say that Jennifer Lopez invented Google Image searches. At least, after she wore a backless, frontless, halter-neck Versace green-and-blue printed dress to the 2000 Grammys, the pronounced need to see the same image multiple times on demand necessitated it. This was about a month after Y2K failed to end the Internet and with it interconnected life on this planet. We were promised a total cyber-collapse, and got precisely the opposite. Twenty years after, Donatella went back in time for a Spring/Summer 2020 collection of all her hits, and brought J.Lo in the same dress with her. Here and now there are endless possibilities of looking back—to replace data for memory, retrospective for records. Nostalgia only goes so far, but a woman who wants to be seen from all sides now lasts forever.
The skin on our backs can be tougher and rougher than elsewhere on our bodies. Its sensitivity to contact has less to do with the skin itself than the spine underneath it, where our sympathetic nervous systems collects and sends messages from the top of our conscious mind to our slightly wiggling toes.
These responses comprise what is commonly known as fight-or-flight, which is another way the body asks: will you show your face, or bare your back? It also controls the subtler codes of this sensation. When a hand is pressed flat on my back between my shoulders, or when fingers are lightly tracing the thirty-three bones that make up my spine, it is those same nerves that will dilate my pupils or make my heart go fast.
A woman who doesn't know what she wants can stop time. A decision becomes a dividing line—everything preceding will become known as the before and everything that follows will be an after. This has less to do with time being fake (which it is) and more to do with the way we tell it—here is the beginning, middle, and end. Here is where time started and here is when it stopped. But for those who can't take a step forward without looking back over their shoulder, a backless dress affords a grace period. The person wearing one dares indiscriminately but seduces with precision. The calculations of the dress follow: You were supposed to leave the room, which was supposed to be an end. Everyone watched you leave. That moment seemed endless, or at least longer than sixty seconds. Tomorrow might never come.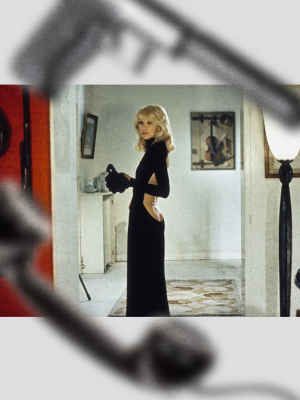 Haley Mlotek is a writer, editor, and organizer living in Brooklyn. She is the co-chair of the Freelance Solidarity Project, a distinct division for freelance digital media workers within the National Writers Union. Her work has appeared in The New York Times Magazine, The Nation, and Hazlitt, among others. She is currently working on a book about romance and divorce.
Text:

Haley Mlotek

Date:

January 30, 2020