From Colin Kaepernick's Jersey to Balenciaga's Kering Hoodie: Our 2017 Garment Retrospective
The SSENSE Editors Examine the Major Cultural Trends and Garments that Defined 2017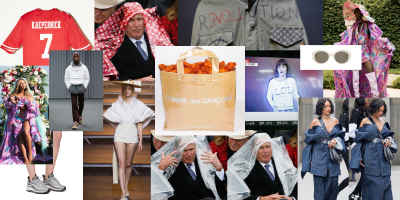 From politics to the fashion industry, 2017 was an undeniably tumultuous year. Though the headlines constantly change, clothing has a remarkable tendency to remind us of a specific place in time—whether we'd like it to or not. For our retrospective, we compiled a list of 11 particularly memorable garments that not only defined 2017, but may go on to reveal clues about the year ahead.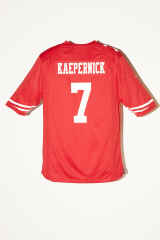 When former San Francisco 49ers quarterback Colin Kaepernick began his quiet protest against racist oppression in America—first by sitting, then kneeling during pre-game performances of "The Star-Spangled Banner"—his jersey began to signify something more than his name and number. For many, it became a symbol of stolid defiance, a recognition of ongoing, cross-generational injustice. This is why, despite not having played a snap in almost exactly one year, Kaepernick's jersey remains one of the best-selling in the league. Why Jay Z wore a custom version on Saturday Night Live. Why it's currently hanging in the MoMA. Why Tr**p persists in tweeting about it instead of doing any of the literal thousands of other things you would imagine a head of state might. Kaepernick's jersey signifies the beginning of a chapter still being written.
---

In January, Balenciaga debuted a Kering-branded hoodie as part of its Fall/Winter 2017 collection. Kering is a luxury goods conglomerate, second only to LVMH in size and influence, its portfolio including Balenciaga, Saint Laurent, and Gucci, among others. The hoodie made waves—Business of Fashion published an entire article about it—for its wry frankness. But like many good jokes, the hoodie becomes depressing on closer examination. It is a deadpan nod to the corporate superstructures that have replaced nation-states as global protagonists. "My work is always about reality," creative director Demna Gvasalia said to Vogue after the show. "It's just honest. That is what's happening around us." Fashion's ability to capture socio-cultural currents in a wearable format is what makes it such a valuable artifact. From this perspective, Gvasalia has done his job impeccably—the hoodie serves as a reminder of the subsumptive corporate imperative that shapes everything about contemporary life. It is a documentary snapshot. But we need designers willing to dream up new possibilities, too.
---

What sneaker better illustrates that 2017 was the year of "peak-retro" – a term coined by the one and only Gary Warnett – than the Air Max 97? With Nike's aggressive, influencer-based 20th anniversary campaign, celebrity endorsements, a re-design from Skepta, and Nordstrom stores worldwide fully stocked, the mainstream discovered their new 'it' shoe and Air Max day morphed into Air Max year. Air Max 97s have always been hyper-significant to those following sneaker culture, but the resurrection of all things 90s this year has been all-encompassing and unrelenting. Nike's marketing tactics, for example, didn't help their attempt to find the same success for the Cortez. Maybe the 70s is too retro? Regardless, in 2018, we're bound to see a new crop of brands, from independent to international, plunge into the depths of the relevance thirst trap as they scour their archives for nostalgia bait. The question is, what's left?
---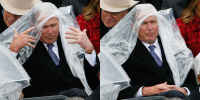 GEORGE BUSH'S PONCHO AT TRUMP'S INAUGURATION
Desperate, doomed times call for desperate, damnable cracks at justifying lesser evils. Just think: George W. Bush. 43rd's image has, over the last couple years, experienced a totally heedless (read: dumb! bad! dangerous! sick!) rehabilitation. His paintings of cute pups, for instance. Or those tender hugs from Michelle Obama. And this year, during Trump's January inauguration, Bush's dopey-looking poncho struggle—again, born perhaps from social media's collective act of anger, mourning, desperation—went viral. There he was, bullied by a sheet of clear plastic. Flailing, it turns out, with transparency. Maybe it was a metaphor? Maybe it was merely something to distract us. Did it spark a trend? Like this year's Calvin Klein 205W39NYC plastic encased canary-yellow faux-fur coat, which, at first glance, seems like the most awkward combination of materials. Faux-transparent; like some allusion to the idiomatic bird, warning us of incoming danger, deterioration, and further Trump-induced trouble. Or what about everyone's cheeky sartorial decision to wear instead of dispose of their garment bags? In an age of filters, modification, good angles, and what's not seen, the act of parading what's see-through, became a guiding principle of 2017.
---

ALPHA INDUSTRIES x BARNEY'S ANARCHY JACKET
Often fashion tells us what's in, but in many important instances, it is also a decoder ring that shows us what's out. Such was the case when Barney's (a department store whose flagship is located five blocks from Trump Tower) released a $375 Alpha Industries jacket that looked like an Antifa movie prop. Screenshots of the jacket on the company's website (with size XXL sold out) immediately flooded Twitter with scathing captions. It was a final straw — or hilarious low point — for a luxury machine that survives on churning sub-culture into dom-culture. And yet, Barney's jacket is more damning toward the aesthetic rituals of the hardcore Left than it is towards fashion's (already very well-documented) political ham-handedness. In a year defined by digital resistance, the practice of writing a political message on a jacket is as quaint and dated as sending it via carrier pigeon. So during your next post-protest brunch, raise a mimosa and toast Alpha Industries x Barneys for bringing another unnecessary niche out into the LED light of our digital circus.
---
DOVER STREET MARKET COMME DES GARÇONS PLASTIC PAPER BAG TOTE
If you went to this year's Rei Kawakubo exhibition at the Met and didn't cop the Comme des Garçons PVC tote, did you really even go? The SSENSE HQ employees definitely did not fall short of attendance. The plastic-coated paper bag populates a superfluous ratio of surface area per desk space at the office. The working millennial's nostalgic return to an age-old lunch container, the tote homogenizes the room by making its carriers feel mundane— think a lineup of students waiting for the school bus holding soggy wrinkled lunch sacks. Perhaps its appeal has something to do with its 2.0 ability to disguise its breakdown. The bag inevitably creases and deteriorates with wear, but it gains an identity through added character while maintaining a polished exterior. While initially affordable, it's no wonder the tote goes for up to five times its original price on eBay and Grailed. Coming out of 2017 looking cuter is without a doubt a skill worth packing your leftovers in.
---


BEYONCÉ'S PALOMO SPAIN TWIN REVEAL DRESS
This year, Beyoncé blessed her fans two times over. First, she gave us her pregnancy announcement, spurring an Instagram like-storm (it was the most liked photo of the year) while affirming the possibility of love in the time of covfefe. Approximately nine months later, she stopped—or massively directed—internet traffic by sharing her twin reveal photo. With Sir Carter and Rumi cradled like sleeping kittens in her arms, the image conjured an awe-inspiring ideal of divine femininity. Swathed in bright, printed organza, standing in front of a ridiculously idyllic seaside vista, Beyoncé was full and glowing. A total maternal vision. A floral-haloed angel. The origin of the world. She was a beacon of romantic hope and procreative glory appearing as a ruffled-and-veiled Botticelli-esque goddess. And she did this in a gown (reworked into a housecoat) originally designed for men by Spanish menswear label Palomo Spain, all the while making an understated case for the abolition of gender.
---

SAINT LAURENT SL 98 CALIFORNIA SUNGLASSES AKA "CLOUT GOGGLES"
While we've already established that sunglasses are the gatekeepers to our souls, they are also a useful bellwether for tracking the mood of our time. 2017's shade-of-choice was undoubtedly Saint Laurent's SL 98 California, a replica of Kurt Cobain's famous Christian Roth sunglasses that came to be known on the Internet this year as "clout goggles." Like all belated sequels (Hi, Blade Runner!), clout goggles tell us more about the present than they do about the past. This remake's main character is Cobain himself, a figure who not only represents the oft-quoted, pre-internet consciousness of the 1990s, but also someone who embodies a tortured (and ultimately fatal) relationship to fame. If the 2010s is the decade when the internet made us all famous, then 2017 is the year when we began to get resentful and self-destructive about existing constantly in the limelight. The clout goggle, therefore, is the tumultuous third act of our era's E! True Hollywood Story.
---

MATTHEW ADAMS DOLAN DENIM 'FALLING OFF THE SHOULDER' JACKET
Remember when the internet was first swept with images of fashion editors with their jackets perched just-so on their shoulders, sleeves hanging hollow by their sides? This styling trick seduced us all, becoming a contradictory symbol of contrived nonchalance. Pre-2016, the political climate had been somewhat static, not yet flipped upside down by the radical power shifts to come. Where 2016 was about looking casually poised, 2017 was about almost falling apart. This year, oversized jackets and tops splayed apart at the neck to reveal shoulders and collarbones. The aesthetic is at once stress-induced, tugged out necklines, and Rihanna walking from her hotel to her car. It's about having just enough room for meditative breathing. Hard times call for XXL silhouettes, and it's no coincidence that this year we saw street style let the sizing scale slide off-the-shoulder.
---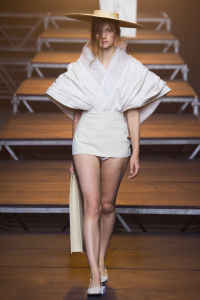 Nothing screams sophisticated outdoor leisure louder than a hat that precariously shades your face and shudders in the slightest breeze. So dainty that it needs to be tied on. Eluding a hyper-saturation of technology, neo-picnickers of today might don the latest versions of the same once-archaic garb, hoping to further enrich their experiences in the pastoral sanctuaries they pursue. But if nobody is around to see it, did you really dress the part? Enter Instagram stories—while the introduction of which initially made ripples late last year, it burgeoned into a tidal wave in 2017. Every moment of our lives has become increasingly share-able, even live-action. No matter how deep into nature you journey, tech says it's less special if you can't prove you did it. "Pics or it didn't happen" applies to the hypocrites going off the grid, too. Whether tossed on a sun-dappled blanket next to a rustic spread of sliced figs and Gorgonzola, sewn along with many others into a dress, or styled questionably by Kendall Jenner on a yacht, the Jacquemus sun-hat is a cipher for idyllic-but-not-too-idyllic-for-social-media.
---

SUSPECTED NORTH KOREAN ASSASSIN LOL TEE
There comes a time in your life when you realize that the kids of your generation have become the adults of the world. People from your elementary school start having babies or landing jobs that require them to make decisions of political consequence, and you abruptly become aware that you are a "grown up." And then the half-brother of a North Korean dictator is assassinated in an airport (maybe) by a woman your age wearing a t-shirt that says LOL, and you realize that because you are a millennial you have come of age in the time when everything of any importance is capable of being reduced instantaneously to a meme punchline, printed on a t-shirt, and peddled for an exorbitant amount of money.