Fashion East's Familial Bond: Lulu Kennedy x Supriya Lele
From the Renowned London Initiative, Designer and Mentor Talk Support and Innovation
Photography:

Yumna Al-Arashi (Portrait & Studio)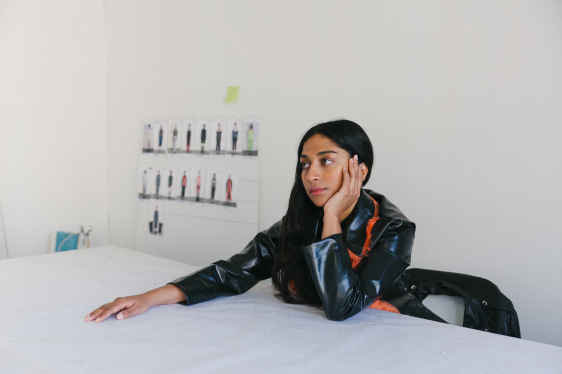 What fuels an incubator built to catalyze the UK's most promising new designers? According to Supriya Lele, the British-Indian founder of her namesake label and alumna of London's celebrated Fashion East initiative, it's all about community. Lele, who was scouted by director Lulu Kennedy during her graduate show from the Royal College of Art (thanks to a pink and red PVC ensemble Kennedy describes as "just delicious"), showcased three seasons under the guidance and support of Fashion East. She's since earned herself a spot within British Fashion Council's NEWGEN, catapulting onto the scene with two solo collections. Lele's combination of intricate, fluorescent fabrics and instinctive nods to her heritage—with saree-inspired mesh dresses and organza utility trousers—have landed her designs on the covers of Purple and M magazine, along with reviews praising her ability to "create something truly contemporary." Lele links this momentum to her learnings under Kennedy (whose keen eye and team of industry experts have churned out an impressive roster of talented designers including: Simone Rocha, Marques Almeida, Ashley Williams, Craig Green, Martine Rose, Wales Bonner, JW Anderson, and more). "I still text and call," Lele says, reflecting on her roots at Fashion East, to which Kennedy confirms, "We wouldn't have it any other way." Here, the mentor and her mentee discuss innovation, inspiration, and their perspective on the future of design as they continue to collaborate.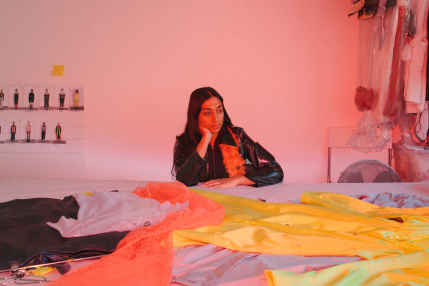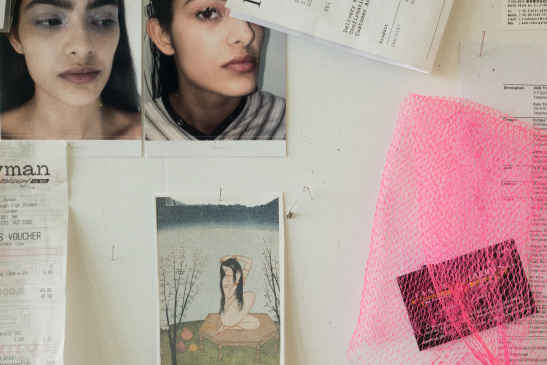 SL: In terms of inspiration, I look to my background as a constant source. There's so much to explore, it can vary each season. The collection I just did was inspired by medical aspects of my heritage; doctor and nurse uniforms, because a lot of the members of my family are in the medical profession so it was nice to marry the two reference points. I try to be organic with it and see what jumps out. It always comes back to you anyway, it always looks like your work.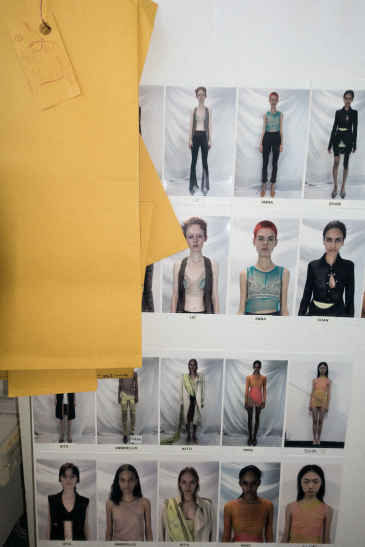 LK: I'm interested in people who've got something to say, and have worked out more or less how to say it within the medium of fashion. Because I look at so much work, it's very apparent when someone has an eye and they are aesthetically refined enough. It's a sensitivity to codes of the industry, and if people are subverting that—if they are confident enough in their own work, that's a good sign of skills. When people apply to Fashion East, some can send in a 50-page document and I still don't get a sense of the work. Somebody talented can send in four polaroids and I get it. How they present their work is as important as the work itself.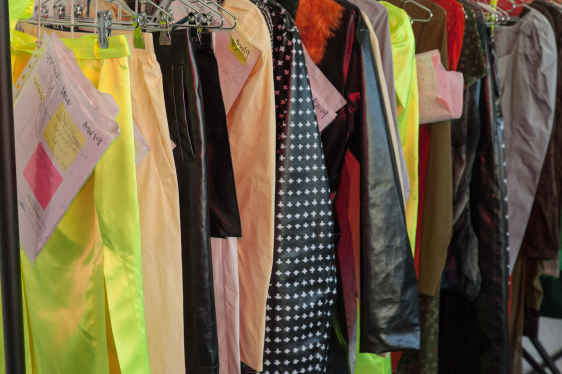 SL: I find myself drawn to the same materials, technical or weird fabrics mixed with more elegant fabrics like silks, and then some more sporty ones like meshes and nylons. I think that kind of balances.
LK: Things are slippery, silky, fluffy, furry. You never feel that "yuck" feeling when you put something against your skin.
LK: There's nothing that can beat a good education and teachers, I can really see the difference between someone who's self-taught and someone who's had great training. But all power to self-taught people. College is bloody expensive now. In London, it's going to ruin your life, you'll be in debt for the next 20 years.
SL: Design training is necessary, but I don't think you need to do your BA or MA, there's great short courses in learning skills like pattern-cutting and sewing. Those things are important, getting skills somehow. Fashion is expensive to study because you have to buy all the materials and make a collection and that's not cheap. So, I think you can be self-taught, there are amazing people that are self-taught.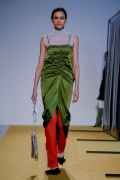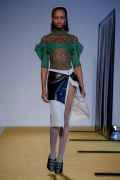 On Designers at the Forefront
SL: Some of my peers I think are doing exciting things are ASAI, Charlotte Knowles, Mowalola.
LK: They're not only promoting themselves but their culture, which gives it a whole different kind of realm and depth. The fact that all of you reference your heritage is an interesting key factor. There's modernity and fearlessness about all of you. You are pushing things. Experimenting and not giving a fuck, which is so important, that punk attitude.
SL: I don't have specific ideas of what beauty is because it's so much about context. It can be objective. In terms of my work I like quite clean, minimal, sensual cuts. There's a subversive sexiness that I think is intellectual, the pieces are functional but still designed
LK: I think your clothes always allow the female form to show through, very subtly, never too in your face. But quite hot. Even if you show a shoulder, a little bit of midriff.


SL: There's so much content, so much on the internet, I sometimes wish I didn't have Instagram. It's actually boring. Even in terms of making images, the longevity of stuff, it makes things meaningless in a way. You consume it quickly and forget about it. It can be a good thing, it gets your work seen. I'd rather go off-grid.
LK: I'm a real meet-up-with-people-in-person person. There's nothing like it.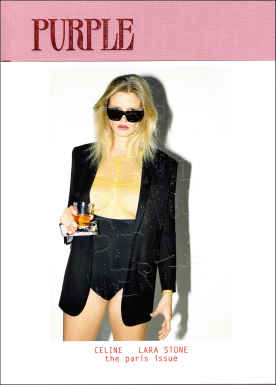 SL: Starting out on your own is tough, and Fashion East was so important because I didn't realize how anything worked. There's no pressure put on you by anybody, there's just help and support which is nice as you're muddling your way through things. I think you find your family in this field, and then you stick together. Even friends you make in the industry, or other designers who are a few seasons ahead of you, you can ask things from them. There's loads I've learned that have helped me going forward.
LK: I sometimes worry I'm a bit too blunt, not very diplomatic. I don't want to bullshit you guys. Whenever a designer asks me a tricky question, I try to give them the best answer. We all stay linked and look after each other, make sure everyone's doing okay.
SL: Because I'm looking at old references and very traditional viewpoints, it needs to feel modern, otherwise it's too referential or too heritage. I definitely don't relate to trends, I'm aware of what's going on because you have to be aware of what's happening in the industry that you're in, but I see it from a very singular point of view.
LK: I tend to ignore them unless somebody interesting is telling me, "This is a trend." My kid, Rainbow, can come home from school and talk about slime and I'm like, the kids are into slime, slime is a trend!
Photography:

Yumna Al-Arashi (Portrait & Studio)