Conceptual Quilting with Calvin Klein 205W39NYC, Eckhaus Latta, and Junya Watanabe
The Age-Old Craft Gets an Update
Photography:

Rebecca Storm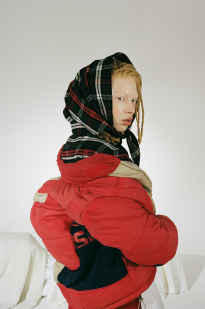 When you patch something together, you imbue it with new meaning. The whole is dependent on the pieces, and the pieces are dependent on the hole. The FW17 runways were all about exploring patchwork, but to refer to it as a trend is a disservice to its history—one that is as colorful as it is varied.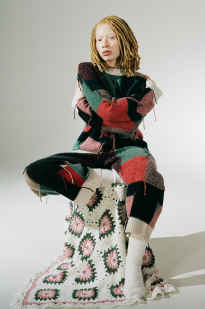 Not just something to hold or wear, patchwork has varied metaphorical iterations, too. From a grid of images on your favorite app to a mid-century quilt, there's nothing more meta than the patchworked chronology of patchwork itself.
While the most obvious reference is folded at the end of your Grandma's bed, patchwork has multiple iterations. Armor in the Middle Ages was often reinforced with an insulation of patchworked material. Which makes sense—there's a certain element of protection carried in the soft weight of a quilt. Eckhaus Latta celebrates this detachable security with their baby blanket skirt, bringing craft to the realm of commerce.
No two patchwork are the same—human touch ensures variation. More obvious homages to this humble craft are Junya Watanabe's patchworked outerwear. But what does patchwork say in a luxury setting? What happens when individuality meets ubiquity?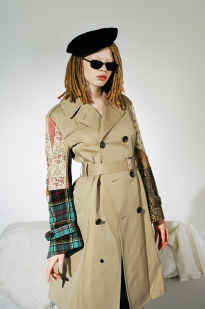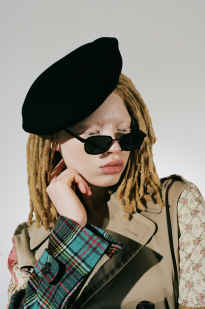 Like rebooting a popular movie franchise, when seriality is introduced to something that is inherently not serial, it adopts a context that it simultaneously dilutes. Patchwork matches everything because it doesn't match. Even in the realm of mass-production, it remains an ambassador for a certain element of DIY modesty.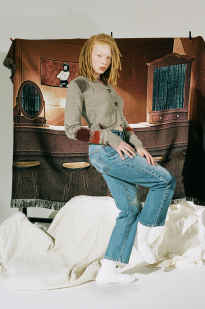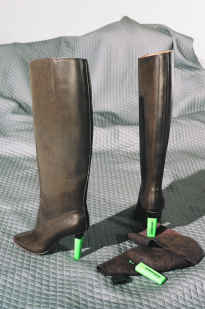 Vetements' lighter boots reignited a Marcel Duchamp-esque fervor in the world of design, even if they were a troll. Now upgrading to the highlighter boot, this fusion of classic leather with a mundane readymade is something of a conceptual patchwork itself. Nobody is kicking down doors to lay their hands on office supplies, but the combination of two disparate objects creates a new, heightened value.
With patch pocket button-downs and metal plaque-plated boot-toes, Raf Simons' debut collection for Calvin Klein 205W39NYC was a morbid devotion to Americana. Through the unlikely marriage of plastic and faux fur, Simon's played conceptually with materials, patchworking the private voyeurism of a garment bag onto the public glamour of a fur coat. Untied from the inclination that all must be stitched, these unconventional combinations of material function to create a patchwork of aesthetics. While hand-sewn patchworking may be an age-old tradition, conceptual patchwork is very much of-the-moment.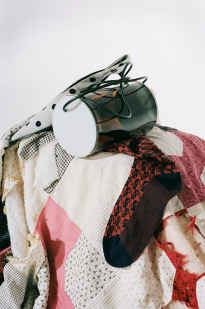 Rebecca Storm is a photographer and editor at SSENSE. She is also an editor at Editorial Magazine.
Text:

Rebecca Storm

Photography:

Rebecca Storm

Photography Assistant:

Aok Palad

Hair and Makeup:

Ashley Diabo / Teamm Management

Models:

Damaris / Folio

Styling:

Rebecca Storm

Production:

Jezebel Leblanc-Thouin

Production Assistant:

Erika Robichaud-Martel