Glove Scenes for a Gripping New Year with Balenciaga, MSGM & Gucci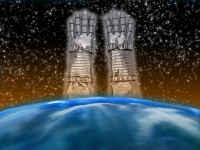 What's in a glove? A hand, warmth, protection, maybe. In cinema, what a glove conceals is just as important as what it reveals—a favorite color, a hidden agenda, a wish for anonymity. For the third instalment of Cinephiles, the SSENSE editors unpack, finger by finger, the legacy of gloves in cinema: guiding you toward your most gripping year yet.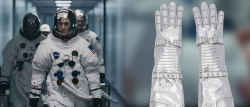 Raf Simons' metallic silver "astronaut" gloves for Calvin Klein 205W39NYC FW18 were, when debuted in early 2018, an instant hit. Fashion editorial catnip, they showed up in every publication and even made their way onto Rihanna for Allure magazine's September issue. They may be the perfect statement glove, all vanity, minimal practicality, but they're inspired by astronauts who require the most function-first of uniforms. In fact, it seemed most fashion designers had an infatuation with NASA and space-age fits this year, not just Raf. In 2018 the aesthetics of astro gear (perhaps for an Astro World) were mined for hyped-up hoodies, boots, and bags—but life in space is nothing near glamorous. First Man, despite what the trailer may present, is a movie not just about Neil Armstrong's heroism, but his humanity. His struggle with loss, depression, and hopelessness—themes that remain more prevalent than ever when it comes to us humans. The film serves as a reminder that the darkness of outer space is as vast as the darkness within, and in order to find new joy, or even a new trend at this point, we may have to take our search to another galaxy.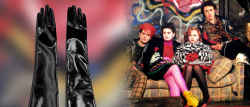 200 Cigarettes is a movie about pairs. It follows New Yorkers of all walks of life—from Upper East Side Cindy (Kate Hudson) to Lower East Side grunge-girl Lucy (Courtney Love)—as they each try to find their match on a New Year's Eve in the city. Where the films distinct characters and plot lines converge is in the need for companionship. That, and in gloves—the accessory at hand for both Alphabet City rockers and 5th Avenue shoppers alike. The film encompasses the gamut of gloves—an elbow-length delicate mesh evening set for a desperate party host, a red leather pair for runway Ronkonkoma teen Val (Christina Ricci), and black, fingerless studded leather for the CBGB-haunting Tom (Casey Affleck).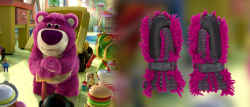 The main antagonist in Toy Story 3, Lots-o'-Huggin' Bear, is a stout, stuffed, magenta biped who smells of strawberries. Traumatized after being accidentally abandoned by his owner, Daisy, Lots-o' now rules malevolently over the other toys at Sunnyside Daycare. Lots'o's rotund appendages are plush enough to manipulate his signature cane without gloves, but Issey Miyake seems to have created a pair tailor-made in his likeness, were he ever to need them. They might not smell of strawberries, but what's that I smell? Keanu? Oh yes, he's rumoured to be in Toy Story 4, (along with Jordan Peele and Keegan Michael Key) due for release later this year. Get as cozy as Lots-o' looks in the meantime, with Issey Miyake's Pink & Grey Eagle Gloves.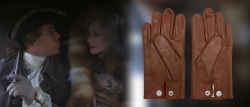 The subtext of Stanley Kubrick's Barry Lyndon—namely, that a man's actions ultimately have an effect on his own fate—continues to be a peculiarly suitable fantasy for us nearly 45 years later. Imagine if every toxic, philandering scumbag incapable of accountability ended up with one leg less and doomed to a life of loneliness? The questionable MO of Redmond Barry; an at-first naive Irish rogue who lies and cheats his way into 18th Century aristocracy via the heart of affluent widow, Lady Lyndon, does not go unpunished. A perfect visual summary of his problematic behavior is the smoking scene: ceaselessly puffing away on his pipe in the small carriage he shares with Lady Lyndon, she asks Barry if he'd mind not smoking for a moment. His response is simply a pointed exhale of his pipe smoke directly into her face—an allegory for his developing entitlement to the fortunes, and free will, of Lady Lyndon herself. And what does a man wear to keep his mind off the wrong he is capable of? Gloves! In leather soft enough to maintain dexterity, but resilient enough to hide idle hands. They might be luxurious, but Barry's acquaintance with that sphere does not last long.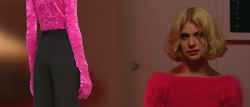 Whether or not you know Paris, Texas, you probably know Jane's (played by Natassja Kinski) fuschia angora backless sweater dress. This gratuitously celebrated look would be eligible for the "image most referenced on mood boards in the past decade" award, if there were a way to track such a thing. Regardless, the undeniable truth about clichés is that a cliché is a cliché because it's true, and by that rule, one can't deny the aesthetic satiation inherent of the backdrop to this fraught scene. A candy-apple-red rotary phone, juxtaposed with flaxen blonde, juxtaposed with persimmon polyester curtains, juxtaposed with blushed-seashell walls—carnal tones for the broken heart. Travis (Harry Dean Stanton) has secretly come to visit his estranged partner (Jane) where she works at a peep show boutique. A single-sided mirror separates them: Travis, quietly sobbing through the phone which connects each side of the mirror. Jane, oblivious to the caller's identity, in her ostentatious soft fuschia, feeling small. While the scene is devoid of gloves, Balenciaga's SS19 answer to Jane's sweater comes with them attached at the sleeves. Kid gloves, for navigating the delicate emotional landscape of your own Travis.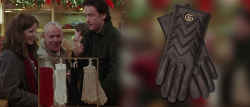 Look to any gift guide anywhere and you're guaranteed to find a pair of generic black gloves. Thermal or fingerless, tech-friendly or luxury leather, they make a perfectly suitable (and boring) present for anyone—from your boss to your cousin—that you see once a year. But look to a younger John Cusack and Kate Beckinsale in an overcrowded Bloomingdale's during the holidays and the store's last pair of basic black cashmere gloves become serendipitous. A "fortunate accident," leading to a fleeting moment of romance over frozen hot chocolates, followed by a years-long, all-consuming sequence of failed fate and missed connections. That is, of course, until those very same gloves bring them back together at an ice rink in Central Park. At last. It's the kind of love story that they just don't make anymore—hope for happy endings has grown obsolete. So in times where you have to take matters into your own hands, create your own fate, it only makes sense to do so in Gucci. Close your eyes, cross your cashmere-lined fingers and wait for some kind of serendipity.