KENZO's Cinematic Storytellers Carol Lim and Humberto Leon
How the KENZO Creative Directors Extend the Work of Founder Kenzo Takada Through Film
Interview:

Arthur Bray

Photography:

Arthur Bray / Carol Tam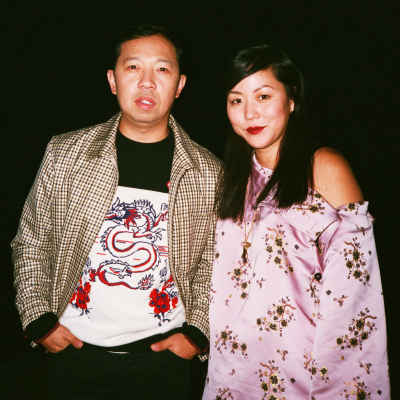 Chiseled faces poke through the dressing room curtains to be greeted by a hoard of photographers, while actors are ushered elsewhere for hair styling and makeup. A choreographer reminds everyone that there's "10 minutes till showtime." You might think that this is the backstage of a fashion show during Paris Fashion Week Men's, but actually it's a performance prep at Juilliard. To KENZO creative directors Humberto Leon and Carol Lim, it's all the same thing: one art form complements the other and assists them in the narratives they dream up. Humberto once told The New Yorker, "We don't shoot a normal ad campaign. We do a movie, and then we shoot a movie poster, and then the ads are the posters, and they feature clothing.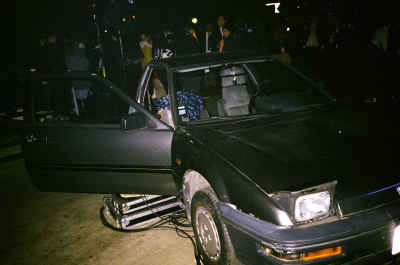 The two friends and former mallrats-turned-retail-owners have always surrounded themselves with artists, musicians, and skaters—the type of personalities that frequent Opening Ceremony, the multi-brand store they founded in 2002. Collaborating with both KENZO and Opening Ceremony, the esteemed (Spike Jonze and Solange) and the avant-garde (Akinola Davies Jr. and Lafawndah) have all been practitioners of their aesthetic. These directors and musicians tell stories through various mediums, making KENZO, in some ways, less of a brand than a shape-shifter that can take form at any given time as something else. Most recently, its form was a theatrical-performance-meets-runway-show during Paris Fashion Week.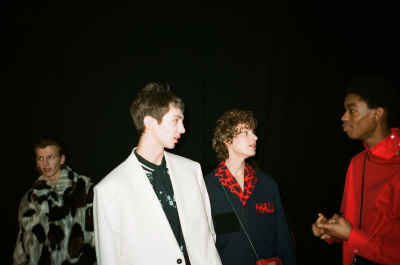 Shot and broadcast in real-time, with 28 cameras rolling, KENZO's Fall/Winter 2018 show was an autobiographical film that allowed the audience to creep into the past lives of the designers as protagonists. The cinematic experience revealed a personal story reminiscent of cult film classics like In the Mood For Love or Chungking Express. Here, Carol and Humberto share the importance of cinema in their work and how they're forwarding the vision of Kenzo Takada, alongside backstage photos from their PFW performance.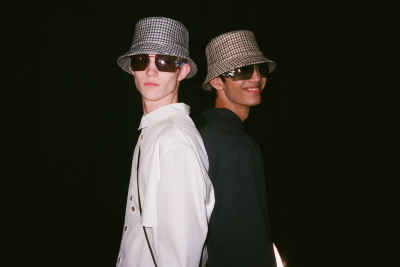 Arthur Bray
Carol Lim and Humberto Leon
The self-referential aspect of the show felt very personal.
Carol: We're going full meta this season. You're going to see us going even more meta in the next six months. We also enjoy laughing at ourselves, and we don't want the whole thing to be too stern.
Logistically speaking, how did this whole performance come together?
Humberto: Although there's 28 cameras shooting at the same time, the text is carefully edited so that only some shots appear on screen. The dinner scene for instance is broken into three parts and captured at different locations. When you watch the film, it's all sewn together, but the living room is a different setting to the dining area.
Was there a lot of rehearsal?
Carol: Not as much as you think.
Humberto: Three days?
How were you able to turn a performance into a film?
Carol: For those who couldn't make it to the 2018 Fall/Winter show, we released the film right after. It was a really interesting process seeing this curated piece take form as a film instantly after it had been performed live. Technology has made everything so instant, and we're rolling with the punches! The film pulls attendees through the matrix back in time.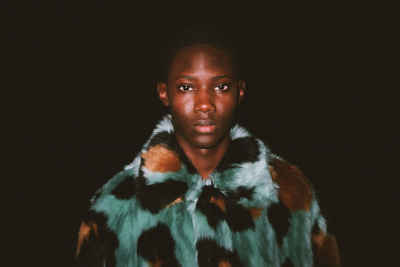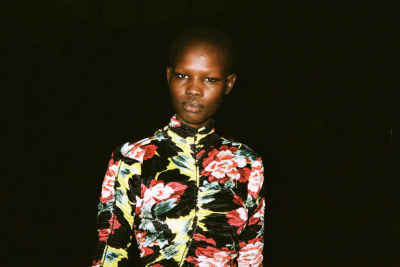 What's your definition of a fashion film?
Carol: Before, the definition might have just been to produce a full-blown visual with little narrative, but we don't want to waste opportunities like that. We're rethinking the meaning and working with a film director who writes a script, and we help cast the actors. We want things to be done in the most authentic way.
Humberto: We also like to premier the films at our fashion show after-parties, as we've done with "YO! MY SAINT." That was a music video directed by Ana Lily [Armirpour] with music composed by Karen O of the Yeah Yeah Yeahs. It featured a colorful cast of actors including Alex Zhang Hungtai, Jessica Henwick, and Kiko Mizuhara. To us, fashion, film, art, and parties all complement one another.
Your campaigns always seem to lean on cinema and a theatrical experience. Why is it crucial for these projects to incorporate such a heavy art element?
Humberto: Since the beginning, we've always brought culture into the brand. We've always been in different worlds and love to include our friends in fashion. Carol and I, we dip in and out of film and working with musicians, whether through a project with Solange or working with Spike Jonze on a movie. This idea of a cross-intersection of culture has been an authentic way for us to express our ideas. We started doing fashion films when we joined KENZO six years ago. It's been interesting to see our work develop and shared on channels that aren't fashion-specific.
Each season, you introduce new directors, stylists, and dancers. Why is it important for KENZO to be—beyond just a brand—a platform highlighting creativity?
Humberto: We're both super curious by nature. We love all types of culture and want to incorporate these different outlets into our work.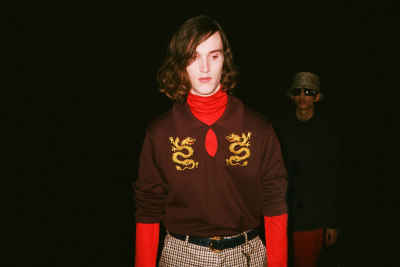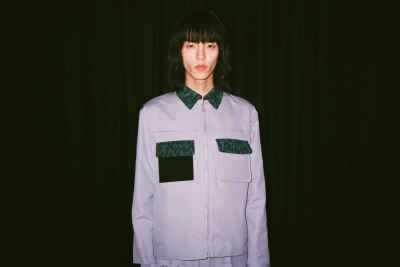 What recurring design elements pay homage to Kenzo Takada's aesthetic?
Humberto: We like to revisit archival prints, flowers, and jungle motifs in our design. We also play with embroidery historic to the fashion house. Films like Chungking Express and In the Mood For Love are inspirations, and we like to rework outerwear pieces like duffle coats and other aspects of sets that we pull from the films.
The embroidered tiger has been an emblem of KENZO since the 80s. In recent times, embroidery has become a full-on trend, seen on designs from the runway to streetwear. How has this aesthetic evolved in KENZO?
Humberto: Sure, things come in and go out of fashion, but we're talking about the story of the house. We own the embroidery aesthetic. This technique, alongside the use of the tigers, is a big part of our narrative. I wouldn't leave it just because all these other people are referencing it.
How does mixed heritage exist in KENZO as an aesthetic?
Humberto: We're a brand that's authentically Asian and Parisian, we like to play within our fields. Kenzo Takada was an Asian designer who came to Paris to start a Parisian house. Carol and I are California natives of Asian descent. Just because others are trying to mix culture into their brand, I don't think it's necessarily going to make us stay away from it, because they don't have a story like we do.
Carol: We look at the founder's origins, just like how every other Parisian house won't leave their codes because somebody else is designing with tweed this season. We try to maintain an authentic standpoint and foundation.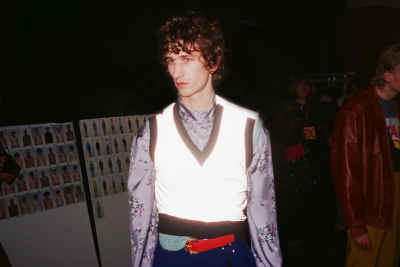 How have you been able to reinvent themes of youth and functionality, while still paying homage to the brand's archive?
Carol: For us, it was very straightforward. It's all about having fun and making clothes that a student in Seoul, or a lawyer in NYC could wear. The idea that nothing desirable is that far out of reach. When we go to the store, often we'll see a mother and daughter both shopping at the same time.
Opening Ceremony was launched after an inspirational trip to Hong Kong. How did the city inspire you? What were some of the brands/products that you brought back to sell at your first boutique?
Humberto: Carol and I went to Hong Kong to visit our friend in 2002 and were introduced to all these young designers and magazines. Editors like Ning Lau had a magazine called STORE. Online shopping was not readily available, so we took brands like Izzue and 5cm back to the US with us.
Kenzo Takada was also a retailer first before designer. Humberto, as you oversee the design team at KENZO, what skills have been transferable from what you learned running Opening Ceremony?
Humberto: What we're creating has to be wearable. Most of what is on the runway appears in stores, too. We love that people come into our store and see a wide variety of pieces that they can try on and be accessible for them.
Wearability is a huge factor in both Opening Ceremony and KENZO.
Humberto: We think of runway and ready-to-wear as the same thing—there's no separation. At the end of the day, it's great clothing and functionality is key. We don't make "streetwear" or "high fashion," it's just easy, good clothing.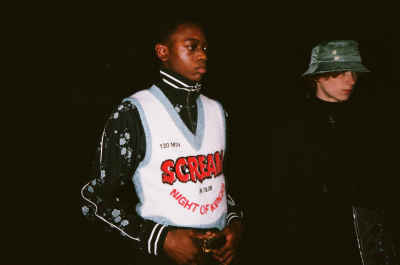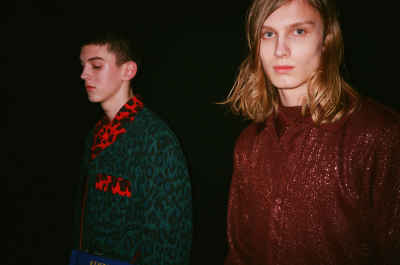 Arthur Bray specializes in stories about fashion and music. He's the former Managing Editor at HYPEBEAST and currently Editor-At-Large at Crepe City Magazine. His work has also appeared in 032c, FACT Mag, and Highsnobiety.
Interview:

Arthur Bray

Photography:

Arthur Bray / Carol Tam