Cherevichkiotvichki and the Occult Magic of Leather
Designer Victoria Andrejeva Speaks Out on the Importance of Craft and the Power of Being Unpronounceable
Interview:

Cailin Smart

Photography:

Adrian Crispin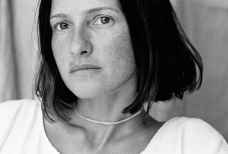 There is something about Cherevichkiotvichki designer Victoria Andrejeva that seems out of place on a computer screen. Her staff, uniformed in white sheaths, move around their white studio like they are completing some kind of religious task, tending to vats of viscous black dyes. The shoes on their feet and strewn on the linen tablecloths look worn-in and Edwardian. A computer in this scene feels like an anachronism.
Coming from a family of factory workers in her native Lithuania, Andrejeva taught herself shoemaking from books that she borrowed from Cordwainers College at the London College of Fashion, most of which were the only known copies left. This is how she created the quiet phenomenon that is Cherevichkiotvichki: from scratch and without any knowledge of how other brands were operating. While we talk about her line, little secrets like "concealed 2.5 cm platforms" and "complete water-resistance" shine light on her incredible attention to detail and quality. It must have been this trait that caught the attention of Yohji Yamamoto, who enlisted Andrejeva to collaborate on his footwear line starting this fall.
SSENSE's Cailin Smart spoke with Andrejeva at her studio in London, in the middle of a dye-making day.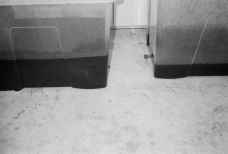 Cailin Smart
Victoria Andrejeva
Cherevichkiotvichki has more syllables than any other one-word brand name. Why choose a name that is so difficult to pronounce and remember?
The name came about from my childhood. When I was a kid I wanted to make objects, particularly shoes, because of their complexity. The name means "shoe by Victoria" in the old Slavic language. I thought that putting these three words together and spelling them in English would make it pronounceable. To me, this is easy, looking at the roots of the word. The name is meant to create a separation from my personal self, and also what my work represents, which is a ceremonial approach to making things—meticulous, detailed, time-consuming.
I noticed that it is so hard to remember that often it doesn't get called anything at all. That must make it hard to Google.
There was no need for it, we have always had a word-of-mouth following.
I am interested in what I am making rather than what label I am making it under.
"Ch" in phonetics is called a "voiceless" sound. Does voicelessness or anonymity play a role within your brand?
Unintentionally, they do. This question reflects a lot of my work ethic. A personal anonymity. I am interested in what I am making rather than what label I am making it under.
Looking closely at your finished products, they are missing the key identifiers of luxury goods: labels.
My vision doesn't include branding. When I create something it doesn't involve a label. We put small ones on because legally we have to in order to export the goods. We try to put them in non-invasive places.
Think about when a painter paints a painting: he signs at the very bottom in a small corner.
It made me aware of how trained the eye is to seeing those symbols in certain places: in a footbed for example. How do you become recognizable without them?
Labels are for those looking for the approval of others. I think the people who are buying Cherevichkiotvichki are individualists.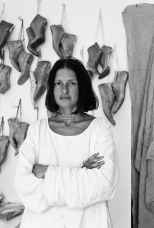 You make your own dyes. What kinds of dyes and pigments did you use for Fall/Winter 2016?
Every season I work with a biochemical laboratory in Italy that can make any color or finish imaginable. The color palette for this season is quite tame and reserved, so we had to use very basic colors. We developed this incredible paint with grated copper, wax, and animal fat. Then the raw leather was treated: the grain and pores fully opened and rough at first, then gradually smoothed over. The finish is natural, but still rich. This collection is the quietest one in terms of dying, because we wanted to focus on the chemical and biological components. There was so much animal protein in the dyes that there were swarms of flies around the vats outside.
Dyeing and shoemaking seem really messy and chaotic. Now that you have started making clothing, which is a classically beautiful craft, how has your process changed?
My work has many layers, and each layer requires a certain skill set. This is where my relationship with the Italian artisans comes in. I am probably the only multi-disciplinary person at the studio, everyone else is a single-skilled professional. When it comes to dyeing leather and garments, this is something I do with my team, but we have a designated pattern-cutter and seamstress. It's separated into distinct roles. Therefore, my process has not changed. I still get messy.
If you didn't make shoes and clothes, what would you make?
Before, I couldn't imagine myself making anything else. For the past couple years, however, I am interested in making large-scale objects. It's still in an embryonic stage because it takes a while to develop the idea for a sculpture, but it will come. I get to experiment with it a little bit for now with the presentations we do in Paris and window displays.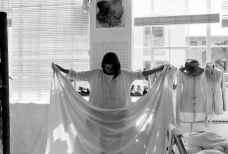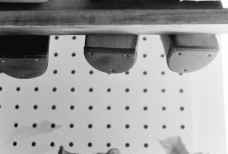 How big would these objects be?
It seems like a lot of designers are branching out into different disciplines, or coming into fashion as outsiders, becoming self-taught designers.
Being self-taught comes from a need to learn a skill in order to progress with your vision. This is how I learned to do my job. A true luxury for me is when the experience becomes an innovative curriculum.
How did you teach yourself?
Books and practice. Shoemaking books are merely manuals, so the real training comes from practice.
Are there any specific stories that went into the Fall/Winter 2016 collection?
The name of the collection is "Present Past: Part Two." The story of the past which remains present. It's my adaptation of the past, which still exists in the realm of physical reality via these objects. All the designs are made using old constructions like Goodyear and Blake. We have handpainted the bags so that the patina of the leather looks slightly used. We never wash our shoes or bags, which many do to achieve that effect quickly. The patina has shadows. It looks darker in places—aged.
Cherevichki, the short-form of Cherevichkiotvichki, is also the name of an opera written after a short story by Gogol.
The opera is actually by Tchaikovsky. Gogol wrote the story "The Night Before Christmas," which then was turned into the opera 40 years later. Gogol's stories are extremely satirical. It's about a woman who wants something—the Tsarina's shoes—but she's poor, and there is a man—the blacksmith Vakula—who wants to give it to her. There is the devil, of course, to blaspheme the church. The opera was a way to have fun in the 1800s. Gogol was brave and very, very funny. I think the only connection I can see between that and what I do is that there is also playfulness involved.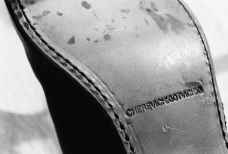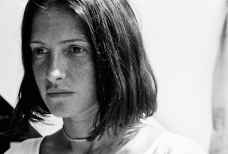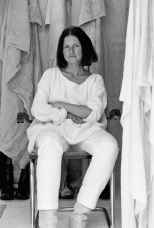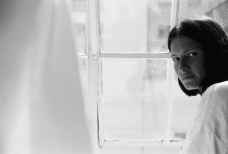 It's a matter of not caring about anything other than your personal vision.
Do you see your shoes playing a role in a modern, pop-cultural shoe moment?
Would Carrie Bradshaw covet your shoes?
[Laughs] It's a difficult question to answer because I never really draw a connection between what I do and what happens with the shoes after. The process ends for me at the moment that I pass them off to the stores.
You don't think about a customer? There's no Cherevichkiotvichki woman in your mind?
No. It could be anyone. It's free for interpretation.
How do you see yourself within a field that is currently overflowing with cynicism and self-reference?
Isn't every field overflowing with it? Cynicism is actually a close term to individualism, minus the distrust factor. I relate to being cynical insofar as individualism goes. It's a matter of not caring about anything other than your personal vision. It's like Ayn Rand's Objectivism. If cynicism can be interpreted this way…
I have a bit of a funny final question. We noticed that the shoeboxes are stuffed with old Italian newspapers.
Italy is very hands-on with recycling. Every street corner has a paper recycling container, and there's one right outside the atelier. We take them from there. There's no purpose to them. They'll go in the bin anyway. It's right next to the fig tree where I have my lunch.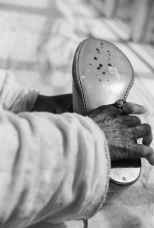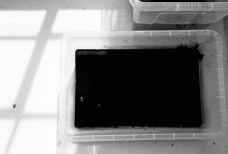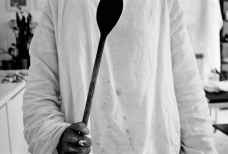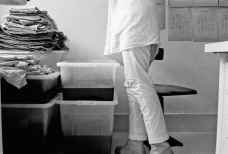 Interview:

Cailin Smart

Photography:

Adrian Crispin