Can a Designer be a Fashion Critic? On Defining New Luxury with Recho Omondi
The Host of The Cutting Room Floor Talks Brand Identity
Text:

Durga Chew-Bose

Photography:

Emmanuel Sanchez Monsalve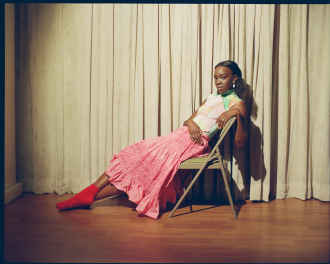 In a recent episode of The Cutting Room Floor, Recho Omondi's industry-insider podcast, the designer's candid yet casually firm hosting style is on full display. Her guest, the streetwear designer and DJ, Heron Preston, is telling a story about his interest in Russia as a theme, and his subsequent use of Cyrillic in his designs. But what Omondi wants, what she favors and perhaps even brands herself as, is someone seeking more than just surface or story—those idle tangents that might impress others, do not satisfy Omondi. She wants backstory: "Walk me through it. Walk me through it."
Later, in that same episode, when Preston insists he doesn't care much for politics, Omondi responds, "How could you not be a political person when it affects everybody?" She rephrases. "Wait, pause, does that mean the format of politics bores you? 'Cause look at DSNY, you do have a stance." She's referring to Preston's workwear collection inspired by a breakthrough moment with a plastic bag that brushed against him while swimming in the ocean, ultimately inspiring a collaboration with the NYC Department of Sanitation. It becomes clear Preston is new to the tenor of Omondi's podcast: her frank curiosity is persistent, her questions are unscripted, wonderfully defiant, and exposing. A little raw. Uncharacteristic of fashion's more familiar posturing; its glossy attraction towards what's uncritical and trouble-free. This quality is exactly what makes Omondi, her podcast, and her Brooklyn-based eponymous brand, OMONDI, stand out. It's what gives her staying power, a cult-following, clothes that sell out. It's what caught Issa Rae's attention. Solange, too. Both are fans.
While the title "multi-hyphenate" might nowadays connote the opposite of talent and vision, Omondi's application of her ideas and her patience with her projects (she does not follow the fashion calendar, she does not loan clothes)—the time she devotes to unplugging while also paying close attention to her industry, to remaining critical, and engaging with her audience, endows her work with meaning. With significance beyond the scope of production for the sake of it.
Omondi's inspirations cannot be reduced to, or communicated on a mood board alone. Hers is a process with piano interludes (retreating to her keyboard midday), or turning to dance, her first passion—sourcing movement, the body, control, Pina Bausch—all of it as it relates to her clothes. "I've always been multi-disciplinary," she says, "but the key word is discipline." Still, while Omondi takes her work seriously—every detail, painstakingly envisioned and executed—she doesn't take herself too seriously. That distinction is felt, refreshing. Describing the experience earlier this year of not being selected as a CFDA finalist, Omondi shrugs, "It was like a guy not texting you back but you didn't care anyway."
Here, Omondi, in her own words.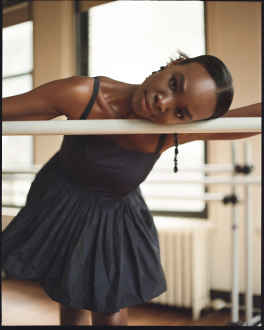 I came here to work. You know, big city dreams. I always knew what I wanted to do. When I was 15 and younger, I was dancing, but then I realized I was more into fashion. I've moved around so much growing up, so this feels like home. I've lived in this building longer than anywhere my entire life. My parents were immigrants, my dad was looking for work. A lot of people ask if we were army brats, which we weren't. But we did move with that kind of frequency. Both my parents were born in Kenya, they met formally in America. I have three sisters. I'm the second to last. But New York feels like home, I don't feel like home anywhere else. I always complain about that—it's been a through-line in my story. There's literally a town called Nowhere, Oklahoma, which is where I was born. An hour outside of Tulsa. So I think that's been a theme my entire life. When people ask me where I was born, my answer is, "Nowhere." I was always going to a new school, every other year. Everybody else is the variable and you are the constant, so you better get very used to yourself. You don't take anything too personal, the only thing you can control is yourself, which is probably why I'm so controlling.
I've always looked at it as a skill. I'm secretly the biggest introvert. I'm secretly a loner. The things that I did growing up—drawing or piano or dance—it was always just me and whatever I was doing, which I look back on now and…that explains a lot. And if I needed to move, I could always pick up these things, it wasn't like I needed to try out for the volleyball team again. While dance is social, the experience is about you being better with yourself. It's all very competitive—it's me against myself all the time.
On Being a Fashion Critic
I definitely wondered if it was a conflict of interest. Who the hell do I think I am? Like, am I allowed to do this? I'm in the infantile stage of my career but I'm also talking shit, is that acceptable? Ultimately, I did it because it's my way of documenting. It was a purge, and something I talk about a lot with my colleagues. Especially for young people. I love this industry. I'm obsessed with it. When you see all this stuff happening and nobody is talking about it, it seems so natural to me. Everyone wants to be so quiet. I try to be tasteful, though. Also, if you feel like my shit's not good, leave a comment. With the podcast, I'm not trying to claim I make the best work ever, I'm trying to start a conversation. Even if I wasn't a designer, I'd still be thirsty for criticism in the fashion world. If anything, it holds me more accountable. I genuinely try not to be mean or mean-spirited. I try not to be fluffy. I need to be critiqued, I need to be checked. I don't know everything and that's the humility that made me want to start the podcast.
I don't get enough of it, I want more of it.
On Having A Point Of View
Feels natural and something I want to preserve. It doesn't feel hard to have a point of view, in my mind I've been training for this my whole life. I could have been made more impressionable by so many things, by so many groups. It's just about centering yourself. I feel pretentious, self-righteous saying this. But point of view comes from knowing yourself and knowing your brand, and a lot of people don't know themselves. So there's no way to communicate yourself if you don't have hard lines. I like this, I hate this. I like navy, I hate lace, I've always hated lace. I've had so many conversations with myself, there's very few we haven't had. [Laughs]
I used to not share anything, only the finished product. But the world has changed so much. And it's adapt or die. I have so much content. I've recorded everything, all these years. I've been documenting everything, most of it on Photo Booth. I let it run all day. And it's all on hard drives. Me sewing all day. I've been self-archiving for years. This is Act One. I'm not trying to make it big right now. That's why with some designers today, I'm like, "chill out." We'll all get there. I want to be here in 15 years. I want to be here in 20. Even if the business went under, I would still be creative, playing piano, making clothes. But of course I worry about money all the time.
On "The Real Creative Director"
Kirsten Green, who's a VC, said, "There's more money in the world than there are good ideas." I can find the money, I have the wherewithal. I don't see not being a CFDA Finalist as a door closing. I spend a lot of time nowadays thinking about growing the brand, the community. I am the voice. I spend a lot of time thinking about how I'm going to raise money. Do I want VC money? Do I want private equity? Who would I want it from? Who's investing in retail? Who's investing in the future of commerce? I spend a lot of time thinking about being a founder more so than being a creative, because that part is just natural, that part is easy. I want to be in the front of my learning, not behind. I want to know every aspect of what I'm doing. That, to me, is a real creative director. A person who knows how to sew, the person who understands graphics, the person who can comment on the day-to-day, a person who can comment on the dancing, the music, the font, the fabric. I'm not just twiddling my thumbs, I really do have a creative direction for every aspect of what we're doing. That's rare these days. Because how could you have a direction if you don't know yourself?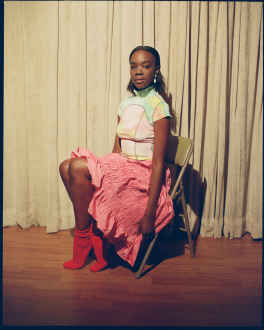 On Output, Content, and Waste
Consumers aren't stupid. They're smarter than they've ever been. They know. They know what's bullshit. What's excess for the sake of it being excess. KITH did a collaboration with Coca-Cola in partner with Converse—like, I don't give a shit how many influencers you give that shit to, that shit's corny. And the kids know that. At some point just blind capitalism is not going to work and also, it doesn't inspire people. That's why I do one collection a year, for my own sanity. I just don't like content for the sake of content.
Time. Time is the only legit luxury. But also, I kind of let go of the idea of luxury. I think it's bullshit, now. That's something the old guard made up and now I don't really fuck with that anymore. To me luxury is accessibility. That's the real luxury. And also, saving time. To me, the hand embroidery I do is a luxury because no one's doing it and it takes time, and it's my gift, from me to you. I started just writing notes on clothes, and it feels personal. To me that's luxury in this mass market of apparel. We're more lonely and isolated as a culture, so it's like, those are the things that drive me. I want people to feel connected to their clothing, and if that means they feel connected to me, then I'll take it.
My dad made it clear, growing up, where we came from. I went to Kenya almost every summer growing up. And it wasn't until I became of age that I started going on my own. OMONDI is a Kenyan story. Literally an African American story. My dad used to always say, "We're not from here, we're not from here, all these white friends you have at school, you're not them." And I used to cry because I didn't understand what he meant because they were my friends, they liked me. But now I'm so grateful that he would remind me. That he made it so clear. Because it's kept me grounded about who I actually am. With all the moving around, he would say, "We're not from here, we live here." And I was like, "But I'm born here." I couldn't marry the two, and I still can't. I was too African for Black Americans and I was too Black in general for white people. And then I go to Kenya and I'm too American because I don't have the accent and my Swahili's not that great, and I was like, I don't know where I'm from because nobody's happy! Everyone is dissatisfied! But that's why I think there's a lot of potential for legacy and heritage with OMONDI. Everything up until this point has been proof of concept. This is just the beginning. It's coming.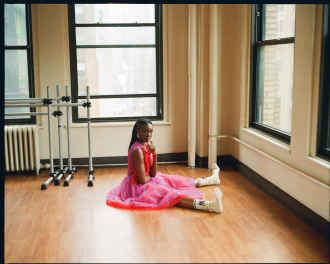 Durga Chew-Bose is the Deputy Editor at SSENSE.
Text:

Durga Chew-Bose

Photography:

Emmanuel Sanchez Monsalve

Styling:

Stella Greenspan / Streeters

Hair:

Remy Moore

Makeup:

Tedrick Lamar