Listen Slowly: Brendon Babenzien Talks the Labor of Love Behind Noah's Collaboration with The Cure
The New York Menswear Designer Reflects on Bringing His Lifelong Dream to Our Closets and Our Playlists
Interview:

Erika Houle

Images/Photos Courtesy Of:

Noah
Brendon Babenzien first heard The Cure when he was 13 years old. What began as a surf kid's inclination toward the uptempo guitar riffs of the 1979 hit "Jumping Someone Else's Train" naturally evolved into a diehard fandom of endless relatability and unbridled appreciation. As he grew up, Babenzien continually made sense of the English post-punk group's whimsical lyrics and happy-sad melodies. "It's kind of slow music, and I don't mean the actual tempo of the songs," he says. "You have to spend time with it."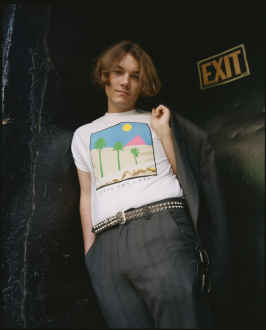 Over three decades and 12 studio albums later, the founder and designer of New York menswear label Noah is pitching the music—along with the iconic graphics and vast cultural heritage—of The Cure to a new generation with his latest capsule collection. An anomaly among streetwear's rising obsession with tour merch and designer-musician collaborations, Babenzien's focus for the line was anti-opportunistic. Rather, with a selection ranging from Noah classics including graphic tees and hoodies to a Robert Smith inspired polka dot shirt (similar to one from Babenzien's high school closet), it is an honest act of fan art. A reminder to return to the music and really listen properly.
Two days before the collection's release, Brendon Babenzien spoke to Erika Houle about its collaborative process and why the zany grandeur of frontman Robert Smith's aesthetic is the perfect fit for Noah.
Erika Houle
Brendon Babenzien
So to begin, tell me more about the collection. Why now?
The "why" is pretty easy. The Cure has always been my favorite band. It's been 30-some-odd years since I first heard them. Over time, and looking back, they've always been there: consistently making great music, consistently being the band that I would go to for whatever emotion I was feeling at the time, and even visually, live, they've just been a constant. They came to New York last year and sold out three shows at Madison Square Garden. I went to see them again and they were as good as they've ever been, possibly better. I've always been a huge fan and this is kind of a dream come true for me to be able to put out some stuff with them, particularly since a lot of their music is older and trying to find merchandise from that era that isn't either terribly expensive or completely falling apart is really hard. I thought it would be fun to go back and be able to make new stuff that people can access. It wasn't really about tying it to any particular event they had upcoming. Actually, that would probably discourage me to be honest. Often, you want to shine a light on something when it's in the dark.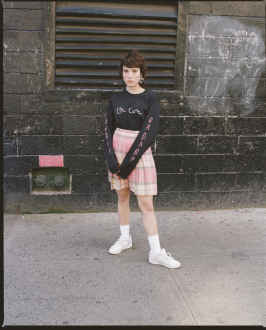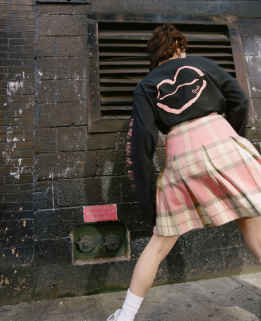 How did the collaboration come to life? Did you reach out to Robert directly?
It started out pretty straight forward. Usually with these things, the music stuff is controlled by a few licensing organizations and they're monsters. When we reached out to the one that runs The Cure, which is Bravado, Mat Vlasic who is the president was super cool. He was like, "Let me put you in touch with Robert's lawyer and you can talk to him directly." We started e-mailing Robert's representation and it was pretty clear early on that the messages were getting to Robert directly and quickly. That's maybe the closest I'll ever get to talking to him which was pretty impressive for me. I was really excited, my teenager came out and I was all hyped to be communicating with him. He actually had opinions and specific comments about some of the things we were working on, so it did feel like a bit more of a collaboration.
Did he have any hesitations or was he pretty on board from the start?
Well, I preempted this thing by sending a really personal e-mail explaining why this should happen. It was a combination of explaining my fandom and the fact that I want to do the right thing by this, this isn't a big commercial project. It's a labor of love, but also Noah as a brand is in a position to educate and inform customers that maybe aren't familiar with The Cure. It should be everybody's goal to stay relevant with new generations. This idea of, you do what you do and then you disappear, isn't that interesting to me. If something's good, it's good. I want people to be aware of it. I did that really early on in the process so I didn't give him a chance to question it. I think I might have even mentioned the siouxsie sioux thing we did when I was at Supreme, they're friends and I was like, "You can check with her, she'll tell you it's on the up and up." [Laughs]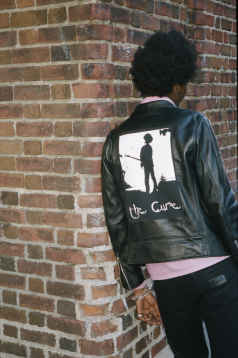 It's nice, Noah seems to be in a sweet spot to pass that down to the generation who didn't grow up with the music in real time.
Right, I mean we've been really blessed. For one, we take a really honest approach, and I think at this point anyone who has had any dealings with us as a customer has experienced that. We built some level of trust where if we talk about something people know it's genuine, we're really about it, and we're not trying to overly exploit anything. We're not in this to blow things out the door, we want to do it in the right way.
You've said before that people who weren't able to experience a Cure concert during their peak really missed out. I'm wondering given the general age demographic of Noah, and that most customers didn't really grow up in that time, what type of feelings you're hoping to evoke in them with this line?
For me, the visuals of a t-shirt or a sweatshirt or the things we're doing, it's really the gateway drug, and I want people to explore the music in full. Everybody knows The Cure. Everybody knows "Boys Don't Cry." The hits are the hits and that's cool, but there's stuff in there that maybe you've never heard that's incredible. You really have to spend a fair amount of time exploring their music to get a proper scope. You discover things they've done musically in a song that maybe you don't hear until you listen to it 10 times. You understand a lyric after a few listens that maybe you didn't at first. Whatever it is, the more time you spend with it, the better it gets.
So the clothes are like a constant reminder.
Right. We want people to remember them first, and then be like, "You know what? I need to check that," and really, properly check it. We're talking about hundreds and hundreds of songs. People don't really buy full records anymore and listen to them start to finish. I grew up in a time when that's how albums were made. They were full packages, not that much different than a clothing collection. It's like, you build a collection, a start to finish, with t-shirts, to jackets, and everything in between. You don't put out a hat and say, "Well, this is us." You have to tell the whole story.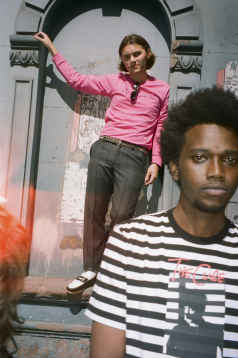 What would you say separates this collection from the brand-musician collaborations that seem to be nonstop lately—Jerry Lorenzo and Justin Bieber, Virgil Abloh and Travis Scott, you mentioned your previous work with Supreme and Siouxsie Sioux. What makes it different?
The only real difference is most of these artists are putting out their own stuff as a commercial vehicle to make money. They're like, "This shit is cool right now, this is how you make money in music, because the music industry is dead. Let's find a dude we're friendly with whose aesthetic we like and we'll put out all this stuff, right?" This has been a part of the world I've been in since the beginning. I guess the difference is my super personal attachment to it, and it's less about a new financial driver in the industry. This is what we've always done.
I noticed the Standing on the Beach album art in the lookbook with John Button who I believe was a fisherman, and I thought that was a cool tie back to Noah. Was it a difficult process connecting the aesthetic of the brand with that of The Cure and someone like Robert Smith who's known for like, smeared lipstick and backcombed hair?
I would say no, it's not hard at all. We're being honest about the things we're into, and if we're into it then it belongs. We don't have this one, directional aesthetic where it's classic menswear, or punk rock, or athletic. We actually do all those things at the same time. The reason we can, and it works, is because we only touch the stuff that's real to us. If it's coming through our lens, somebody in my organization is genuinely a part of that culture and can speak to it in a very real way. Even though with The Cure, his personal style is a bit strange, the big hair, the makeup, and everything is not something I would do for myself, as a fan I've always been influenced by Robert Smith. I remember I wore big polka dot shirts when I was a teenager, and that was a direct result of seeing him wear big polka dot shirts. It doesn't really matter what it looks like. It's real to us, we're fans, so it should be part of our aesthetic.


Interview:

Erika Houle

Images/Photos Courtesy Of:

Noah