Arc'teryx Veilance and the Even Greater Outdoors
Head Designer Carl Moriarty on the Continuum Between Clothing, Cities, and Nature
Interview:

Isaac Penn

Photography:

(Portrait Image) Arc'teryx / Kamil Bialous

Images/Photos Courtesy Of:

Arc'teryx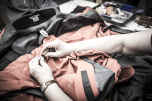 On the other side of the Burrard Inlet on Vancouver's North Shore, hemmed in by large fir trees, stands the Arc'teryx headquarters. Carl Moriarty has been working as the design director for apparel at Arc'teryx since the company's first days—long before hiking gearheads were influencing men's fashion and before the company launched its performance line for urbanites, Arc'teryx Veilance.

Vancouver is known as a tech hub that sits perched on the edge of the ocean, both innovative and analog. The mountain backdrop gives plenty of inspiration for the employees, who ski in the morning and go to work in the afternoon. The urbanism and matcha lattes of downtown are only five miles away as the crow flies from the Arc'teryx office and design studio. The brand and city are both growing and evolving, and almost everyone in this rainy town owns a piece of Arc'teryx apparel.
Moriarty spoke to Isaac Penn about the urban workforce who is drawn to Arc'teryx Veilance, manufactured as it is to provide the "invisible advantage" of technical gear for office-bound millennials. This dichotomy of such an impressive landscape, in such a growing technological city, challenges the designers at Arc'teryx's headquarters to innovate with functional fashion like the Arc'teryx Veilance line while keeping the legacy of the brand.
Designers like Yohji Yamamoto and Rick Owens often say that they made clothing for a specific customer, and now they don't know if they like that customer anymore. What do you think about Arc'teryx creating tools that become trendy or fashionable—how do you think this changes the brand?
I think one of the key things for us is to try to be consistent and stay focused on our core ideas and not get pulled around too much by what's going on in the market place. It comes down to having more of an industrial design approach than a fashion approach; we tend to be focused more on problem-solving and less on trend-watching. That can be precarious at times, but it has proven to be a solid approach for us.
How did Veilance start, and why couldn't you just convince people to wear regular active wear in urban life instead of making a new line?
There was always a curiosity and desire to be able to explore what we could create with the different construction techniques that we were working with, because Arc'teryx's contribution to apparel has really been all about lamination and adhesives and how to create functionality through those construction techniques. This drive for functionality has created a certain aesthetic, and Veilance emerged by us trying to make things lighter, more durable, and more invisible in an urban space. Part of starting Veilance was about giving us a little bit of freedom to explore. It allowed us to put these products out on the side and slowly release them into a different channel and see what reaction we got from them.

Everyone has an Arc'teryx jacket now in Vancouver—and not all use it for an adventurous Iifestyle. How has Veilance moved into that zone of being a necessity?
Arc'teryx has been successful at creating performance outerwear that had enough design sensibility that it could be appropriated into urban spaces. One can see that from the early adoption in Japan, when Arc'teryx first released outerwear. Our hope is that we can make products that are elegant enough that people appropriate them, or get more versatile use from them. It may be that the macro trend is for millennials to be indoors, but I think there's still a strong stream of people who want that connection with the outdoors and want to be able to transition between both environments.
Sportswear has a foundation in the fashion world, but where do you think performance wear will change and develop as it becomes more synthesized within the fashion world?
One of the things that we see a lot with the growing presence of social media and people documenting everything they do is that they want to be able to express their identity consistently in whatever environment they're in. So, before, people didn't necessarily put a lot of thought into what they looked like if they were going hiking. All of a sudden, if you're going to post your hike on Instagram, it's about "How do I express my personal identity in that space?" They put as much thought and curation into that as they do perhaps going to work or to socialize. That desire to consistently express one's identity through situational curation is having a big effect on the apparel industry.
It's kind of interesting that mountain gear is always bright colored (for visibility), and Veilance is always all black. Can you speak to those color decisions a little bit?
I think to be perfectly honest, one part of it is scale—and there's a commercial reality to scale. But there is a place for more color exploration within the Veilance line and it's definitely something that will come. Right now it's probably more to do with scale than to do with creative desire or vision.
How does Arc'teryx deal with its planned obsolescence? As an industrial designer, you are obviously trying to make timeless gear, but how do you deal with that lifespan?
Longevity comes from creating something functional that people have an emotional connection to. In our technical gear, we want our products to become your trusted companion in the wilderness. Another element is the memories that these garments embody. I will never retire my first Arc'teryx backpack because I have accumulated so many memories with it. So that's the first element of driving longevity. The second, is to actually build products that are durable enough to endure the environment that they're designed for—whether that's an urban environment or a mountain environment.
Another element is the memories that these garments embody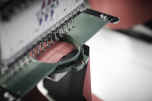 The repair center at Arc'teryx is a big part of the office. The team keeps key fabrics from 10-15 years ago because clients want to keep on fixing their jackets, rather than replacing them. With lines like Veilance, how has that changed?
I mean I think there are two sides to the Veilance customer. There are the early adopters. I've repaired a center-front zip into someone's field jacket three times. He lives in Vancouver and has worn it religiously through the winters since he got it. But I think he's proud of the patina that it has, right? I'm sure I'll see that jacket again for several more repairs. Then there is the other client, who when their product is done they retire it and look for the next thing, or buy another one that's shiny again. But I think the product does patina and wear well.
What do you think of wearable technology? Gear has gotten so advanced, but people still use ziploc bags to hold their phones so they don't get water damage when they ski.
From a technology standpoint, we're more focused on creating invisible advantage for people. We are trying to eliminate that sense of having to constantly change layers. So how do you create a more invisible experience? Arc'teryx, at its core, is made for mountaineering and alpinism, and consumers need products that have consistent performance. We haven't spent any time on electrical systems or any of these adjunct things that may be prone to failure because what we need to do is provide reliable, durable performance that people can depend on in really difficult places.
Do you personally think that technology is good for being outdoors? Obviously there are disadvantages and advantages, but do you think that smartphones and technology are helping or detracting from the overall experience?
On some level it's helping people accelerate what they're able to do. It's great that you can constantly have a map with you on your iPhone. But, there's something inherently dangerous about that too because people aren't learning the fundamentals. What if you're relying on your iPhone to get you home from Joffre's Lake and you're the last person in the dark, and the only map you have is your iPhone, and the only headlamp you have is the torch on the back of your phone--and you get a flat battery? In some ways it distracts people from the benefits of interacting with nature. It's a double-edged sword.

Interview:

Isaac Penn

Photography:

(Portrait Image) Arc'teryx / Kamil Bialous

Images/Photos Courtesy Of:

Arc'teryx