Anti-Demographic, Anti-Fashion
The Anonymous Brand 69 Designs for No One
Text:

Timo Feldhaus

Photography:

Christian Werner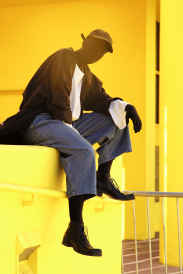 What is fashion in 2017? Is it possible to break through its collection cycle? Can you start a revolution through the buttonhole of a denim-dress? If you want to know, you have to visit the city of Los Angeles and drive downtown, where the homeless wander in front of new hipster coffee shops, where post-human Americans check their phones, looking like zombified doppelgängers. In the middle of this energetic, fast-changing environment is the showroom and working space of 69, an anti-fashion denim brand launched in 2011. 69 is a non-gender, non-demographic clothing line. All its products and garments are manufactured in Los Angeles. The designer, who wishes to be anonymous, describes 69 as "timeless and classic, yet made in our present and meant for the future." When we meet, we sit on big denim basketballs, looking at a model house, a miniature version of Beetlejuice's. There we spoke about beauty, uniforms, and why we need to get rid of our egos as soon as possible.
What do you like about fashion?
I can't think of anything.
In an interview you once said that you didn't consider yourself a fashion designer. I wonder, in that case, what are you and what is 69?
It's not based in the fashion world, but in an ideal lifestyle world. 69 is a lifestyle brand that simply began with clothing because it is the fastest commodity. But I'm interested in doing far more, which is obvious in our visual language and social media. We've done furniture, we do videos, and dog clothes, and we definitely want to develop the children's clothes we did in the past.
Can you say what the DNA of 69 is?
Comfort, versatility, and consciousness.
We live in postmodern times, where there is nothing new on the horizon of fashion. Is genderless and comfortable fashion what everybody is going to be wearing in the near future?
Textile technology is continually developing. The problem is not development, it is cost. Fashion trends are what keep the industry from advancing. If we could eliminate the market of trends and rather focus on quality, as with anything we consume, our ideas of what we buy and what we wear would change drastically. Does this mean comfortable and genderless? Not necessarily.
Can you imagine what people love about unisex styles?
Unisex is a buzzword. Like genderless is a buzzword. I don't relate to it. I want to make clothes that look good on everybody, whatever you are. It's not about what is more attractive. I've always said that 69 is a non-demographic brand, because that is about as general as you can get.
What was the last thing that inspired you?
Going to Japan last year. The public toilets were the best, particularly the ones that have a blow-drying feature. I've never felt air on my butt like that. All their public restrooms, the whole way they live, makes America look like a trailer park. But I love it, it makes you appreciate places like Japan way more.
"Fashion trends are what keep the industry from advancing."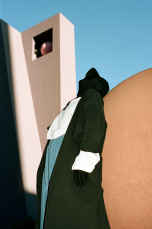 Is it true that you produce everything in L.A.?
Yes. I like the fact that I am contributing to my local economy, that I am creating jobs for people, and I live here. If I produced somewhere else, if I lived somewhere else, I'd make it there.
You said that you want to stay anonymous. Why?
I don't care about or believe in notoriety. It's all in our subconscious when we as humans put a name, gender, or race to something. I don't like how we manifest certain characteristics about strangers. I think one of the things we have to learn in life is to release our ego.
You still make collections within the usual cycle of two times a year, right?
Those horrible, horrible cycles. I did four last year. Will I stop doing seasonal collections? I don't want to do them. I'd rather be on my own. But I've been saying that for years, I need to just jump off the cliff and do it.
Do you see an alternative?
What we do to move forward is develop good relationships with only a few great stores. I'd say SSENSE is one of them. And alternatively communicate directly with consumers by using social media.
"Unisex is a buzzword. Like genderless is a buzzword. I don't relate to it. I want to make clothes that look good on everybody, whatever you are."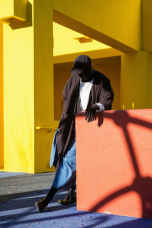 Why did you decide to focus on denim?
I liked the idea of using one fabric and one color, I thought that was lacking in the market at the time. Clothing and styling has always been an easy language for me and I started with silhouettes, with these vintage pieces that I had that were done in shitty materials. I wanted to translate it into a very basic, nice fabric, which denim is. We started with linen as well, our palette was blue denim, black and white linen. We still do identify as a denim brand, because it's always around. It's versatile, utilitarian, it's durable, it's also very transitional depending on what you wear it with, how you wear it, what the silhouette is.
I read that the average American owns six pairs of jeans. When you think of fashion theory, denim is the absolute constant, always there, but on the other side, every year the magazines are talking about the comeback. Denim is the most constant and also the most schizo fashion item of all.
It's never trendy. People love to express themselves through clothing, until people are over that and only want to wear uniforms. I'm all for uniform.
Your idea of sameness and uniform reminds me of this normcore trend from around four years ago, when people were celebrating this anti-style, average-Steve-Jobs-Seinfeld-thing, they were always in jeans.
For 69, the whole thing was to have a constant wardrobe for any type of person. All the silhouettes I've made can interchange with each other fluidly and that's another reason why I want to push on the breaks with working in seasons. I've made so much stuff already, I don't need to make any more. I think the less decisions you have to make about clothes, the better.
What's in your head when you think of the next 69 collection?
At the moment, a big topic is aging and how people consider that a negative thing, because that's exactly how people become old. From time to time you see these videos with people who are older and they are bodybuilders, and they go fucking waterskiing at 99. It's about never checking out and retiring and sitting down for the rest of your life, just staying involved. And the world letting you be involved, because a lot of people disregard older people. I wish I were friends with older people, I just don't know any!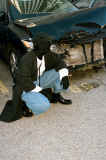 "I think one of the things we have to learn in life is to release our ego."
You said our generation is evolving in a lot of ways, where do you see this evolution coming from?
Simply from technology. Our generation won't age like generations prior, because we are starting a dialogue. It's much easier to take care of yourself because there's so much knowledge at our fingertips. We don't need to get old if we don't want to.
I don't know if I can be so positive about technology.
It's good and evil at the same time. There's a time limit on this for me, in my life. I've made a pact with myself that when I'm 40 this is going away completely. If that could happen sooner, I'm down.
Do you see a new generation that thinks differently about the fashion industry?
It's like the system that won't die, but it won't die because we keep perpetuating it. We need more people to say "no" and do their own thing.
What is 69's idea of beauty?
We're force-fed through pop culture and media what it means to be beautiful. 69 is trying to eliminate that. For instance, by using only our friends and not models to show our clothes in videos and runway shows. Beauty is not a look. It's about someone being totally who they are and really loving themselves. That sounds very new age, but it's true. That is the most attractive — all my friends are the most attractive to me in that way. They're all totally different from each other. It's not that they don't struggle, they're still trying to figure themselves out, but they know themselves very well and they like themselves.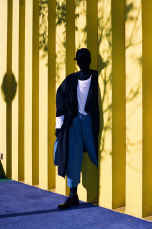 "Someone can wear a trash bag and look good as long as they know how to wear it. That is style. It is not about clothes, it is about style, which is what people respond to most anyways."
Oh my god! I only trust people who don't know who they are. They are vulnerable and doubt themselves and question the world. I don't trust people who want to make me think they know everything.
I'm not talking about people who know everything, just who know themselves. That is something to achieve, it is very attractive. Someone who knows themselves very well is going to be honest, and that is beautiful. It could change with each person. To me, everyone is beautiful, whether they are flawed or not. For example, Bennet Perez and I did a shoot recently where we played with the idea of using models with skin conditions or burn scars. They are still young, beautiful people, because it's hard to cast otherwise, but there is no general beauty rule for me. It is definitely about the person, not about the clothes. Someone can wear a trash bag and look good as long as they know how to wear it. That is style. It is not about clothes, it is about style, which is what people respond to most anyways.
Where will 69 be in the near future?
Conceptualizing and designing the interior of a lunar cruise/spaceship, and the uniforms of its crew.
Text:

Timo Feldhaus

Photography:

Christian Werner