A Thing For Feet:
Rick Owens Meets Birkenstock
Celebrating the Global Launch of Owens' Take on the Staple Sandals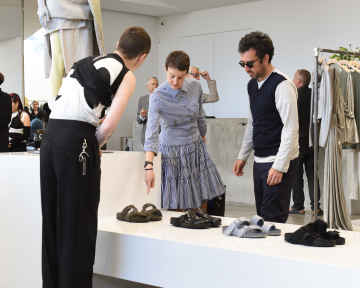 I am sitting in the garden of the Chateau Marmont, making plans to get a foot massage with Birkenstock CEO Oliver Reichert.
Reichert is in Los Angeles to celebrate the latest iteration of the Birkenstock Box, a travelling experiment in collaborative retail. Last year, Birkenstock hired Berlin-based architecture firm Gonzalez Haase AAS to design a two-story shipping container that tours from city to city, parking for a few days next to a retail partner and evolving each move with a fresh interior and new, limited-edition riffs on key Birkenstock styles. The concept is refreshingly old-school: take your wares on the road, merchant style. "The good thing about the Birkenstock brand identity is that we are the product," Reichert says. "It's like going to a bakery, and there are small pieces of bread. You can talk about the bread for 10 hours, but if you just take one bite, you have a decision in a second. That's what we're doing."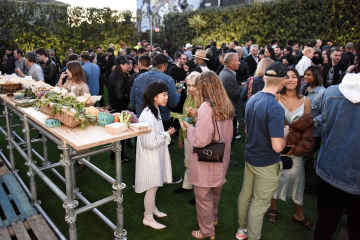 Today, the box is stationed next to the Rick Owens flagship on La Brea, and Reichert is running late for the party. There will be a team of masseuses on site to, as Owens' invitation reads, lube up their guests' feet and engage in a bit of foot worship. Dutch photographer and Owens collaborator Paul Kooiker, known for his painterly, fetishitic compositions, is on hand to shoot some portraits of guests' moisturized hooves. Reichert and I agree that these will be suitably weird circumstances under which to continue our chat.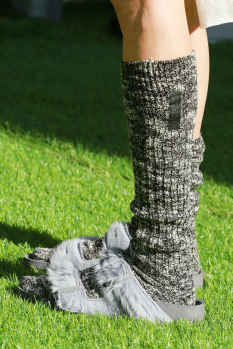 The Birkenstock is one of those objects that exist both within fashion and all around it. They benefit from the trend cycle—think Phoebe Philo putting them on a Céline runway—but they don't depend on it. When I ran into Stella Bugbee, editor-in-chief of The Cut, earlier in the day, she mentioned that she strategically placed her first tattoo on the top of her foot, where she knew it would be obscured by the strap of her Birkenstocks. Birks are culturally embedded—for those who love them, they are part of a uniform.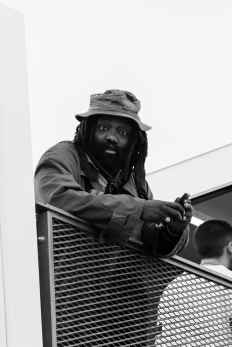 Surprisingly, this project with Rick Owens' is Birkenstock's first official high fashion collaboration. For Reichert, it's a natural fit; both are independent companies, and both are committed to rigorous iteration on their foundational forms. "We are not a product where all of these famous street style brands are just putting their logo on it," Reichert says. "Rick Owens, he's cut out of the same wood as we are. He's doing everything by himself. He owns a production company in Italy. His project is a process of defining things, and getting closer and closer to it. He's looking for something—in search of the real thing."
And Owens, Reichert explains, immediately grasped the core concerns of Birkenstock brand. "If it comes to quality and function, there's no compromise. Don't change the footbed. But if you talk to people like Rick Owens, you don't need to mention this. They already know. It's like—do you have kids?" I do not. "Once you have kids, you will have people around that you trust. You can give your kid to this person for two hours and say, 'Take care of them.' And you know it's okay."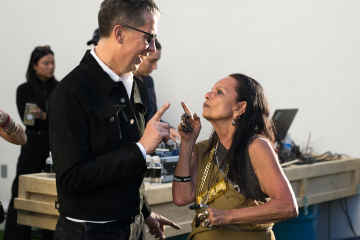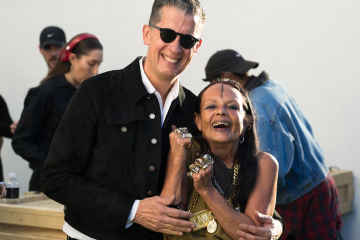 So, Rick was babysitting. Later, over email, I ask Rick what he and Birkenstock may have learned from one another. He replied—in bolded caps, as is his custom:
NOT SURE WHAT WE LEARNED FROM EACH OTHER, BUT THE PROCESS HAS BEEN ONE OF MEETING AND WORKING WITH WARM GENTLE PEOPLE, BRINGING THEIR ENTHUSIASM AND ASSETS TO THE TABLE AND OFFERING BOTH. WHEN SOMEONE SHARES SIMILAR VALUES BUT COMES AT IT FROM A DIFFERENT DIRECTION SOMETHING NICE CAN HAPPEN.
And, sure enough, something nice has happened. Rick's versions are, if you like Birkenstocks, totally great. He's slightly twisted their classic styles. Some feature elongated straps. Some are made from cowhide left shaggy, others from army blankets chosen in reference to Joseph Beuys. They are, like all Birks, comfortable and functional. I ask Rick about the nod to Beuys—are there any lessons he's drawn from Beuys' work that he feels are especially relevant today?
I ALWAYS APPRECIATED HIS SHAMANISTIC HUMANITARIAN VIBE, BUT I HAVE TO ADMIT TO A BIT OF SKEPTICISM REGARDING HIS PREACHINESS… BUT HIS SENSE OF PRIMAL URGES AND PAGAN RITUAL GIVES ME A BONER.
The fashion party is a sort of contemporary pagan ritual of its own. I arrive just after Reichert and the shop's courtyard and interior are already full of guests. Lamy is typically numinous, constantly in motion, graciously posing for photos, even hopping on the decks at one point. Fashion world fixtures old and new like Stefano Tonchi and Tremaine Emory mix with random Rick acolytes, clad head-to-toe in his designs—one is draped in a necklace woven from multicoloured ethernet cables, dove grey and burnt ochre and bright blue. I think I see David Byrne, and though I eventually concede it isn't him, it could have been! That's kind of the appeal of these things.
Owens himself is conspicuously absent. He hasn't been to back to Los Angeles since he left 15 years ago. I ask him if he misses the city, and he responds:
YEAH, I MISS THE SCALE. THE LONG EMPTY STRETCHES FROM ONE POINT TO ANOTHER, AND THE CLIMATE… BUT I HESITATE TO GO BACK, NOT SURE WHY…
I express to an especially lovely Birkenstock employee that I wanted to have my feet photographed by Kooiker, and she makes sure that I do. I figure that if I'm going to report on a party, it's good journalistic practice to play all the parlor games. And I'm admittedly thrilled at the idea that this little part of me will now legally belong to Owenscorp. A fitting room at the back of the shop has become a makeshift studio. Kooiker and an assistant have draped the room in matte grey paper and set up a small lighting rig. Kooiker has me de-sock and slip on a pair of Rick's Birks and directs me through a series of poses. Kooiker shakes my hand and calls me a "top model," and though I have a hard time believing him, I appreciate the gesture.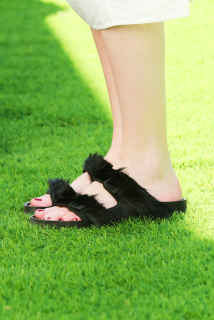 On my way out of the boutique, at the foot massage station, I see Jack Dorsey, founder and CEO of Twitter and confirmed Rick stan. A couple years ago, he began eschewing the typical hoodie-and-jeans tech CEO getup in favour of Rick's leather jackets and sneakers, much to the delight of the fashion commentariat. I ask Dorsey to explain what he admires about Rick's work. "He's an architect," Dorsey says. "And I love how edgy his vision is. I think he's one of the few really doing something unique and refreshing, but it all comes back to the architecture. He's extremely inspiring. I read every interview he gives. His mind is beautiful."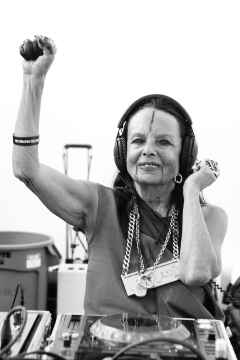 I agree with Dorsey completely, and so, the last of the questions I send Rick is open-ended. I write: "Mr. Owens, you're extremely generous with your time when it comes to speaking with the press and giving interviews-is there anything you've never been asked that you wish you had been? Or a question that you'd like anyone who might read this to think about?" I'll leave you with his response:
GENEROUS? OR BORDERLINE UNBEARABLE…? I'VE BEEN AROUND LONG ENOUGH THAT IF YOU HAVE ANY INTEREST IN ME, I HAVE REPEATED MYSELF ALOT BECAUSE I HAVE A PRETTY NARROW FOCUS. BUT ON THE OTHER HAND IT, WOULD BE ARROGANT TO ASSUME EVERYONE READS EVERYTHING I SAY. AND THINGS I DONT WANT TO OVEREXPLAIN GET MISINTERPRETED… FOR INSTANCE, A FRIEND OF MINE IN THE ART WORLD IS REPELLED BY MY USE OF IMAGERY OF AN ITALIAN FUTURIST HEAD—
Thayaht's "Portrait of His Excellency Marinetti (Italian Loudspeaker)"—
THAT HE ASSOCIATES WITH FASCIST ITALY — I GUESS HE DISAPPROVES OF MY GLORIFYING IT. AND YES, TO ME THIS HEAD DOES REPRESENT THE MONSTERS WE CAN ALL BE WHEN WE GET CARRIED AWAY WITH OUR OWN MISGUIDED CODE OF IDEALS. THERE'S A POIGNANCY TO ME IN THE EXAMPLE THAT A FUTURIST HEAD FROM THE 1930S CAN REPRESENT IN TODAYS WORLD. I CERTAINLY DONT HAVE THE AUTHORITY TO BE TEACHING ANY LESSONS BUT I DO APPRECIATE SANTAYANAS FAMOUS QUOTE, "THOSE WHO CANNOT REMEMBER THE PAST ARE DOOMED TO REPEAT IT".
I WOULD HAVE THOUGHT THAT IN THE CONTEXT OF ALL MY EFFORTS TO PROMOTE TOLERANCE AND UNITY IN MY SHOWS THAT THIS INTENT WOULD HAVE BEEN APPARENT, BUT I GUESS THAT COULD BE ME FOLLOWING MY OWN MISGUIDED CODE OF IDEALS. TO ME, THAT FUTURIST HEAD IS MY VERSION OF A SKULL. ALL IS VANITY.
Adam Wray is a senior editor at SSENSE. His writing has also appeared in Vogue, T: The New York Times Style Magazine, The Fader, and more.
Text:

Adam Wray

Images/Photos Courtesy Of:

Birkenstock