Off the Wall with 17-Year-Old Rock Climbing Superstar Ashima Shiraishi
The Teenage Record-Breaker on Growing Up in New York City and Handling the Pressures of Success
Interview:

Romany Williams

Photography:

Monika Mogi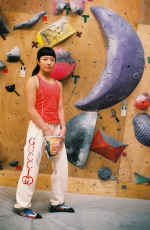 Ashima Shiraishi is giving me a closet tour from her bedroom via FaceTime. It's the day after Halloween, and she's recently returned to Tokyo from a training camp in Korea where she was climbing daily from 9 to 5. She tells me she was going to dress up as an alien, but was too tired. Instead, she went to school, and then to the VR park with her friends, walked around Shibuya, and went thrifting in Harajuku. She bought a light blue denim shirt by Lee—she's wearing it while we talk—and a pink crewneck sweatshirt that says, "got my horse, got my dog, don't need no cowboy." Then she shows me her score of all scores, a pair of vintage Vivienne Westwood bondage pants that she found for $30. We gush over them. It's immediately clear to me that she's a teenager that just wants to do teenage things, duh, and talking to her, I revert into a 2018-teen, too. Then there are her signature climbing pants, calf-length creations sewn by her mom, each pair one-of-one, hanging neatly in her closet. She estimates that she has 70 pairs of them. "My favorite ones are probably the kitty ones, you know, the welcome cat [Maneki-neko]? Those are my favorite ones ever." The New Yorker called her "The Wall Dancer", in Japan she's known as "The Spider Girl", and at 17, Ashima is one of the most skilled rock climbers the sport has ever seen.
In 2015, at the age of 14, she became the first female in history to complete a V15 grade climb (the second hardest difficulty level for outdoor rock climbing). She is also the youngest person to ever complete one. Alex Honnold, record-breaking free solo-er and perhaps the most celebrated rock climber in the world, describes Shiraishi as "one of the best climbers in the country, hands down." Today, she is the International Federation of Sport Climbing's three-time defending World Youth Champion. In September, she moved from New York to Tokyo with her dad to continue her training in hopes of taking on the 2020 Olympics for climbing's inaugural year in the competition. As a result of her accomplishments, Ashima has been followed by sports press for her entire childhood, and now, as she grows into her own voice and sense of style, other audiences are starting to pay attention, too.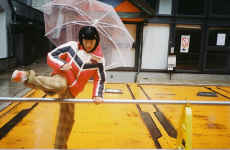 There's a video on YouTube of Japanese dancer Hisatoshi "Poppo" Shiraishi performing in 1990, his face painted white, no shirt, one long silver earring dangling from his right ear, his movements soundtracked by UK post-industrial band, Nocturnal Emissions. He's doing Butoh, an experimental style of dance originating from Japan, also known as the "dance of utter darkness." He slinks around the stage, hands bent sharply at the wrist, each finger gesticulating independently, some curled, some pointed as if adhering to their own choreography completely. His daughter's phalangeal dexterity, her ability to glide from rock to rock with inimitable style, now, makes even more sense—Ashima is what happens when a dancer coaches a climber.
"My dad is, obviously, my icon. He's always been there for me," Ashima says of her father. She's had a handful of coaches, but her dad is her constant companion. The fact that he's never climbed before makes him an unlikely choice, and a secret weapon. "He's a mentor for me, but he's also my dad," she explains, "so it's a weird balance. He's also like my best friend, so we fight a lot because we're very similar and we spend so much time together. I love him, but sometimes I get so sick of having my dad always around, you know? He's a very traditional Japanese dad, so he can be really strict."
Her parental feedback is laced with teenage vernacular—"like" and "you know?"—reflecting that very specific type of universal teen angst—the kind where one "wrong" move from a parent in a social situation could send you spiraling into a fit of mortal embarrassment. Ashima is impressively pragmatic for her age, and even though she's honest about the struggles of the parent/coach paradigm, she beams when she describes how her parents fell in love, and she tells me, without a hint of self-consciousness, that she wishes she was as cool as them.
Hisatoshi grew up on the southern island of Shikoku, Japan. When he was 20 he decided to move out to Tokyo to attend fashion school, that's where he met and fell in love with Ashima's mother, Tsuya, a native of Fukushima. Shortly after, he fell in love with Butoh, too. He dropped out of fashion school, she graduated, and they left Tokyo to live in New York and then London, finally settling back in New York in 1978. Around this time, he started his own dance group called Poppo and the Go-Go Boys. "A lot of his performances were outside at Washington Square Park or in the Lower East Side," Ashima says, clearly proud. "He preferred to dance in dirty places, where you wouldn't really think you'd dance. He also did performances at events and big venues, but he found the most inspiration in the dirtiest places. My mom made all of the costumes for him and his dance company. That's how she used her experience at fashion school." Many of Hisatoshi's costumes are still archived at the family loft, one of which is a dress that Ashima wore to prom.
They've been there, in the same rent-controlled loft space in Chelsea, a stone's throw from FIT, for nearly 40 years. "When I was born he quit dancing," continues Ashima. "I was born very late. My parents were both 51. My mom ended up working and being the breadwinner in the family while my dad took care of me. She made most of my clothing growing up because we were very poor. My dad brought me to the park a lot as a child and he made it his priority to have me outside as much as possible." Central Park, not in a gym, is where she discovered her love for climbing.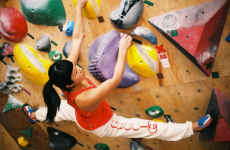 The Shiraishi's have always done things differently, which explains how Ashima has come to be such a disruptor in her sport. Rock climbing has an archetype that's gone relatively unchallenged since the beginning: buff, mostly white, Patagonia sporting, hippie-leaning, sometimes van-living. Ashima is the new generation: a wholly plugged in, Air Force 1-wearing fashion enthusiast and Instagram influencer. Two of her biggest mentors are not fellow athletes, but actor Ansel Elgort (they met at the rock climbing gym as kids) and entrepreneur Jeff Staple (an early social media connection). She's a New York girl, through and through. "Honestly, I feel like I'm not exactly the type of athlete that people expect. Coming out of New York, that's a big difference. Climbing is the biggest thing in my life right now, but I'm also interested in a lot of other things. I love fashion and I still go to school. I wanna do more than just climb."
The unconventional type of mentorship she has is especially valuable for Ashima, who is self-managed to this day. She handles all of her press and obligations herself, a wild feat for someone so young and successful. "Jeff [Staple] has helped me a lot because he also went through the same process of being in New York and hustling as a teenager and then developing his own brand. I have problems, sometimes, with knowing what the best thing is for my future. He helps me realize that I have to think about the big picture and look at things in the long run. I'm really grateful for people around me that support me like that."
Ashima is sponsored by classic outdoor brands like The North Face, Evolv, and Petzl, but took some heat last year for announcing a sponsorship with Coca-Cola, a major deal that some interpreted as contradictory to the longstanding health conscious, anti-commercial, anti-big-brand ethics of the sport. Nevertheless, she handled the critics the same way she climbs, with tremendous grace. "I feel like living with all the differences that I've lived with, I have to embrace that I'm unique and not the same as everyone," she says. "Every single person is different in the world and you have to embrace that and not try to blend in or else you're gonna lose yourself."
Losing yourself in the age of the "personal brand" is a legitimate possibility. Influencer issued statements detailing personal breakdowns and YouTube clips from celebrity Vloggers titled "The Hardest Video I've Ever Made" almost seem like an inevitably. The weight of performing all of the time, regardless of your profession or following, is heavy, and for a young athlete, it can be incredibly intense. People love to ascribe hyperbolic labels like "prodigy" or "genius" to kids that are still just that—kids.
"I think climbing for 11 years, a lot of people called me a prodigy and I've always lived with that. I've never really had an easy time with it, people always having an opinion about the things I do. My parents too, they're pretty on me all the time, they're strict and they keep me grinding. Sometimes I feel a lot of pressure from them. I think it's important to have an amount of pressure on you as an athlete, but sometimes too much of it is really hurtful."
I ask Ashima how she deals with the pressure of being in the public eye and she doesn't give me the PR-prepped answer I expect from someone in her position. She speaks about topics both superficial and serious with the same intonation, a quality that emphasizes her ability to cope with situations other kids might not be able to relate to. It can be hard to remember, in the years following childhood, what it was like to be that age. That small window of time before responsibility, before your impending baggage has grown its legs. Ashima is candid about her experience of youth accelerated.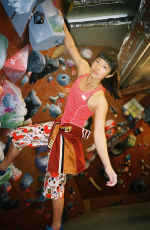 Ashima and I have been FaceTiming for over an hour, and it's time for me to snap out of my teenage daydream. We hang up, and she emails me a PDF file containing scans of some family photos she told me about during our conversation. In one, she's perched on a small rock in Central Park. It's summertime, she looks about six and she's wearing a red bandana, a matching red t-shirt, pink shorts, and brown sandals. Hisatoshi is next to her, leaning up against the rock with inimitable nonchalance, his bleach-blond hair jutting out on all sides, a green sweater slung over his shoulders. They look like the coolest team, at once laid back and serious, plotting, up to something.
Next year, Ashima will graduate high-school, which means more time to train for the 2020 Olympics. She'll need to place top seven in the world championships next summer to qualify as there are only 20 spots per gender in the Olympics, a very competitive number given the amount of talented climbers worldwide. The pressure isn't about to let up anytime soon, but she hasn't lost sight of what makes her the happiest: those days climbing outside with her dad.
"Growing up, I always climbed outside and the reason I became famous, I guess, was through my achievements outside on the rocks. I'm more happy climbing in nature and competing against myself and the wall instead of competing against other people. That's what I really wanna focus on."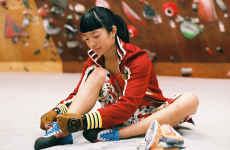 Romany Williams is a Stylist and Editor at SSENSE.
Interview:

Romany Williams

Photography:

Monika Mogi

Styling:

Monika Mogi

Hair and Makeup:

Sakie Miura

Family Photos Courtesy of:

Hisatoshi Shiraishi