Visions from the Movie Sets of Wong Kar Wai
Hong Kong Photographer Wing Shya Shares His Work and Private Photographs from the Sets of Director Wong Kar Wai
Interview:

Thom Bettridge

Images/Photos Courtesy Of:

Wing Shya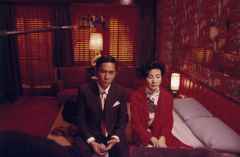 Thom Bettridge spoke about Hong Kong futurism and how fashion photography can become cinema with Wing Shya, who shared images from his work and behind-the-scenes snapshots from the film sets of Wong Kar Wai.
Bathed in smoke and neon, the characters in Wing Shya's photographs seem to feel at home in the dark. His work bears a close resemblance to the photographer's native Hong Kong, an ultra-modern metropolis with stark zones of clutter and grit. It is a landscape that points to a different idea of the future than what we are used to, something more violent and sexually charged than any storybook utopia. Working across fields in art, fashion, and film, Shya is a master of creating still photographs with characters who feel plucked from feature-length films. He attributes this approach to the influence of his longtime friend and mentor, director Wong Kar Wai, with whom Shya collaborated as a graphic designer and set photographer for many years.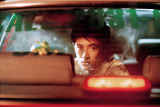 Normally when we imagine the future, we imagine something pristine and organized. But Hong Kong feels like a futuristic city in a more punk sense.
Hong Kong is very unique, actually. Paris and London are cities with a certain style and tone, but Hong Kong has everything. Period. It's really traditional but also really modern. Every street is different. Everything is mixed together, even the lifestyle. In Hong Kong you can go to a really cheap local restaurant then go really high-end shopping. It's so commercial that everything is loud and colorful. Everything is very pop. Me, as a photographer, I used a lot of cross-processing when I started working on Wong Kar Wai movies. The colors were so strong. It was very Hong Kong.
There's a certain texture that some of the buildings have. It reminds me of buildings in Caribbean cities that absorb the ocean and turn a little green around the edges.
That's on the Kowloon side. I love those things, but the local people don't get it. They don't think it's pretty. Whenever I shoot fashion stories, I always bring out that side of Hong Kong.
I was looking at this book about architecture in anime movies. And apparently a lot of these futuristic environments in anime films were based on pictures of Kowloon.
Have you heard about Kowloon City? There used to be a building there that took up an entire block, and the government did not have access to it. Anyone attempting to escape arrest could hide inside this building, and the police would not be able to come after them. When I came back from Canada, I went to that block and it's so crazy inside. There's drugs, gambling, prostitutes... Everything. It's so crazy. But anyway, the day before they destroyed it, I brought a girl there and shot nude photos of her inside the city. The Japanese call it Go City. They actually studied the area and made a book after it. It's an amazing book, but I think it was also destroyed.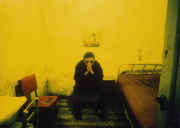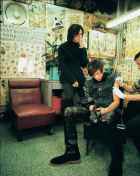 Do you feel Kowloon and Hong Kong are still really different? Or do you see them as being more similar to each other?
They're becoming more similar because the people who live here try to avoid those things. They try to show Hong Kong as a more international city—like a more clean, metropolitan version of New York. People try to avoid local villages and be more studio, but I love the old Hong Kong. Wong Kar Wai mixes in some of these traditional elements when he does computer graphics for his films and uses a lot of neon signs to make Hong Kong look iconic.
I feel like Wong Kar Wai is very in touch with a dirty idea of the future.
We actually only shot in Hong Kong maybe 30 percent of the time. Most of the filming is done in Thailand and Shanghai. Wong Kar Wai always does a lot of tests and tapes another story before the actual one. He tapes something completely different, then subtly changes his mind and we'll shoot again. The one you watch is the second one. We completely finish the first film, then redo it.
Always, always. I enjoy working with him because he never stops. He never gives up. Not for the art, not for the angle, not for the acting. That kind of thing really inspires me. It's about how he loves his work.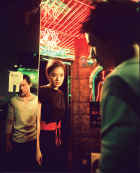 Tell me about taking pictures on his sets.
I love taking pictures on set because nobody cares about me. I'm a secondary figure. They're more concerned about the video camera rather than my film camera, so I'm just a person and nobody sees me. It's like I'm not there.
You work in a lot of different modes at once because you do fashion photography as well as art photography. Do you feel like it all comes from the same place, or is it two different mindsets?
Hong Kong people are very flexible because it's really chaotic here. Even my work is really chaotic. The people who call me up for jobs are not of one style, so they think you can do anything. That has helped me enjoy different kinds of styles at the same time.
What are you fixated on right now? What interests you?
Recently, I'm more into video. I still do photo, but more like art photos, because there is so much fashion photography already. You go to Instagram and it's too many photos a day. You almost forget what you've seen.
What types of images are you looking for right now?
With fashion videos, I try to make them feel like movies. The model has a character and she plays a role. Because once you like the character, you like the clothes.
What are some characters you've created recently that you like?
I know a fashion designer who makes clothes similar to what movie characters wear. I brought him to Hong Kong and gave him a mafia story. There was a model, and some tattooed extras. There was a little fighting and a little running with Hong Kong as the background.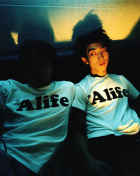 "Mafia" is a very underappreciated fashion genre. Look at the clothes in a movie like Scarface. The mobster has interesting style, because he has the means for opulence but none of the old world rules about what "good taste" should be.
And if you create a character like that who works, then everything works—the clothes come to life. Seeing how Wong Kar Wai shoots movies made me wonder if I could do the same thing with fashion. I kept practicing that kind of style using filmographers, set designers, and stylists to create something that felt like a movie—but in the pages of a fashion magazine.
Do you write a story to yourself?
Yes. In a recent shoot, I told the girl, "You have a very interesting, successful husband who has left for Paris, but is always sending you amazing clothes. You wear those clothes with your daughter, so you always carry a baby wearing very high fashion." In one photo she was crying in a cave in the village, because her husband left her.
When you see a garment, do you immediately start thinking of a story?
First, I talk to the stylist to figure out the kind of character we should do. Sometimes I come up with a song. Beijing has lots of indie and rock bands, so I got a song from one of them for my Beijing film. From this song I told the actress for the story to act like a singer in a rock band who had always wanted to escape China. From this, I started to write the story. I'm enjoying it so much.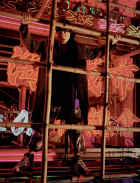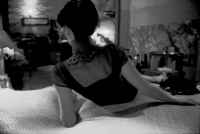 Interview:

Thom Bettridge

Images/Photos Courtesy Of:

Wing Shya