Long before the Kardashian dynasty, Hesiod's nine muses were the original goddess sisters. As the ur-influencers—all flower crowns and flowing silk—the muses were the source of artistic inspiration for the poets. But what constitutes the so-called "muse" in an era of overnight celebrity and pinned #inspo? A digital tastemaker is plucked out of obscurity, placed on a runway, and favored for a season or two. But inspiration shouldn't churn like clockwork. Some of the best creative partnerships have been the most peculiar. This is a clapback. An ode to the weirdos and romantics who played the long-game with their collaborations. A s/o to the unusual muses.

Frida Kahlo & Her Pets
Perched on her shoulder, clasped to her neck, embraced in her hug—Frida Kahlo's pet companions were rarely farther than an arm's length away, in her artworks and in her life. Given the therapeutic practice of both painting and spending time with animals, her obsessions were aligned. "I am the person I know best," she once said, attributing her self-portraiture to acts of loneliness. Yet, her constant proximity to her pets would suggest that she was never really alone. Perhaps she did not consider them distinct beings, but rather parts of her—a fantastical escape from her self-described "broken" body. Though the physical manifestations were obvious—the ixquintle's Mexican heritage, the spider monkey's disproportionate limbs—the tender, emotional depictions of Kahlo's animals revealed their true affinity.

Ann Demeulemeester & Patti Smith
After first encountering Horses at 16, and years later selecting Wave for the soundtrack of her first Paris collection, Ann Demeulemeester sent three white shirts in a package to the doorstep of the stranger whose music she admired. "A package from Antwerp," Patti Smith said of her unsolicited gift in the 2014 book Ann Demeulemeester. "This modest gesture produced the joy of recognition. I understood that I was not alone." In that exchange, Demeulemeester and Smith formed the beginnings of an invaluable friendship, transcending the opportunistic overlap between the fashion and music industries. They've given us the products of a partnership in which creativity is both channeled and exchanged symbiotically.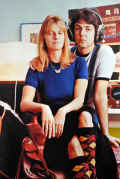 Stella McCartney & Her Parents
In the battle of nature vs. nurture, Stella McCartney's success as a fashion designer can be equally ascribed. Her mother, a noted photographer, her father, a Beatle. To say she was born into endless opportunity would be an understatement. But contrary to the cliche that style is something you're born with, McCartney's skills were just as hard-earned. "My parents were pretty uninterested in fashion; it just was part of what they did. I think that's why I was so visually inspired by them—because their fashion sense was not strategic or overthought," says the designer. At 16, she trained under Savile Row's Edward Sexton—the man whose suits her father wore for years. "It was much more about a way of life, this effortlessness," she said of her creative inspiration. In 2016, she debuted her first menswear collection, continuing to draw influence from her father's sense of ease towards fashion. But rather than mimicking trends from previous eras, McCartney's designs come from deep, family-held inspiration—the foundation of sustainability in an ever-changing industry.
Vivian Maier & Herself
In 2017, the selfie is no longer just a self-portrait. It's a preset album in your iCloud; it's last year's best-selling coffee table book; it's a national holiday. But without the guarantee of an audience, or the validation of double taps and heart-eyed emojis, would we even bother to take them at all? Pre-digital, Vivian Maier was selfie-ing for herself. Somewhere in a bathroom cabinet mirror, or through a shadow on the sidewalk, or via a Volkswagen hubcap—a true introvert, she was alone but doubled in her reflection. Though in her works she was often surrounded by people, her unsettling ability to remain private in public spaces epitomized how she wanted to be viewed in the world—on her own, but still paying attention.

Rick Owens & Michèle Lamy
As Deleuze once said, "if you're trapped in the dream of the Other, you're fucked." Known to be his protege, Michèle Lamy seems to have been been guided by these words. An eccentric nonconformist, she has lived infinite dreams of her own. Through clothing, through music, through furniture—Lamy and Rick Owens have personified experimentation. Though her husband is the name of the Rick Owens label, he has countlessly credited her as the visionary behind it all. Lamy has expressed concern with her noted "muse" title, but only for its modern association to gender stereotypes. Rick continues to refer to her as a "magical fairy witch," and insists: "I want her to enjoy all of this on her terms."