The Style Legacy of Heathers
Unpacking the Dangerous Aesthetics of 1980s Suburbia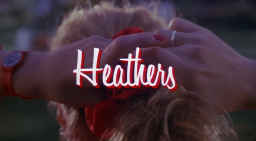 The teen movie does not get the respect it deserves.
Teen movies are a perfect bellwether for the aesthetics and values of a given time. Try screening Fast Times At Ridgemont High, Can't Hardly Wait, and Superbad back-to-back-to-back and you will have a broad sense of American middle class youth from the mid-1980s to the mid-2000s. Released in 1988, Michael Lehmann's Heathers is an especially inventive example of the genre. It is a bone-dry satire of American suburbia, one that contrasts macabre absurdity with vibrant visuals. As opposed to the lesson-learned moralizing typical of teen films, it offers only deep ambivalence. Set in small-town Ohio, the film stars Winona Ryder as Veronica Sawyer, the only one of Westerburg High's popular clique not named Heather, and Christian Slater as J.D., Veronica's charismatic but unhinged boyfriend. When a prank spins out of control, Veronica and J.D. begin murdering their peers and disguising them as suicides. As the rest of the school adjusts with disconcerting ease to a world where killing yourself is trendy, a biting critique of a society obsessed with appearance and hierarchical dominance emerges. Its look is pure 80s with big hair and bigger shoulders, and in a world that is all surface, of course the outfits send a message. An American Psycho for the suburbs, Heathers still resonates.


"Whether to kill yourself or not is one of the most important decisions a teenager can make."
From start to finish, Heathers is dreamlike. Neither wholly fantastical nor a true nightmare, its reality is just slightly off-kilter and filled with mounting absurdities accepted without question. The wardrobes of its four female leads—the three Heathers and Winona Ryder's Veronica—are a major part of the film's surreal vibe. Each wears bold, saturated colors, gaudy accessories, and patterns that run the gamut from mid-century modern, to garish, preppy plaids, to stuffy lacework. Watching Heathers in 2016, it is hard not to compare its women's ensembles to the pageantry of Alessandro Michele's collections for Gucci. They are costumes that point to their own status as costumes, the armor of the era that produced postmodernism. These self-aware disguises—like the built-up shoulder—have made a return in womenswear, from Thom Browne's theatrical runway pieces, to Jacquemus, to Demna Gvasalia's work for both Vetements and Balenciaga.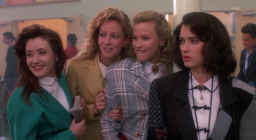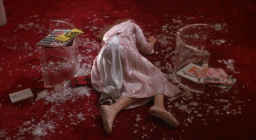 I Shop Therefore I Am
Midway through Heathers, Veronica breaks into the late Heather Chandler's locker and reveals a strange tableau. Heather's books, magazines, photos, and trinkets are arranged as though she was expecting someone, and they are complemented by an unexpected piece of art: a postcard-sized version of Barbara Kruger's "I Shop Therefore I Am" affixed to the locker's door. For viewers, it's a wink through the Fourth Wall, a confirmation that what we are watching is a critique of the shallow, callous culture of consumption that characterized the Reagan era. In the film's world, the postcard functions as a subtle sight gag. The implication is that Heather took its message at face value, its actual meaning sailing over her meticulously coiffed head. A more interesting possibility is that Heather understood the piece perfectly. Veronica writes in her diary that "suicide gave Heather depth." But what if it was there all along? Heather Chandler would not have been the world's first cruel, materialistic art enthusiast.
"My teen angst bullshit has a body count."
Heathers' enduring appeal owes as much as to its quippy, quotable screenplay as it does its plot or visuals. Lines like "What's your damage?" detached themselves from the film and became part of popular culture, and few viewers will forget where they first heard "Fuck me gently with a chainsaw." In today's era of constant, text-based communication, an impactful one-liner is as powerful as ever—especially when worn across one's chest. When Vetements showed their Fall/Winter 2016 collection, the internet commentariat was immediately drawn to a maroon hoodie emblazoned with pylon orange text reading, "May The Bridges I Burn Light The Way." This phrase matches the inscrutable pseudo-profundity you might find in a fortune cookie. It comes by its melodramatic weight honestly—it was ripped from an episode of 90s teen drama 90210, and it feels like kin to Heathers' stylized scripting. Vetements' Spring/Summer 2017 collection was light on slogans, so an enterprising garmento might be wise to bootleg some hoodies with lines from the film. Perhaps a Heather Chandler classic: "If you want to fuck with the eagles, you have to learn to fly."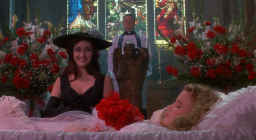 "The extreme always seems to make an impression."
Christian Slater's J.D. stands in stark contrast to the dynamically costumed Heathers and Veronica. While they seem to whip through a wardrobe change every few minutes, J.D. is far more subdued, clad mainly in a late 80s slacker uniform of faded blue jeans, beat-up boots, a single hoop earring, and simple tees and button-ups obscured by a calf-length duster. The coat is the thread that ties his look together, worn in every one of his scenes. Now sartorial shorthand for the alienated teen misfit, that trench was an eerily prescient choice for a character who caused three murders and attempted to blow up an entire high school. It also raises the question of whether the pressure to conform to visual stereotypes feeds back into behavior and shapes personality. J.D., convinced of society's inability to move beyond the cliques and archetypes that dominate most high schools, devised a seriously dramatic solution. In a world that seems ever more eager to steer into a potentially catastrophic unknown rather than maintain an unsatisfying status quo, J.D.'s twisted, binary logic hits awfully close to home.