The Clown Prince of Owenscorp
Performer and Rick Owens Ambassador Vanya Polunin on the Clown's Place in Contemporary Society
Interview:

Adam Wray

Photography:

Rebecca Storm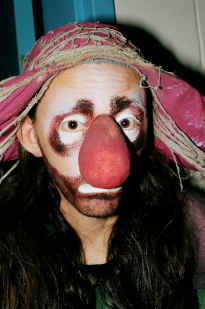 The first time I saw Vanya Polunin, he was wearing a long, green overcoat, a pink hat with earflaps that stuck straight out like wings, and a big, round, red nose. He also happened to be at work. Polunin leads several lives, and in one of them, he is a clown. He is currently touring a play called Slava's Snowshow, a loosely-connected series of joyful, goofy sketches presided over by his father, Slava, the show's namesake. Vanya is also a member of the Rick Owens family. He first entered the fold as a model for the label's Spring/Summer 2012 show before transitioning into its sales team.
I met Vanya for tea in Montreal to chat about the importance of play and why he dislikes black.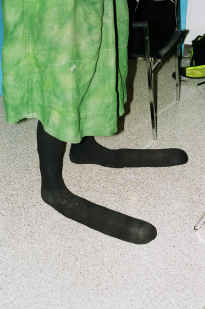 When North Americans think about clowns, one of two things come to mind: the typical circus clown, or murderous clown from Stephen King's It. What do you think the place of clowning is in the world today?
Our mission is to bring people back to the state they were in when they were kids. To be able to imagine, to daydream. The show is for everybody, but I prefer when adults come, because kids are already there—their minds are open already. It's important for adults to open up and play sometimes, to not take things too seriously. For my dad, the mission was to teach people how to celebrate.
Could you tell me a bit about the origins of the show?
The show is about 23 years old, and I've been part of it basically since the beginning. I was seven when I started. The show is a combination of skits my dad created with another theatre group that he started after university. They were maybe 20 people, all students who came to the faculty and realized there weren't any teachers for what they wanted to learn. So, they went about finding artists from other places and asking them for master classes. They spent weeks in the library learning everything they could about commedia dell'arte, dance, and so on. They basically taught themselves, which made everything they did quite new. The show came from that. Of course, it's different from what it was when it started.
You started working on the show when you were seven—in what capacity?
I was performing tiny roles. I get asked a lot if I was made to do it, if I was pulled in. When you're a kid watching grown men fool around on the stage, you just want to be a part of it.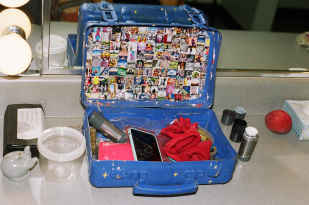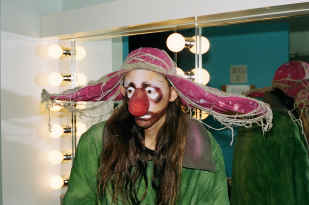 A clown has to be able to misbehave.
I was just looking at your Instagram this morning, and you seem to travel pretty much constantly.
The show goes on most of the year, eight or nine months, and I do six of them.
Where do you consider home?
Paris is home, but if I'm there when nobody else is, I feel out of place. We're a family business. I'm on stage, dad's on stage, my brother is the technical director, his wife is the company manager, my mom does the contracts, and my brother's two kids are sometimes on stage, as well. We're always together. So, I guess home is where they are.
We left Russia when I was seven. The show was made in Russia, in 1993. Then we premiered it in Russia and Paris, and then moved to Montreal for Cirque Du Soleil. We were here 23 years ago, doing a show called Alegria. We were here from the beginning, the whole family. Dad rehearsed, then we went on tour. I had a small role, as well. You had no room for improvisation. Every single show had to be the same.
That seems antithetical to clowning.
For my dad, it was suffocating. A clown has to be able to misbehave. He has to be able to hear something in the audience and catch onto it. With our show, improvisation is one of the keys to why it's been running for 23 years and still feels fresh. No two shows are alike. If you do the same thing with the same people in the same roles, you get stale, and the audience feels it. So, everybody knows everybody's role, and we switch every day. Then, every tour, we switch who goes. So, I'm on tour with the people you saw yesterday, but maybe I'm not there for the next one. You have time to miss each other, so every time you go on tour you're excited, there's new energy. That really, really helps.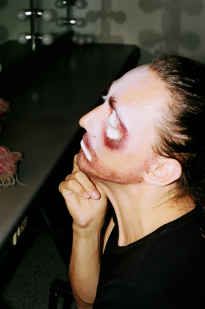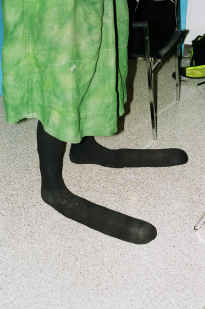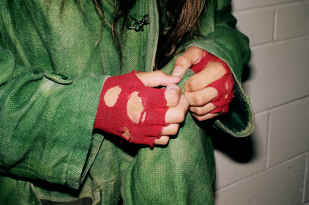 You're involved in another business that, from the outside, looks a bit like a family affair: Rick Owens. Could you tell me about how you became involved in that world?
My dream, in the beginning, was to be a painter. I went to art school, and even though I was doing sculpture, I really enjoyed fashion. The closest I could get to fashion, I thought, was to try modelling. I did shoots for friends who were studying fashion at university. I hated shoots, hated being in front of the camera. For a clown, it's funny to have stage fright, but I didn't have a mask on, so I was shy. But I liked being around those people, stylists and photographers.
The parties are pretty good, too.
The parties are pretty good. I tried to find an agency, but it was really hard. I guess I wasn't fitting the stencil. Somebody told me about an agency called Tomorrow Is Another Day, that they hire all these weird guys. My friend said I'd be perfect. [Laughs] The first show they sent me to was Rick, and I ended up closing the show. This was "Naska," Spring/Summer 2012.
Were you familiar with him beforehand?
Yeah, he's one of the few guys that I liked. I liked Rick and I liked John Galliano, because his shows were theatrical. You couldn't really wear the clothes he made, but he had such interesting characters. And Rick was extreme, all the stuff he did. I loved that.
I didn't have any luck with any other shows. Nobody else wanted to take me. But that was fine, I liked it at Rick—I didn't care to do any other shows, actually. I did the showroom for a few seasons, and made friends with everybody there. Rick Owens, from the outside, the whole gang looks a bit intimidating. But they all have charisma. When I got to know everybody, I learned they're all super sweet, super kind. It really feels like a small family. I felt that I needed to be more involved. So, I sent a letter to Luca, the commercial director, explaining that I speak Russian, and the brand has a lot of Russian clients but not a lot of Russian sellers, so maybe I can help. It's been five years that I've been working for them.
For a clown, it's funny to have stage fright, but I didn't have a mask on, so I was shy.
Not so much. I love the shows, because they're a performance. They're blasting music and you get really hyped up. But I hate the shoots. I hate posing.
Do you see any connection between clowning and modelling?
For fashion shows, it is a role, yeah. You don't really have any of your own input, but it's still a character. Even working for Rick the way I do now is a role I play, because I have to be a completely different person. Today, I'm colorful, I'm happy. There, I'm serious, I'm in all black, which I only do four times a year. Working at Rick is my alter ego. It's kind of a guilty pleasure, because I don't like wearing black in my real life, but it's nice to do a few weeks a year, because it does look really cool.
Why don't you like black?
It doesn't provoke a happy feeling from people around you. When you see someone in black, okay, they look cool, or refined, or intimidating. But you never look at someone in black and go, "Ah! Nice."
There's that famous Yohji Yamamoto quote about black: "Black is arrogant and modest at the same time. It says, 'I don't bother you, you don't bother me.'"
I guess he'd find me offensive. [Laughs] Color provokes smiles. Even if it's somebody laughing at me. At the same time, it's a mask I wear. I'm quite introverted, and really, really shy. Wearing color, for me, is a distraction—people look at my clothes, so I'm invisible.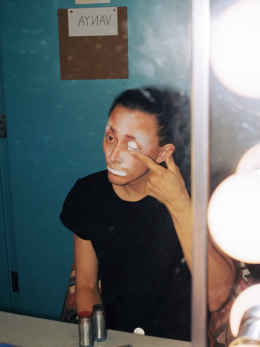 Interview:

Adam Wray

Photography:

Rebecca Storm