The Art Of Formal Friction With Creative Director Veronica Ditting
On Newsstands Now, The Gentlewoman's 19th Edition: In Conversation With Its Design Visionary
Interview:

Rosie Prata

Photography:

Ollie Adegboye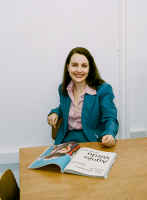 The following piece is part of our week devoted to Creative Directors.
As creative director of landmark arts and culture magazine The Gentlewoman, Veronica Ditting has raised the industry standard of what a successful women's magazine looks like. With her exacting, editorial approach to design, Ditting has produced intelligent, polished and detail-rich projects for Fantastic Man, Hermès, COS, Somerset House, White Cube, the Stedelijk Museum Amsterdam and many others, establishing a decisive lexicon of visual signatures that are widely admired and imitated.
There's one thing you aren't likely to find her working on, however. "I have a huge dislike for coffee-table books," says Ditting. "I think you should always make something look like what it is, instead of forcing it into another shape and form."
Ditting is passionate about print, so long as it's not made incongruously oversized and ornamental. Her work is—it's worth noting—highly attuned to language. Now based in London, Ditting who was born in Argentina, raised in Germany and trained in the Netherlands, is fluent in English, Spanish, German and Dutch.
A few days after she sent issue 19 of The Gentlewoman to press—featuring a double cover of Cindy Sherman photographed by Inez & Vinoodh, out now on newsstands—I met with Ditting at her namesake studio in northeast London, where she leads a compact team of four. We spoke about her recent foray into exhibition design, dream cover subjects for The Gentlewoman, and how to find meaning in what gets lost in translation.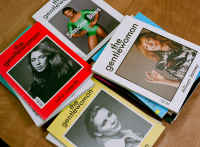 Rosie Prata
Veronica Ditting
What first piqued your interest in design?
I guess it started with language. My mother worked as a translator, and I grew up bilingual, so I always had an interest in it. I also had a great art history teacher in high school. From him, I learned about in-depth research and being quite obsessive about details. I studied in Germany at first, but it wasn't until I transferred to the Gerrit Rietveld Academy in Amsterdam that I learned what graphic design could really be: it's about how you position yourself within a project.
Can you tell me about your graduation project at Rietveld?
Yes, I did a project on translations and misunderstandings. It was sort of a loose, experimental publication that consisted of posters and booklets. One poster was on dubbing actors. In Germany, they dub all the movies, so you don't grow up with a well-known person's voice – you grow up with a German one. But those people are quite invisible, so I did portraits of dubbing actors, categorized alphabetically. There was also one on how movie titles are translated and how that can influence the idea you get of a film or just everyday life situations. I remember moving to the Netherlands, and someone said, "Have you seen Jaws?" And I said no, because I wasn't familiar with the English title of the movie.
Der Weisse Hai—which just means "the white shark." Another graduation project I did was more related to reproduction, but in combination with translation. We took a picture by Richard Billingham, had someone describe it in detail and then asked a photographer to remake that picture. Then we asked someone else to describe that picture, then asked writers, theorists, designers and photographers to continue the exercise. In the end, we had eight steps of description and image and you could see how certain elements were translated and others were diluted. It all probably comes back to me moving to a different country. I didn't speak any German when we moved from Argentina, and then had the same experience of moving to Holland and being a foreigner.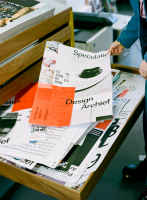 You recently did the exhibition design for "Hanna Moon & Joyce Ng: English as a Second Language", which opened on January 25 at Somerset House. How did that collaboration come about?
Hanna had shot a story for issue 18 of The Gentlewoman, and I really liked working with her, and then last November she asked me if I wanted to work on the graphic layer of the exhibition. I tried to give the artworks an element of object quality by lifting them off the walls. And then the other thing we did, which comes from my editorial design background, was the little caption panels.
Those were really striking to me. I've never seen so much care taken on didactic panels. Usually, it's just peeling vinyls applied higgledy-piggledy on the walls. These are so precise and considered, and really speak to the thesis of the exhibition, which explores how the Asian-born, London-based photographers' feelings of being "lost in translation" inform their artistic practices.
I can't do things halfway. I'm very collaborative, but I'm not the kind of designer who's going to just put vinyl up next to a picture. I'm very careful about how things are made. I learned that the garments the models were wearing in Hanna's photographs were pulled from different British designers—it was sort of a mini-history of British design over the last 20 years. I thought that was a nice thing to underline, so I suggested that we have one panel that contained the work specs, and then another that would be more like a fashion caption in a magazine. I like to look at how editorial formats can shape design. We used two different typefaces for the panels. One is an extended serif on an off-white powder-coated metal panel; the other is a simple, bold sans serif on light grey. On the bigger wall panels, the two typefaces are layered and meet each other. I was looking for a formal friction, and doing it this way spoke to how the show has two photographers and how they each speak in two languages.
You're known for this pared-down, simplified aesthetic, but I suspect a lot of messy experimentation and labor goes into making things look so clean. How would you describe your work?
I do really dislike it when people say that my work is "minimal"—I always say my work is edited. On the page I look for graphic confidence, presence and authenticity. I think you should always make something look like what it is, instead of forcing it into another shape and form—that's also why I usually have a huge dislike for coffee-table books.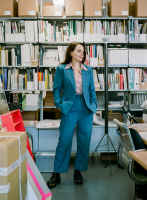 Do you think that you have any design signatures?
God, yeah, probably. I would say it's the tactility and the clarity in typography.
And if you were to create a dictionary of your design language, what elements would be in there?
The first thing that comes to mind is probably some kind of editorial layer, like a reference or a footnote. That's something I really love to play with, as simple as it is, because it can take so many different shapes and forms.
Have you made evolutionary tweaks to every issue of The Gentlewoman?
For sure, yes. But with every issue, of course, everything's limited by time.
If you didn't have the limit of time, and could choose anybody—alive or dead—as a dream cover subject for The Gentlewoman, who would you choose?
Oh God, there are quite a few! I should be careful about naming names because we might approach them for issue 20. Agnès Varda, who was on the cover of issue 18, has been on the list since day one. And the person who we have on the cover now is also someone we've had on the list for a long time.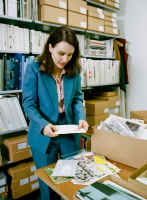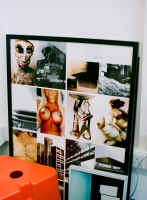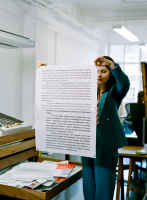 How about someone who is no longer alive?
Agatha Christie would be a great one.
So good! You work with artists, fashion brands, architectural firms, corporate clients and then the magazine, of course. Where do you feel your work is most at home?
It really depends. When I started in Holland I was working with artists and architects, and that direct relationship is the essence of how I like to work, where there's just the dialogue between a collaborator and me. For years, I avoided the word client. I think in Holland, I never, ever said it—I only said collaborator. But here in London, things have changed. With a bigger brand, the relationship is much more complex. It can get political, and there are more opinions to juggle. So I still keep those relationships where I can have that direct exchange. 10 years ago, I was much more focused on design; now it's a combination of design and creative direction. I work with photographers, stylists, set designers, casting directors—but design is still very important to me. I don't want to not to be hands-on anymore, so that's why I still keep the balance of the two.
And now that you are managing your own studio, you're in a position of being a mentor to newer designers. What advice do you give to set them up for rewarding careers?
Just to really keep the focus on the work itself. I always say you have to have a do-it-yourself mentality. Don't wait for people to deliver the perfect images—you have to shape it up. That's your role as a graphic designer or creative director: you have to take responsibility for all those elements and see how you can push it so that it's shown in the most honest way. You can't wait for someone else to figure things out for you. You have to figure it out for yourself.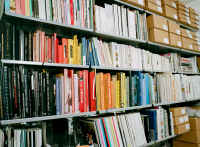 Rosie Prata is a London-based writer and an editor at Monocle.
Interview:

Rosie Prata

Photography:

Ollie Adegboye

Images/Photos Courtesy Of:

Studio Veronica Ditting

Hair and Makeup:

Kamila Forini