Portrait of Hetty Douglas the Artist as a Yung Girl
Hanging with the Mixed Media Artist and Supreme Muse in London
Interview:

Zainab Jama

Photography:

Alec McLeish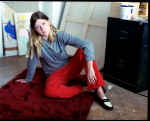 The paintings of Hetty Douglas, the Nottingham native, are close kin to those of the irreverent street artist Gucci Ghost or master of scribble Cy Twombly. Douglas makes art that mixes graffiti and abstraction on just about any surface, and in any medium. Coming from a household of creatives, Douglas is currently focusing on the medium of paint, and works on canvas with spray paints, oils, acrylics, and most recently, concrete. The young artist moved to London to study fashion illustration at University of the Arts, which she quickly ditched. "If anything it taught me exactly what I didn't want to do," she explains. With a carefree and very serious talent Douglas has been quickly gaining ground as one of Britain's most impressive new artists. She produces paintings that contain an array of colours and delicate shapes, with words and sayings that read like poetry—despite some of their expletives and dirty talk.
"GOOD LUCK," Douglas' recent show at the Cob Gallery in the city's North end with friend, fellow painter, and newly-signed Saatchi artist Alfie Kungu is just the latest on her diverse C.V. Together, Douglas and Kungu presented a series of twelve striking paintings that sit side by side and seek "to challenge and question the contemporary aesthetic of maturity/immaturity in a world that demands so much of us."
Working at London's Supreme store, and as a model in their editorials, Douglas also has an upcoming perfume project with Dazed and Calvin Klein that she's staying tight-lipped about. Zainab Jama spoke with Douglas about her art, her style, and her future plans.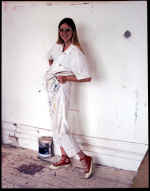 I've always been creative because my mum's a fine artist. My aunt is an artist. My cousin is a graffiti artist. My brother is an artist too. I've always been around creative people. From a very early age I would be in my mum's studio, or at university and college with her because she went to art school as a mature student. I was about 10 when she was studying.
It's kind of hard to explain because you start making work and it evolves without you even really knowing. It's like anything, you're just growing up and things are changing. The only times when I can see growth is when I compare my work to previous ones. For example when I compare "GOOD LUCK" to "Screw" [a show with Joe Clarke in 2016] or to "Finger" [a show with Joe Clarke in 2016]'. Then I'm like, "oh my god my work is so different." But when you're actually creating, it's just a process.
It's kind of like contemporary drawing, but she uses a lot of found objects. That's kind of her thing at the minute. It's kind of earthy, but not in the cringey way, and she would really hate it if she heard me saying that, but it is quite earthy!
In London, if you're a painter, that's it.
I did a show in my hometown of Nottingham with my mum, auntie, and my brother which was called "Kin." It was proper low key and it was so nice to just go back where you're from do something a bit more intimate. I've done two group shows in New York. I think apart from "GOOD LUCK," "Finger" was probably my favourite show, because I learned so much from it, and I loved having my work alongside Paddy's, but I was so, so, so stoked on "GOOD LUCK." I cried twice on the opening! I don't fucking cry. I must have been on my period or something.
On Being Many Things At Once
I'm ready to do something outside of London. I'd say New York, but maybe L.A. I feel like they're a lot more open-minded. In London, if you're a painter, that's it. If you try and do something else then you're not taken seriously as a painter anymore. If you're a fine artist, that's it. Or a graphic designer, that's it. You can't be a fine artist and make clothes and be a DJ, because then you're not really a fine artist. London is very closed in that way.
One of my favourites at the minute is this guy called Eddie Martinez, he's a fucking amazing painter. There's Timur Si-Qin who is incredible, he's more installation based. Trudy Benson, from New York, she's a sick painter. I'm inspired by artists that do installations or graffiti. I kind of hate saying that because when I do it kind of puts me into that "urban" category, but it's not in that way at all, it's more about the techniques they use.
I quite like that it's not permanent. I find it quite interesting that graffiti artists spend so much time, and they're so dedicated to it, but someone can just completely disrespect it and paint over it. It's not like any other art form.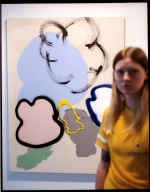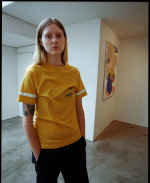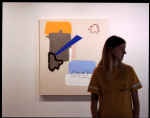 I find it quite interesting that graffiti artists spend so much time, and they're so dedicated to it, but someone can just completely disrespect it and paint over it.
I like menswear, I don't know how I got into it, but I guess similar to my art really. My mom's pretty steezy so, I think all of these things come from my upbringing and my family. They're all a lot cooler than me. My two older brothers, they wore baggy Levi's and old school Stussy and I just thought it was like the coolest thing so I always wore menswear, I just thought it looked better.
Oh, Gucci! It's just sick isn't it, really? With Gucci it's the suits, it's the tailoring. I've always wanted to find a brand that does bold, lairy suits, and they do that. I've just not seen that, apart from Tom Ford, about eight years ago. I'm always like, "I know by the time I get married this suit isn't going to be available to buy, should I just buy it and put it in storage?" It's probably freaked my girlfriend out. Also, Supreme. I like their clothes. I'm a sucker for rayon shirts, and they smash it. I like Stone Island, STORY mfg, and Aries too.
I'm just going to focus on painting. Towards the end of the prep for "GOOD LUCK," I was kind of a bit like, "oh, fuck, no," they're not going to like my work," and I was just being self-critical. Then you do a show, and remember every single reason why you feel the highs and the lows and love working in the first place. So I want to paint loads now to be honest, start working towards having a big body of work. Putting together enough work for a solo show.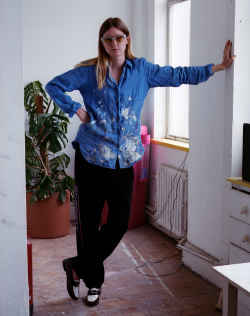 Interview:

Zainab Jama

Photography:

Alec McLeish