Pliés and Paychecks with Parker Kit Hill
The Viral Artist Breaking the Influencer Mold
Interview:

Nazuk Kochhar

Photography:

Eli Wirija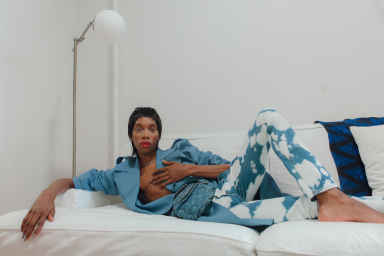 "Everything has to be perfect," says Parker Kit Hill, describing his eye for detail. "I'm super OCD. To the craziest extent." Known for making viral videos on Vine and modelling for Thom Browne in dance-inspired poses, Hill employs the masterful and elegant control of a true contemporary artist. I meet the dancer and social-media-star-turned-model/actor on a Monday night at the East Village's Thursday Kitchen for some evening tapas, but before we start, the 23-year-old takes a few moments to neatly organize his day's essentials on the wooden table: triangular red Adam Selman shades next to his iPhone, next to his silver JUUL, next to his utensils, each nudged into a clean formation.
It's this sensibility that adds a wonderful tension to the artist's humorous and kinetic viral videos and photos, for which he's built a following. His most popular clips from his days as a pioneering Vine superstar—Parker as "Parklyn," wearing a swaying black, blunt bob wig paired with a kooky smile (his most iconic Vine character has 73 million loops and counting). Or his latest Instagram posts featuring him walking on a treadmill in platform heels, lunging on a dining chair, and even smiling for a cat scan, turning menial activities into uniquely addictive visuals that make full use of the frame, and gain global virality in a matter of hours. His selfies and outfit posts, often manipulated and warped—creating effects that mimic a fun house mirror reflection—have a calculated spontaneity to them.
Hill is less a product of these times, when fashion muses are plucked from social media, but an architect of them. With social media, he's been able to create his unique style and personality on his own terms, a skill that affords him real career opportunities today. Now living alone for the first time, he's got full control of his production environment, too. He's collaborated with Valentino and Marc Jacobs, and brought his caliber of high-end absurdist prep to Thom Browne. With Hill's successes leading to more time on set, he's having to find special windows to create visual art on the go—and simultaneously figure out how to bring together all sides of his creative abilities to become the entertainer he's always seen himself as.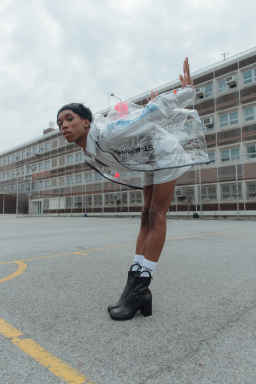 Nazuk Kochhar
Parker Kit Hill
Social media demands a massive output of content, was there ever a time when you felt like you were in a creative rut?
I'm stuck in this "internet-influencer" [label]. People are always pushing those terms on me, and I've never aligned with it. I'm in a creative hole because I don't want to be known for that one thing. I'm constantly trying to reinvent myself, and with each post I don't want to be the same. I surprise myself everyday. To get out of those ruts, that's where I have to find new inspiration. From colors, shapes, textures, buildings, cars, hair, everything.
What was your upbringing like?
My dad was a cop, my mom was an accountant, and I have a sister who's older than me. It was a good dynamic. My parents split when I was seven or eight, and that's when things changed. Me and my mom moved out of the house to this different area of Fort Worth, Texas in the arts district. My mom was heavily into fashion, that's the only fashion inspiration I got growing up.
Once we moved I went to public school and could dress however I wanted, but that's where I had the most difficult time. I was a new face and different, and gay, obviously. It took me the longest time to break out of my shell, and I didn't really have that many friends. In high school, that's when I was really like, "I'm going to let myself live a bit and have fun and not care." That's when I first got my iPhone, when Instagram and Vine came out. I started posting on social media because it was an outlet that no one from home would ever see. It was my own world, I was reaching out and connecting with people, and built a community on there. Everyday it grew. I started seeing what other people were wearing, and I started getting an idea of how I wanted to dress and how I wanted other people to see me.
Around 2013, that's when my Vine was crazy. I was flying to Los Angeles, going on "internet tours." My first-ever on-screen thing was this scary movie Viral that's from the creators of Catfish. They reached out and flew me out, and that was the first time I meshed into the internet scene and Hollywood kids.
Tell me about how dance became a part of your life. How did it bring you to New York?
The Joffrey School gave me an amazing scholarship. A week [after graduation] I moved to New York at 17, alone with one suitcase, ready to go. I jumped right into dance, every day of my life. I didn't have time to go out, I didn't drink, I didn't smoke. At that time, my social media presence had grown. I was close with the Twitter and Vine executives, they wanted to work with me and took me to Japan in 2016. I was 19. I came back, and that was the first time I ever got paid, properly, and I was like, "I wanna live in New York, dancing, but I can't make money right now. I know if I don't jumpstart into a creative career, I won't be able to make money." I still don't know what I want to do, I love fashion, art, architecture, dance, theater, literally everything, and I'm trying to figure out how I'm going to mesh everything together and make it one thing. It's hard.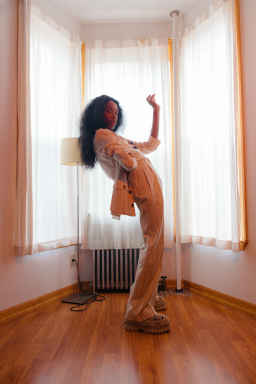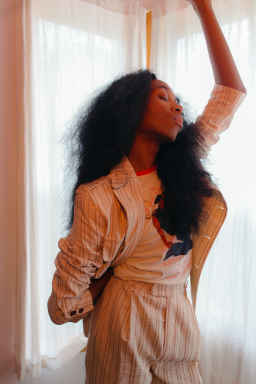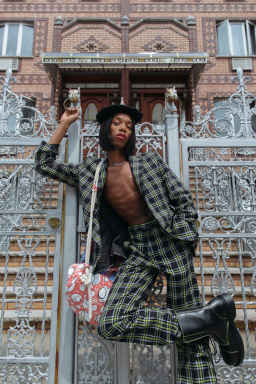 Has there been a moment during your time on social media that's been jarring?
I can't do anything about it, I posted it so it's out there. I'm never mad, as long as you're not talking shit or talking bad about me, it's ok. There was one instance, in Vietnam. I didn't post about it but basically this person put on a wig just like me and they put oil on their face like they were blackface-ing me. I was like, "No, this is what we're not gonna do. That's not cool." I reported that. It's starting to get to a point where I can't control anything and it's bigger than me. I'm moving forward but there's so much happening behind and around me. It's hard. Everyday I'm like, "How is my phone not heavy as shit because I have so much stuff being held in here." It's wild to me that so many people are connected to me and my face and my being.
How do you deal with that?
I can't let that define me, it's not me, period. I remember that's their problem. I don't like people affecting my energy. I feel like I need to go to a therapist because I haven't cried in years, which is weird, but I just know how to think through things and get myself out of a funk. I find that through music, or walking around the city, no headphones in, looking at everything and admiring everything around me, it helps calm me down and humbles me. I never want to be known as a fucking bitch or someone who has a big head. I tell my friends and family to clock me, to let me know if I'm acting a certain way or doing something that's just not my character. I try to keep myself grounded and always remember tomorrow is a brand new day, to create something new.
You had a role on Broad City in 2017, is acting something you want to pursue?
I want to be in sci-fi movies. I see myself on broadway, or doing musical theater, too. I've always wanted to do it, but I think right now it's about me focusing on not being myself when acting. People always just want me. I want to show people all my layers, but that takes time.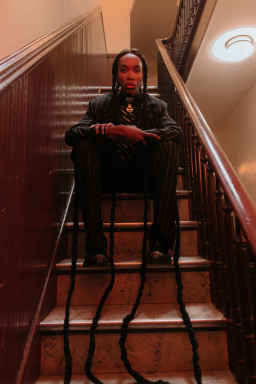 Nazuk Kochhar is a writer and real earnest fan of good music and cool things.
Interview:

Nazuk Kochhar

Photography:

Eli Wirija

Styling:

Shibon Kennedy

Photography Assistant:

Chris Lloyd

Styling Assistant:

Johanna Aquino

Makeup:

Mimi Quiquine

Hair:

Evanie Frausto

Date:

July 8, 2019