Motown Golden Girl Ryan Destiny
Selfies and DMs with the Singer and Actor
Interview:

Zoma Crum Tesfa

Photography:

Ryan Destiny
Ryan Destiny—the up-and-coming actress, musician, and internet icon—is an entertainer cast in the mold of the golden age of her hometown, Detroit, Michigan. To her, the city's Motown roots are still going strong: "There is so much talent there. There's always music. It inspires me so much to be from a place like Detroit." After walking away from her first big break on America's Got Talent as part of the girl group New Limit, Destiny is now making her television debut on Lee Daniel's new series Star. It is a unique case of art imitating life. Destiny plays one of three singers breaking into the music industry. Even the show's writers have begun consulting her to make sure the behind-the-scenes drama is true to form. But Destiny sees this surreal constellation as a blessing: "I feel like God has placed this non-realistic version of it in my life for a reason."
Destiny spoke with Zoma Crum-Tesfa about blurring the line between reality and fiction, and the complicated DMs of a starlet on the rise.

Zoma Crum Tesfa
Ryan Destiny
You got your start as part of a girl-group. And now, in Lee Daniel's new television show Star, you play a member of a girl-group. What was it like revisiting that part of your real life in the form of fiction?
I remember when I first got the script, I was so iffy about it because of that. I always wanted to be in a girl group, wanting to be with other girls that were my friends and having fun with it. And that's what it was really about—comradery, best friends, and female empowerment. That's my favorite part of it, showing women that you can support each other. But, being in it, if you're not with the right people, it's definitely scary and it can bring a whole lot of drama to your life. My experience back then has definitely helped inform my present. It's been cool with the show, because they brought me into the writers' room and asked me about my experience with a girl-group. They brought those elements into the show to make it feel real.
That must be really cathartic.
I feel like God has placed this non-realistic version of it in my life for a reason. And now I can do my own solo music as well.
It's strange because it does seem like girl-groups kind of implode. I know some people say that's just women, they're emotional and catty, but that's unfair. There's so much pressure on female musicians.
It totally is, with the boy-bands it's easier. For one, there's much more competition to be in a girl-group. It could be any cute boy—he doesn't even have to really sing—they can just step on stage, and people will go wild for it and buy every song. But for the girls making music, it's so much harder.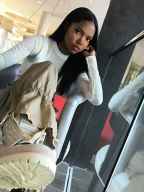 You need to take everyone with you when you're on a journey to the top.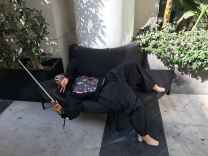 And with girls you have to look slamming 24/7—half of that's nutrition, the other half is exercise, then you got your glam squad. It's like, how can you connect when you are being plucked and pulled like that? Where is the time?
It's insane, yeah. It's not my favorite part. At all.
Although, I would say your character on Star is, like, "the bougie one."
My character is so different, and kind of the opposite of me. She's from New York and is very privileged, and yeah bougie. I have to use my imagination with my character.
What are your top 5 girl groups?
There are so many amazing ones, but top 5 of the moment: TLC, Total, SWV, Destiny's Child, and The Supremes.
Lee Daniels also talked about taking inspiration from TLC. Why do you think TLC is still so relevant?
It was real. It was three different girls. Three different personalities. Three different types of people you could connect with. You had crazy, sexy, and cool. It wasn't forced. And you can tell that even with ups and downs they were also friends. I think that loyalty between them is why they continue to have a fan base that is very loyal. And the music.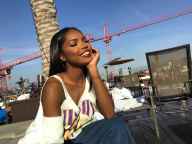 Your Instagram is littered with uber stylish pics. I feel like there has to be a dark side. What looks do you rock privately that you aren't sure the world is ready for?
Except TBH I think durags are hilarious and one of my favorite things ever. I hope they come back! I've worn a durag myself a few times, but if they could just make their way back in, I'd be cool with it.
How about a turban in the meantime?
Turbans? [laughs] Uh, I don't know. That's something different.
No, I feel you. Anyway, we should all be so lucky to at one point in our lives be a young hot starlet with a popping Instagram. In "Sex With Me" Rihanna has this line "Stay up off my Instagram with your temptation—"
I mean, I feel like it's a stretch to start comparing me in any way to Rihanna. But my Instagram is kinda popping right now.
I can tell if there are guys standing next to a car and posting their outfits trying to be extra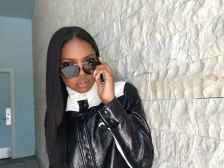 What are some standouts in your DMs these days?
The most recent one was from a girl. Do you remember those memes where people were like "Can I use your picture to catfish?"
This girl that came into mine asked me if she could do that. She asked if I could send her a picture of me holding toilet paper. It was the weirdest thing ever.
Any advice for the gentlemen trying to slide up in your DMs?
I think it all depends on the guy. Also the quality of photo.
What do you mean by the quality of photo?
Every type of Instagram I look at—at the end of the day it comes down to personality. I can tell if there are guys standing next to a car and posting their outfits trying to be extra. Then I can also tell if a guy is dope. It can be the same type of thing, but it just comes across a lot better. Just be real.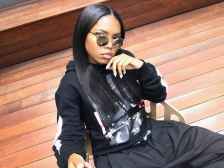 It's a stretch to start comparing me in any way to Rihanna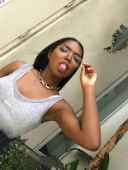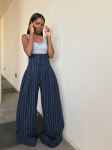 So what brings you to New York?
I'm performing on Wendy Williams tomorrow.
She might ask you to comment on the Remy Ma and Nicki Minaj beef.
I saw that they are going back and forth, but I haven't listened to the actual tracks. But they are both bosses. I think it's funny when this happens.
It's just something that's a part of the hip hop culture. It's bound to happen. I think it happened even more back in the day, and now when it happens it's such a thing. It shows how mainstream hip hop is now.
I'm so curious about the scene in your hometown, Detroit. Can you give us any tips about what's popping right now?
I mean, things are always popping in our little community. Most of the people out there that I know—the writers, the artists—these people are always doing something new. There is so much talent there. There's always music. It inspires me so much to be from a place like Detroit. Everybody's just real, and raw, and proud. I haven't met people that are more proud than us. I think that comes from being from a place where you start at the bottom with everybody. You need to take everyone with you when you're on a journey to the top.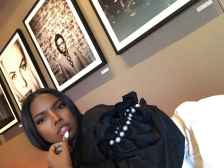 In many ways Atlanta strikes me as a present-day Motown. Has being in Atlanta filming Star had an influence on your music and personal style?
I don't even realize what it has done. I've just always loved the music that comes out of Atlanta. And it's definitely a certain style. Everybody in Atlanta is so cool. They're just always onto the first thing that's up with hip hop or R&B culture. The dancing there is what has influenced me the most. The different choreographers I've worked with literally live and breathe Atlanta, and they've influenced a style that is attached to the music. Their music and dancing go hand-in-hand.
What's it been like for you as a young black entertainer at a time when there are so many incredible projects in film and television helmed by black people? I know there is still a struggle, but it seems like the industry is really changing.
It's definitely still a struggle. You kind of go through it without even realizing when you're young. It's something I didn't realize until years ago—getting into the industry, realizing how you are treated differently, looked at differently, and having to prove yourself ten times more than other people. I want to break barriers and change people's outlook on color and race. It's really cool to watch a lot of people who are black and powerful doing that in this industry. And I'm still going through it now.
But I feel like seeing you, how you had the confidence to walk away from America's Got Talent, or do controversial independent features and music, must be such an inspiration for younger black women.
Thank you. It's a battle and a fight. I think it's also crazy how some little black girls write to me about how they are not confident because of their color and what the media sells to them. I was that little that girl at some point, so it's such a cool thing to be an influencer now. To be that girl on television that other girls look up to and that makes them love themselves even more. I just want to keep giving that message over and over again.
Interview:

Zoma Crum Tesfa

Photography:

Ryan Destiny

Styling:

Scot Louie