The Cult Filmmaker, Performer, and King of Filth Has a New Self-Help Book
Interview:

Ruby Brunton

Photography:

Heather Sten
A know-it-all is usually someone you want to avoid. When the reigning "Prince of Puke," filmmaker, performer, visual artist, and writer John Waters, calls his new self-help book Mr. Know-It-All, there's a certain level of irony to it, but also a lot of truth. Waters has always lived with an insatiable curiosity and an obsession with the grotesque, and an absolute love for storytelling. His iconic film Pink Flamingos (1972) famously features the drag queen Divine consuming dog excrement, and a sex scene with a live chicken.
Despite Waters' penchant for filth, his work has received recognition by the highest of institutions, a fact that amuses him no end. He already has under his belt two New York Times best sellers, recognition from the Film Society at Lincoln Center, and he is set to receive the Locarno Festival in Switzerland's lifetime achievement award this year, not to mention his regular invitations to give college commencement speeches. In 2015, his commencement address at RSDI inspired the crowd by relating his own high school and college suspensions and expulsions. He advised the graduates to: "throw caution to the wind, really shake things up and reinvent yourself as a new version of your most dreaded enemy— the insider. Like I am."
Waters has been sickening and delighting audiences since the 60s. His first venture as an artist was a puppet theater operator at age twelve, and he hasn't stopped since. In fact, the words, "You can't do it," only motivate him more. Waters inspires a confidence unlike your average life coach, perhaps because he's been doing it for 70 years, perhaps because he's usually right. Just ask Joan Rivers, if she hadn't already passed that is, who appears reassuringly in the introduction of Mr. Know-It-All to tell John's date after her show, "Are you here with John? Just do everything he tells you."
I caught up with Waters by phone, at his home in Baltimore, to find out what made him so sure his advice was worth following.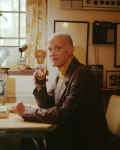 I got dressed up to speak to you, even though you can't see me.
Oh good, that's tax deductible.
Congratulations on the publication of your latest raucous book, Mr. Know-It-All. It's been billed as a self-help book, and it contains many gems of guidance. What made you want to write a self-help book?
Well it's not self help, it's help for others. I wanted to give my advice to young filmmakers to help navigate that, and at the same time I wanted to bring subjects to the general public that I'm obsessed by, and hopefully it will inspire them to pursue their own fanaticism.
What do you think makes people so interested in receiving your advice in particular?
People want to hear extreme stories, and as long as I'm their guide, they feel comfortable coming with me into this world. I tell them very different concepts, like how to collect a new kind of art, how to take LSD at 70 years old, how to beat death itself in the end. Usually the people who write self-help books are very mainstream, middle of the road, and often religious, and I am probably the opposite of all those things.
It's a very honest book...
I'm glad my mother isn't alive to read it.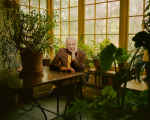 In the book, you are full of advice for kids with liberal parents. Would you give different advice to those with Trump-voting parents?
I would never mention a current president in a book because it dates it. All my books are still in print, and I don't want to date them, I'm very conscious of putting in things that would no longer be funny in five years. Not that Trump is ever funny.
I'll rephrase, I was wondering what your advice to radical youth with conservative-voting parents would be.
Well, if you're a radical youth with those kind of parents, you don't need my advice. You've already obviously rebelled. Well, actually, if you really want to rebel and you have liberal parents, you become a Trump supporter.
I think kids want boundaries, even if they are very liberal ones. Did your parents give you boundaries?
My mother was very against me smoking… cigarettes.
Oh yes, well pot is better! I'd rather my kids smoked pot than drank. Pot just makes you stupid, alcohol makes you violent. You've never heard of a big fight breaking out in a pot bar.
You seem aghast at having reached a level of respectability in your career, to quote: "Pink Flamingos has played on television! How can I whine about my films being hard to see when Warner Bros. now handles many of my titles and Criterion, the classiest of all DVD distributors, is restoring some of my rudest celluloid atrocities?" What impact on the reception of your work do you think this has had?
It is still underground filth, I just get awards for it from the government. I find it humorous because I don't think I've changed much. It still shocks me that Pink Flamingos plays on television, because they asked, "Can we cut out the blow job scene, can we cut out the artificial insemination?" and I said, "Yeah, sure," and then they forgot to! I do like the idea of people channel surfing and suddenly they come up to the singing asshole—I'm still friends with him! He still comes to my Christmas parties, he's my age now, people ask me who he is and I say, "Oh he's the singing asshole."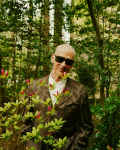 It was your third feature film with your muse and lifelong collaborator, the incredible Divine, who was named the Drag Queen of the Century by People Magazine in 1988. In what ways do you feel Divine, and your work with him, helped bring drag a wider audience and understanding as an art form, and open doors for future drag queen celebrities?
I think the drag queen world kind of caught up with him. Before that, drag queens were kind of square, which is why we dreamed up Divine. Nowadays all drag queens have an edge, they're all cool, so I think Divine had something to do with that. I think we also introduced drag to a lot of new fans. Originally my audience wasn't all gay, there were punks, bikers, crazy straight people, they were in the minority but they were my people. They're still my people! My core audience. Them, and prisoners.
I'm into the term "crazy straight people" more than "hetero-non-normative" I think…
I even go one step further than that in the book! In the chapter about the sex party I say that gay men and gay women should start having sex with each other for a new strain of hetero-non-normativity.
I was going to ask you if you thought there were still rules to break. You're pretty firm on the "no white after Labor Day" one.
Well, you can't have style without rules. You can't wear white after Labor Day, you can't wear velvet before Thanksgiving and you can't wear patent leather until Easter. I believe all those are in stone and anyone who defies those rules had parents with little class. I mean there's "winter white" which is wool, or tweed, well that's fabulous. But even Anna Wintour wears white in winter now, and I mean, she's just wrong.
As well as Divine, the book features a whole host of recognizable celebrity names you've worked with over the years. Have any of them ever given you advice? Have you ever received any really terrible advice?
These people are my friends, I don't just see them when we're making a movie. So we give each other advice all the time. I don't think I've gotten bad advice, not from my friends. The worst advice I've ever had was, "You can't do it." or "That'll never work." or "You don't know how to do it." That was always teachers. The only bad advice I ever got was from every school I went to.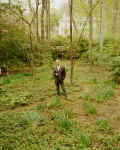 In the book, while complaining about rude people like me, who sneak into first class from coach to use the better bathrooms…
I also admit how guilty I feel saying that! I paid my coach dues. I rode coach until my mid-late 40s. But… the first class bathrooms aren't much better! It's best just to not go to the bathroom on a plane.
In this section, you mention trying to read the latest Rachel Cusk novel. Did you manage to finish it? What'd you think?
I loved her last one. My favorite thing is when she's on an airplane in the aisle seat chatting to a woman in the window seat who only has half her face done up, and she says "Well people can't see the other half" Which I thought was a really great detail.
Well, you obviously have great taste in books. What else have you been reading lately?
What I really liked recently was this book about the so-called "Irish Troubles" called Say Nothing, Fascination by Kevin Killian, the latest Janet Malcolm, the biography of Clarice Lispector called Why This World and now I'm obsessed with her and reading all her novels. Oh and Edouard Louis, Who Killed My Father, I absolutely loved that. I just finished the Gary Indiana Village Voice columns, Vile Days.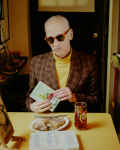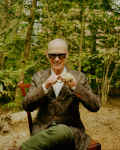 What makes a suit worthy of John Waters' wardrobe?
If it costs too much and it looks like there's something wrong with it. One of my favorites looks like it has cat hair all over it by Yohji Yamamoto, people go crazy when you wear it, it really looks like you didn't realise you just sat down on cat hair. I have another suit that looks like it got splashed by Margiela, it has rain stains on the bottom of the jacket and pants.
There's an essay in Role Models on Rei Kawakubo I'm obsessed with, where you talk about how to do style when you're young, punk, and broke, that that is the time for experimentation involving thrift store finds and using household objects such as band aids to accessorize.
When you're old you can't find anything in thrift shops, you need all the help you can get. But when you're young, you don't need designer clothes. You should be thinking up the worst thing you can, so that designers can copy you. Here's what I think is the worst thing you could wear now: a patched brown denim maxi skirt with a tube top and cowboy boots. I'm saying you'd have to be super young and stylish to pull that off! That's what you have to do, redefine what bad and good taste is. That's what fashion is, the two of them put together.
You're speaking to me from your home in Baltimore, a town of about 600,000. What has attracted you to keep your base there, rather than moving to one of the large so-called cultural epicenters?
It gets less and less every year. People are running, the city is kind of in shaky shape. But that makes it even cheaper and better for young people 'cause there's a bohemia here still. I mean I have an apartment in New York, one in San Francisco and Provincetown, it's not like I'm stuck here. But it keeps me in touch with what real people in America are doing. You can live anywhere now, you don't have to live in New York anymore, it's too expensive for any new ideas to ignite anyway! I love New York, and I love going there. You need it for theater, you need it for art, lots of things, but to be noticed you don't have to live in New York anymore.
As well as the spoken word show you're currently touring, you are seeking funding for your latest film project, Fruitcake, featuring Johnny Knoxville and Parker Posey. How's that going?
Not really. I mean, I've already been paid to write it, it's definitely a possibility, but I'm mostly busy with the spoken word show, the books, book tours. I always have lots of different jobs. I do my birthday celebration in Detroit at a punk rock club, I'm hosting Burger Boogaloo for the fifth year in a row, which is a giant punk rock festival in Oakland. I'm also writing my next book, a novel called Liar Mouth. I'm busier than I've ever been in my entire life. But I love to be busy. I'm curious and nosey, and I've never had to get a real job. As long as I can live from being curious and nosey, I jump out of bed every morning to go to work.
Ruby Brunton is a nomadic writer, poet and performer from New Zealand. See her latest work on Twitter @RubyBrunton
Interview:

Ruby Brunton

Photography:

Heather Sten