How a Tiny London Boutique Predicted the 21st Century Retail Landscape
Writer Ben Perdue Tells the History of The Pineal Eye and Its Founders Yuko Yabiku, Nicola Formichetti, and Eric Portès
Text:

Ben Perdue

Images/Photos Courtesy Of:

Eric Portès, Benjamin Alexander Huseby, and Tokio Style Blog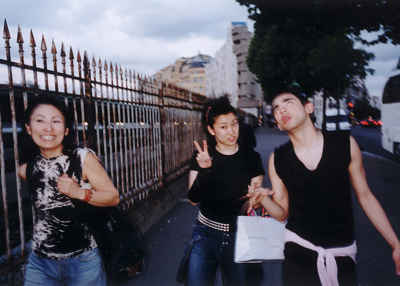 The SSENSE #90sReport is a look at the decade that has become this moment's aesthetic power source.
The Pineal Eye store was like nothing else in London—and pretty much the world—when it opened in 1997. Ostensibly a designer boutique, it was a space that attracted club kids, celebrities, and activists in equal numbers, united by their love for founder Yuko Yabiku's brilliant and radical belief in what a shop could be. Its reputation as a platform for launching superstar designers and for having wildly eclectic stock has combined over time with mythical tales of flashing customers, fire-breathing mannequins, self-destructing shop fittings, and Kate Moss being so desperate to buy a pair of customized Vava Dudu pumps that she ripped them off the plinth they were glued onto. It has become a standard against which all concept stores have been measured since. And chances are, you've never even heard of it.
"There was never a conscious decision or plan to be influential. I just wanted to do something exciting and interesting," says Yabiku. "Then I remember hearing one day that we were avant-garde and cutting edge. Well, after that I never heard 'avant-garde' and 'cutting edge' used so many times in my life!"
Renowned for being as intimidating as it was inspiring, its 10-year reign saw both its surrounding Soho neighborhood and the way people buy clothes change irreversibly. The store had no email or website when it opened at 49 Broadwick Street. It was also the last in a line of independent London boutiques like Acme Attractions and Malcolm McLaren's Let It Rock that showcased originality while doubling as a headquarters for the emerging talent of their times.
Yabiku had a store on Soho's Greek Street called Kokon To Zai that focused on fashion and music and was itself a hangout—something she has a natural feel for. Here, she met and befriended stylist Nicola Formichetti, who was still a student looking for shop work at the time. "All I knew was that I wanted to do more fashion, so I sold Kokon To Zai," she explains, "Then I spoke to Nicola and another friend Eric and put some ideas together. It was nearly Paris Fashion Week, and we decided to go and see what happened."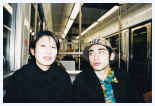 Not having the name or premises yet for a shop did not stop Yabiku, Portès, and Formichetti from getting into the shows, ticking off young designers from tip-offs back in London and making their own discoveries. "I have so many beautiful memories of that trip to Paris," remembers Portès, "We were constantly on the lookout, meeting all of these interesting and rewarding people. It was like an incredible playground." Back in London, they focused on homegrown talents doing something new with customization and the next generation coming out of Central Saint Martins.
"I had started looking for premises around Soho," says Yabiku, "Everything seemed occupied and there wasn't much to rent, but then one night I saw a 'TO LET' sign in the window of an old surgery on Broadwick Street—back then it was just a passage between Carnaby Street and the vegetable market—and made an appointment to look around. It was still full of old beds and patient records, but I liked the space." She contacted the owner of Tokyo boutique A Store Robot, who she bought furniture from and knew was interested in backing a new London store. Within two weeks, The Pineal Eye was born.
For the opening party, experimental Dutch couturiers Keupr/van Bentm from the Arnhem Fashion Institute created a floating window display with pieces of their debut collection. Meanwhile, fire-breathing mannequins in the shop made it so hot that everyone poured outside to carry on drinking, effectively shutting down Broadwick Street.



The interior layout of the store was as much part of its legend as the clothes and people that populated it. First, the ground floor was removed to create a double-height space that customers walked down into, with mannequins hanging from the ceiling. Then, the basement walls were peeled away to reveal two hidden coves that became an exhibition space and changing room. Simon Gray, who worked at The Pineal Eye while studying print at Saint Martins, describes what it was like visiting for the first time: "I remember being really self-conscious walking down those stairs. The shop was tiny, but because it was all mirrored the space looked infinite. It was intimidating but brilliant, like a space ship. I bought some socks and a magazine, and had no idea what a pivotal place it would end up being for me."
Although probably the best known, Diesel creative director Nicola Formichetti is not the only member of the Pineal Eye family who has gone on to become an industry name. Dazed & Confused stylist Mattias Karlsson and the photographer Benjamin Alexander Huseby both worked there. As well as having a soon-to-be influential staff, the shop also became a hub for making valuable contacts. "It was hardly work, really, at least it didn't feel like it," says Huseby, who shoots for i-D, Purple, and Fantastic Man. "In addition to Nicola, who was one of the first stylists I worked with, I met Mattias, Alister Mackie, and Katy England through the shop, all of whom have been important to my career."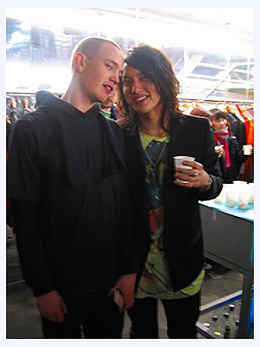 Yabiku's skill at bringing the right people together at the right time was even better represented by her buying. She launched new designers like Bernhard Willhelm, Jeremy Scott, and Olivier Theyskens on only their graduate or first collections, and combined an unexpected and original mix of items in one place. "The stock was amazing," says Gray, "I remember having to read a set of instructions once just so I could show a customer how to put on some BLESS clothes!" Even the now-commonplace concept of merchandizing men's and womenswear alongside each other in the same store was new when Yabiku introduced it at The Pineal Eye. Stocking well-established names right alongside newcomers was also almost unheard of. And adding magazines, jewelry, and accessories emphasized the store's sharply curated mood, another retail norm in today's multi-brand boutiques.
"For me, it was natural," she says. "If it had been bigger, I would have sold furniture as well. It was never just about buying clothes, I wanted you to stay for a while, look around, and meet people." Exhibiting a different artist each month gave people a reason to do just that, providing an excuse for regular launch parties and giving the classic retail model another disruptive update.
"It was a total education, and the introduction to new talent was staggering," explains fashion PR Mandi Lennard, who had just started her agency when The Pineal Eye opened. "The store bred loyalty. You felt part of a group who understood what was going on, what they were trying to achieve, and appreciated why they were doing it. They had Susan Cianciolo, André Walker, Boudicca, Carol Christian Poell, Jessica Ogden, Niels Klavers (jacket with three sleeves, anyone?), Jeremy Scott, Oscar Suleyman, and Ann-Sofie Back. There were so many ideas amongst the racks. It was a brilliant reflection of its time, and the customers devoured it. The only store that ever came close in the late 90s was L'Epicerie in Paris."

Another important aspect of The Pineal Eye that set it apart—and in the end forced its closure—was its focus on one-offs. Its founders bought one-of-a-kind showpieces handmade by designers that bigger stores had no interest in. Amazing creations by Hussein Chalayan, Alexander McQueen, and Viktor & Rolf that were never recreated, and that when the store first opened there was a market for, were driven by a desire to be unique. Customization fed into this same trend, and it was no surprise that NOKI was another defining label for the store. Customers came because there was nowhere else to buy these kinds of pieces.
An industry shift in the mid-2000s saw designers collaborating with high street brands to survive and commercial looks becoming popular. "People no longer wanted to wear interesting clothes, they wanted to wear the same clothes," explains Yabiku, "We used to have celebrities coming in to buy our one-off pieces, but even they wanted to wear designer clothes that everybody recognized from big collections. So suddenly I couldn't sell anything too creative, because nobody wanted it and there was nowhere to wear it. Selling t-shirts by the hundred just to survive wasn't me, so I lost interest." In 2007, when the lease came up for renewal at three times the price, Yabiku closed the store.

Yuko Yabiku, Nicola Formichetti, and Eric Portès rewrote the rules of what a multi-brand boutique could be with The Pineal Eye. They made shopping into an experience. In a time when fashion imagery is so abundant and accessible on the internet, it is easy to forget that in the mid-90s you had to go out looking for inspiration. With its game-changing mix of designers, printed matter, art, and objects, The Pineal Eye provided just that. And with their fresh approach to merchandizing that mixed menswear and womenswear, put established designers next to new, and focused on limited editions, they spearheaded a retail model emulated by big boutiques both online and IRL today.

Ahead of its time, The Pineal Eye also contributed to the subversive personality of a Soho that has all but been erased—a point driven home by the fact that 49 Broadwick Street is now home to estate agents, who are no doubt unaware of the night years ago when a mannequin hanging from their ceiling broke free, smashing itself—and the irreplaceable Viktor & Rolf porcelain accessories it was wearing—to bits. It could have killed someone. But all Formichetti could do when he and Yabiku found it the next morning was exclaim that it should be left exactly as it was, because it made a great art installation.

Text:

Ben Perdue

Images/Photos Courtesy Of:

Eric Portès, Benjamin Alexander Huseby, and Tokio Style Blog