The Most Influential Architectural Movement from Japan
Text:

Gianluigi Ricuperati

Next time you are walking around your city, cocooned in music and entranced by your phone, pause for a moment and take a good look at the megastructures that surround you. You will probably notice shapes referencing the biological, as though the buildings are massive internal organs made of industrial materials. What you are seeing is the heavy contemporary influence of an illustrious group of Japanese architects: the Metabolists. Active from the late 1950s through the 1970s, the Metabolists drew on biological processes, leftist political theory, and a communitarian, utopian outlook to create a striking, singular aesthetic. Their theory and practice radically transformed the way contemporary designers think about urban environments while reinvigorating the Japanese creative community after the Second World War. As architectural critic Jack Self writes: "The Metabolists were those who sought to achieve this transformation through architectural means, demonstrating an idealism that bestowed upon them the status of 'avant-garde', but also the criticism of being naïve and optimistic."
Kenzō Tange was one of the initiators, and with Kiyonori Kikutake, Kisho Kurokawa, and Fumihiko Maki he developed the Metabolism manifesto, presented at Tokyo World Design Conference in 1960. Many other thinkers and designers—some of them students at the time, including theorists coming from other disciplines—contributed to the development of the Metabolists' ideas in the subsequent years, which reached an international audience and spread a radical vision of how architecture could be. Rem Koolhaas' admiration for the Metabolists led him to curate, along with Hans-Ulrich Obrist, an extensive monograph entitled Project Japan, released in 2011. Assembled over a six year period, the book included new interviews with the group's surviving members and never-before-seen photos chronicling their influence and heritage.
The group's members realized relatively few buildings, but all of them were globally impactful. Crucially, the influence of Metabolism reached the most far-out, difficult-to-access place: the future generations' inner space of taste and ideals. If you open up the manifesto to its most quoted lines and present them to some urban millennials on any continent, they will resonate deeply: "We regard human society as a vital process—a continuous development from atom to nebula. The reason why we use such a biological word, metabolism, is that we believe design and technology should be a denotation of human society."
KISHO KUROKAWA, NAKAGIN CAPSULE TOWER, TOKYO 1970–72 (PHOTO BY BERTRAND BENOIT)
The Nakagin Capsule Tower is the most recognizable landmark of Metabolist architecture. This vertical submarine en plein air has been photographed endlessly from inside and out. Its distinct windows have been imitated by architects and designers worldwide, reminding us all that we still live a moonage daydream gone slightly wrong.


KENJI EKUAN, PUMPKIN HOUSE, 1964 (VIA ARCHEYES.COM)
This housing project for a couple was designed by Kenji Ekuan. One of the most intriguing figures of the Metabolist movement, Ekuan lost his father and sister in the bombing of Hiroshima. He worked as an industrial designer—"a creator of things." His most famous achievement stands tall despite its dimensions on millions of table tops worldwide—Ekuan designed the Kikkoman soy sauce bottle


KENZŌ TANGE, HIROSHIMA PEACE MEMORIAL MUSEUM, 1954 (VIA ARCHDAILY)
The first atomic bomb was detonated exactly 600 meters above this museum, one of the great accomplishments of Kenzō Tange, the father of Metabolism and a prominent figure in post-war modernism.

KIKUTAKE KIYONORI, MIYAKONOJO CIVIC CENTER, MIYAZAKI, 1966 (PHOTO BY SHINKENCHIKU-SHA)
From one of the initiators of Metabolism comes this splendid rotation, at the same time an evolving shape, a spatial game, and a fantastical wonder referencing forms like that of a prehistoric Triceratops. It is impossible to speak about Metabolism without asking ourselves, "What is scale?" The Miyakonojo Civic Center answers the question: it is the most crucial trait of urban perception, a dance of volumes that stands at the center of the relationship between human body and built space. The car parked at the base of the monster sits humbly in agreement.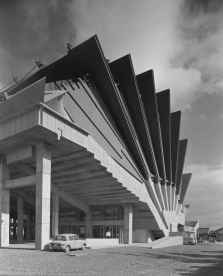 KIKUTAKE KIYONORI, MARINE CITY, 1963 (COURTESY KIKUTAKE KIYONORI)
One of the fundamental chapters of the Metabolist manifesto was titled "Ocean City," outlining the group's ideas for integrating land and sea. These ideas appear in Marine City, a project that later on was blueprint for many marine installations, artificial islands, and other achievements made possible by then-future technology.

FUMIHIKO MAKI, IWASAKI ART MUSEUM, 1978-87 (VIA TUMBLR)
Museums and memorials are often playgrounds for daring architects, and this one is no exception, designed by one of the Metabolist manifesto's authors some 20 years after it was signed.


KENZŌ TANGE, FUJI TV HEADQUARTERS, TOKYO 1997 (VIA THEREDLIST.COM)
Tange was the headmaster of the Metabolist school, and he favoured megastructures as one of the possibilities of modern and future life. The Fuji TV HQ is a perfect embodiment of this ideal, with its asymmetrical solidity and the quasi-hidden sphere, a planet carved into the shoulder of tomorrow's giant.

ARATA ISOZAKI, THE MUSEUM OF MODERN ART, GUNMA, 1974 (VIA ARCHDAILY.COM)
Arata Isozaki is well-known internationally as one of the interpreters of the first Metabolist breakthrough, with projects displayed in many cities globally. The Gunma Museum of Fine Arts is still one of his greatest accomplishments, with its cuboid geometry and aluminium cladding suggesting a tridimensional Post-it.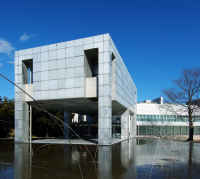 KIKUTAKE KIYONORI, HOTEL TOKOEN, YONAGO, TOTTORI 1964 (VIA ELLEDECORE.IT)
This Hotel built in Yonago, Tottori, is one of most adamantine results of the Metabolist epics. It is heavily intertwined with the concrete exposé that marked Brutalism as one of the key architectural movements of the 20th century, but also tracks back to the traditional forms of Japan's national architecture

Text:

Gianluigi Ricuperati