Gregg Araki's Queer L.A. Rave-scape
The Methamphetamine Vision of Fashion in *Nowhere*

To enter the world of Gregg Araki's film Nowhere (1997) is to give yourself over to an alternative, funhouse reality where every movement, every word, is either an amplification or distortion of the straight world. Queer teens drift listlessly through the hot streets of L.A.—to make-out spots and parties, anywhere but the classes they prefer to cut. They fuck. They smoke. They lick. They kiss. They spar. All in front of large-scale murals of whales, guns, or brightly colored polka dots that look like new age hieroglyphics. Their clothing celebrates a rave aesthetic that is currently having a renaissance. On the runways of Miu Miu, Acne, and Kenzo, there is a return to a 90s methamphetamine vision of fashion where brash colours try to trigger the release of dopamine to the brain and sensory experience reigns supreme. Be it a choker or a spaghetti-strapped tank, the clothes of Nowhere are meant to warp and fray the the edges of buttoned-up, heterosexual reality. Nowhere is visually frenetic, with quick cuts and handheld camcorder footage, and there is no single meaning. God is dead but his followers are everywhere. Heteronormativity is the norm, but these kids are queer and hot as hell.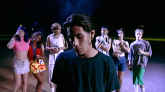 NEW QUEER CINEMA'S GROUND ZERO
Araki was one of the first filmmakers to be associated with New Queer Cinema (NQC) as it emerged in America in the early 90s. He was in good company, with films like Paris is Burning, My Own Private Idaho, and The Watermelon Woman in the NQC cadre. The prerequisites for joining the tribe were: a) a camcorder and b) a yearning to piss off Reagan and his AIDS-denying administration. The main character of Nowhere is Dark Smith who wants to marry his bisexual girlfriend Mel but fantasizes of men too. Anything and anyone goes.

HERE NOW
Looking at the quirky camo and frenetic knitwear of Nowhere, it is little wonder that Kenzo commissioned Araki to direct a short video for the brand's Autumn/Winter 2015 collection. Titled Here Now, the short film recasts some of the same characters, and looks like it's filmed in some of the same L.A. spots. The wardrobes appear nearly interchangeable.
Nowhere is so of its late 90s moment, and yet that moment has returned with such force into contemporary Spring/Summer 2017 collections that it's as though the movie is perched out of time. It's atemporal and aspirational—gliding forward while not moving at all.
HOUSE OF INTUITION
New Queer Cinema was committed to showing gay life onscreen—in its passion and in its boredom—but it also broadcast queer fashions. Araki costumed his characters to represent the reality they wanted to enforce and insist on—offbeat, bright, shocking, and anything but boring. Mel stands in a bedroom that resembles a spartan Yayoi Kusama exhibit. Primary colored dots speckle the wall, her white overalls, her cordless phone. The actor, Rachel True, had starred as one of four weirdo witches in The Craft before doing Nowhere. Rachel now does tarot readings for clients over the phone at the House of Intuition in L.A.

MAKE AMERICA GAY AGAIN
Dark Smith wraps his junk in an American flag after being forced out of the shower by his mother. Dark was busy masturbating before the interruption, so he is on the razor edge of his teenaged angst.
On the wall of his bedroom is a larger-than-life painting of him in black and white. A gun to his temple—more angst. The threat of suicide hovers. Queer desire and autoerotic gratification have always been pathologized as "unhealthy," and though Nowhere cops to this, it also insists that the endgame is pleasure.

GOD HELP ME
Lost gay boy stands at a bus stop while the sign next to him proves that bench advertising works. Two whales painted on the wall behind him look at the camera while the tear drop shape on his t-shirt reads like the mural's third eye. In Hindu tradition, the third eye is the seat of occult power—from the forehead of a deity—it is where wisdom emanates.

"HAVE YOU EVER HEARD OF THE RAPTURE?"
The swirl of the lovers' prints and colors stand starkly in contrast to the nun in white. Their whirling passion is cut off by stodgy morality—but clearly not for long. The City of Angels is haunted by its religious namesake, and Araki mocks the way that sanctity can get in the way of a good time. You're praying at the wrong altar, sister.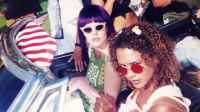 RAVE ALL DAY, SLEEP ALL NIGHT
The film's wardrobe is of the rave all day, sleep all night variety—such that I want to know what's in the back of that car. Crack the trunk and one might find the girls' DIY version of Stella McCartney or Gucci platforms. Mini backpacks, tie-dye cropped sweaters, and bottled water to meet a lady's rave needs. At home they must clip out pictures of Marc Jacobs' silver soda lid earrings and pin them to their dreamboards. Cruising through the hazy streets they yell "eat my Bermuda Triangle!" to any Shad, Ducky, or Elvis who crosses their path. They speed off in their convertible toward the sunset like lesbian goddesses.