Fracture and Jumble: The Curatorial Life With Hilton Als
Following His Latest James Baldwin Group Exhibit at David Zwirner Gallery, The New Yorker Critic Speaks with Durga Chew-Bose About Archiving and Self-Creation
Interview:

Durga Chew-Bose

Photography:

Akram Shah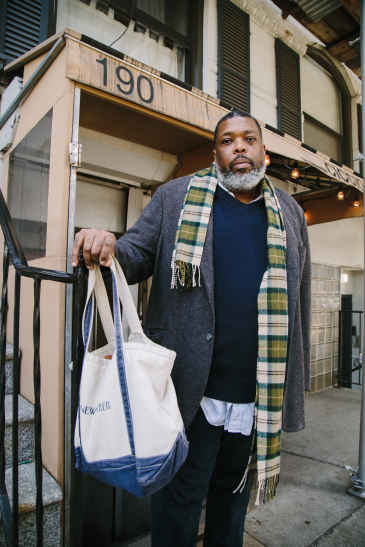 On the first of March, I meet Hilton Als for breakfast in Soho. We order omelets, tea—iced and mint—and coffee. He adds a side of bacon for himself because Als has a cold and "when you're sick," he tells me, "you want salt." There's a light dusting of snow outside, and inside, sitting catty-corner across from us, is Patti Smith. She's eating her breakfast, too.
Over the course of our meal, Als and I talk in what feels like a pattern of tender departures, touching on family, friends, companionship. We talk about Jamaica Kincaid and writing that defies category, which prompts Als to ask me, "Is fiction a willful self-definition? Where are we in the culture in terms of saying where we are as writers?" He continues, "Is it a very confusing time? Or a liberating time?"
We briefly discuss fashion. "I haven't been really paying attention, but I love it as an interpretive art," he says. "I met Grace Wales Bonner. I think she's very interesting." I mention his 1996 Artforum piece, "The Prosthetic Aesthetic," wherein Als considers Rei Kawakubo's not clothes, but "events," as he puts it—the designer's brilliantly sneaky and seditious preoccupation with bulge. "If Kawakubo is asking us anything, it is to see," writes Als.
This observation could be made about Als' own writing, which darns feeling to the who, the why, the weird, the where from. The mother. The mainspring of a person's pursuits, and how circumstance—or story—without interiority lacks the impact of grace.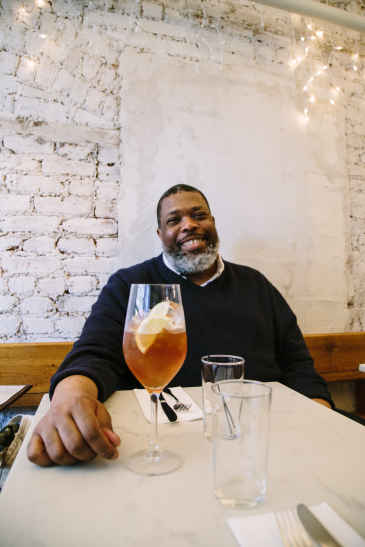 Because Als solicits our attention with prose that, in a manner of speaking, faces it—the messy wonder of shame or heartache (as displayed in "Tristes Tropiques," the exquisite opening piece in Als' critically acclaimed essay collection, White Girls)—but also, at a sentence level, prose that listens for it. There's a light-footed patience that gives rise to inquiry. Als observes art not as the artist's mechanism for arrival, but as the artist's occasion for asking, how did we get here? How do we communicate, with art, what's strange and crowds our insides? Like Etta James, whom Als remarked was a quintessential American artist because she "knew something about loneliness, and, from time to time, what to do with it." Or the late poet, and Als' friend, Derek Walcott, who he notes was "something of a clairvoyant, and knew love was nothing without humility, or the way it clarifies truth."
Als kinks the construction of a thought or the familiarity of an image, so as to recast it. Some call this style, others experience it as goosebumps. Of Diane Arbus, Als writes that while her work was classically composed, each photograph was "on fire with what difference looked like." Of André Leon Talley, Als captures the fashion seer's "boss-man theater." Of Prince, Als goes, "I took in his face, which had the exact shape, and large eyes, of a beautiful turtle." How impossible it is to unsee that turtle. To imagine it, somehow, wearing a purple shell.
Recently, Als' work is trying on a new, discoverable form: curation. In 2017, at David Zwirner's 19th Street galleries, Als curated a 32-portrait show by the artist Alice Neel, capturing his deep-felt kinship with the painter, and what he termed, her inclusive humanity. She was an "essayist of the canvas." Earlier this year, Als returned to David Zwirner, to focus his attention on a group exhibit titled, "God Made My Face: A Collective Portrait of James Baldwin." The show featured works by Richard Avedon, Kara Walker, Beauford Delaney, Alvin Baltrop, and Marlene Dumas.
It's here, when Als and I begin talking about his curatorial work, that our conversation found its center. In a moment when everyone is orating about the virtues of interdisciplinary art, Als' searching and reflective point of view has created a new energy in the art world.

Durga Chew-Bose
Hilton Als
I imagine there is a quality to curating that—like the essay—collides memoir with criticism and fiction. Your curatorial work has a felt sense of hybridity. Of grappling. There's linkage happening. The first person as it attends to archiving, to self-reflection, to community, to history, and so on. Is curation an act of bringing the footnotes to the fore?
Exactly. One thing I felt was super important was to ask: How do we make the thing, that is so hard to make visual, visual. Which is a thought. How do you bring together a number of artists and, how do you make these artists cohere when they don't necessarily have anything to do with each other? Two things: you bring it under the rubric of a person, so it's about a sensibility. And that gives it a frame. Secondly, what's going to help is language, in the way that museums are not about one person. The show wasn't going to be about one artist. The artist was Baldwin and we had to do something that made it known that he was the rubric. Then you had this kind of freedom to frame. There was something real and happening.
Does your work come together more quickly when you begin with a frame?
It's really funny. One of the things that happens is, the minute I give myself any kind of frame for anything, I want to disrupt it. So, yes, I think it's necessary for the way that I work. I like having resistance. The James Baldwin show, it feels like such an extension of writing to me, putting together elements which are going to cohere but it's going to be disjunctive at the same time. The essays that I like have that quality of seamlessness, but also, fracture and jumble.
Do you like when work feels unfinished? When David Zwirner approaches you for a project, do you present an idea where the expectation is to be exhaustive, to be comprehensive. Or is it the opposite? To create an experience that seems nearer to a work in progress?
David was so amazing on two levels, which is, he gave me the space and the time to do it. And also, he had faith that I could do it. He didn't necessarily know that I could make work curatorially, so I'm grateful to him for that. I think in a way, as the shows go on—Alice [Neel], Baldwin— they're getting more and more complex. It's not a monograph about a person, it's more of a floorplan for ideas, and that makes me really scared and excited at the same time.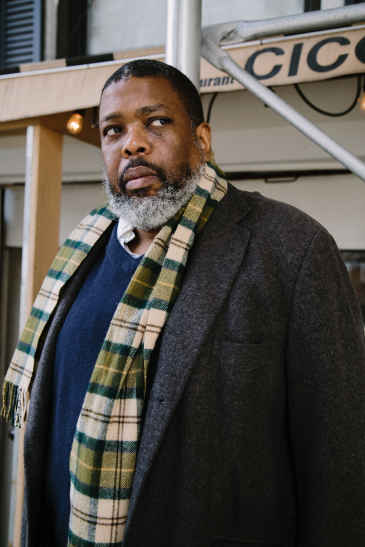 Do you know what you want to do next?
I do. In 2021, the anniversary of AIDS being written about in The New York Times, I want to do a show about these 40 years, about survivors and the dead. It'll kill me emotionally but I really want to do something that honors those 40 years. I wonder what [the show] will be, what it's going to get to be. I don't know how to articulate it yet. It'll get there.
What new means of entry does the gallery provide?
[David Zwirner gallery] allows you to have access, and that's powerful. It's like a passport. Through that access, I was able to generate something equally powerful in exchange. The exchange is a very powerful thing. The lives of the patron should extend to the lives of the spectators. And I think the curator is the bridge between those two people, those two elements.
How did you build your trust with David?
He's very direct. [Laughs] That's how you build trust with someone like David.
By him, yes. Because he's very sensitive to what the person wants to do. Also, he turned to me, and told me, "You know, you're a great artist." And it was such a validation of how I've always wanted to be thought of. I don't think we hear that word enough when we're writers, that we're artists. We just get to be writers. But I think it's very important for us to hear that we're artists because that implies a freedom of expression.
I don't think I've been called an artist, no. Maybe?
Yeah, exactly, hello. It's because there's also this way in which a very small part of the world privileges the artist and I'm talking about the world of museums, and it's tied to money in some way.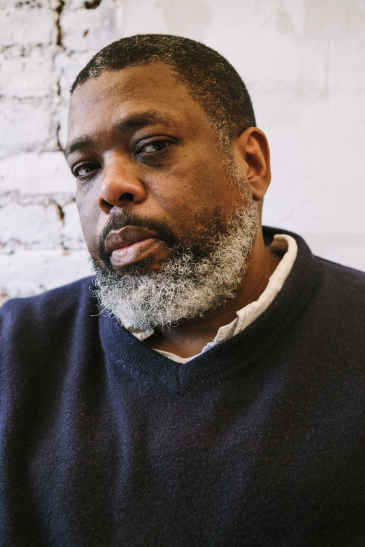 How long have you known David for?
We've just worked together a couple of years.
Is your relationship at all similar to that of a writer and editor?
Yes. Exactly. He's a great editor. He doesn't mess with it, but he'll say, "Could you maybe say something here to help the viewer?" And he'll be completely correct. Or with Alice [Neel], the exhibit was going to be one room, I thought, and he took me aside and said, "I just want to ask you why is it in one room?" And I said, "Well, budget, blah, blah…." He made that show bigger. So I give total kudos to David.
I am. I'm working on a script for my friend Helga Davis. I'm writing a little monologue for her, about a painting that's at Isabella Stewart Gardner Museum, about a Botticelli. But I'm mostly kind of reading, to replenish. Do you do that too?
That's what Renata Adler said.
She said something like, writers drink, writers rant…very few writers write.
Most writers I know are watching movies, or reading and re-reading. Some are making films. It's wonderful.
It's funny you say that. In a way, these shows have been for me a way of making films. It involves the same things. There's the directives, and you're making an atmosphere. And you have people waiting for your decisions. And you have to make the crew like you so they might stay a little longer.
Do you consider your work—your writing, your criticism, your curatorial projects, how you write about theater and the performers and performances—as some version of being a portrait artist?
One of the things I really love is how the ultimate unknowability is the other person, and that unknowability is fascinating to me. People respond, I think, more deeply and closely, and resonantly, to other people than not.
Are you in search of getting to know the full extent of a person? Or is it about proximity without completeness? Is unknowability the ultimate attraction?
Exactly. It is ultimately that thing that we do not know at all. We can't assume that we know anyone. You have to go in there as a writer or a critic assuming you know less about it than anybody else. That's what I feel.
How do you get to know someone?
It's a question of spending time.
When you're curating, is it an act of elevation or creating immediacy?
I don't think of it as such an elevated quest. I'm in it for the way the spectator is in it, which is to find something out about this person. I want to find out as much about them as you do.
Does it feel like you're sharing secrets?
The secrets of my feelings, yes. I think that the emotional content—the content of how do we live? How do we create? These are the questions. How do we make things? And why the energy of self-creation and the energy of creation is one and the same.
Are you nervous about things getting lost?
Always. I'm memorializing, always. I'm not an academic so… I think there's a lot to be said for mystery. But there's a lot to be said for not wanting to forget people, too. Don't you feel that that's an impulse for writing? To remember? How do we become ourselves is the big question, right?
Durga Chew-Bose is the Managing Editor at SSENSE.
Interview:

Durga Chew-Bose

Photography:

Akram Shah